Ultius Blog
Ultius is the trusted provider of content solutions for consumers around the world. Our platform matches customers with highly qualified American writers for custom sample writing, editing, and business writing.
Should You Only Hire American Writing Services?
The low cost of foreign writing services can be enticing for American students, but before you click "purchase," be sure you know exactly what you are buying—and that it matches the quality of service you need to excel in school.
If you are submitting writing for an American class in English, or to an American, English-speaking professor, writing quality is definitely not something to skimp on. If you are purchasing essay writing services to help you polish your paper, save time, assist with research, or all of the above, it is worth investing in a service you know is qualified to provide language-specific writing matching your academic context.
In other words, if you are studying in America and your classes are in English, it is in your best interest to hire an American essay writing service with native, English-speaking writers. This is not to put down foreign writing services by any means. It is simply to clarify that students often have the best experiences when the services they work with match their native language.
In this post, we will explain why choosing an American essay writing service is most advantageous for American students. We will also briefly review what writing services can help with and some tips for hiring the best essay writing service to fit your needs.
Why quality is critical
Hiring a writing service online can sometimes be a bit intimidating—and scary—especially if it is your first time. So, ensuring you have a smooth, satisfactory experience is important when you are trusting someone else over cyberspace with an important project.
It is important to realize that screening a service for high quality is a big part of what will help you have a great experience.
Whether you require a top notch example paper or you need help editing, researching, or outlining an essay, grammar, spelling, and writing style do matter:
If you are purchasing an example to help you hand in a pitch-perfect essay, quality could not be more important to helping you ace your grade.
If you need tutoring help, the same is true. Productive learning comes from quality examples and instruction. If the examples you are learning from are not spot-on, it will likely negatively impact your writing projects. And this is the opposite of what any student investing dollars into an essay writing service wants.
Quality of foreign versus American services for American students
So, what does this have to do with foreign versus American paper writing services? Basically, the price of an essay writing service is generally a good indicator of quality. Many foreign essay sites will appear much more affordable to U.S. students due to exchange rates.
While these foreign sites may be able to optimally serve students domestically, writers not native in English are prone to make grammatical, spelling and style errors when writing English essays.
These quality-related errors compromise your learning ability as an American student and compromise the value of the services you purchase.

For example, check out these simple phrases pulled from writing sites we would not recommend to American students, due to below-par English writing quality.
The quoted phrases are as they appeared on the sites, and the phrases that follow demonstrate how we would recommend they be improved. These "errors" are minor, but a high-quality writing service hiring native English, American writers will be able to spot the difference—and write accordingly:
Example from craftanessay.com's website home page:
"Some companies that offer essay writers online services have ended up with bad reviews from failing their clients. With us, things are quite different. Don't go looking for cheap essay writers who will end up failing you. Instead, hire our services today and let top paper writers assist you and get you a good grade on your paper. Place your order here today!"
Recommended change:
"Some companies that offer essay writers online services end up with bad reviews due to failing their clients. Our services are different. Don't go looking for cheap essay writers who will end up failing you. Instead, hire our services today and let top paper writers assist you and help you achieve a good grade on your paper. Place your order here today!"
Example from mypaperwriter.com sample paper, page 1 and 2:
"It is then for me someone who "rises above," even temporarily, to reveal a core of human excellence"
"It is all internal thought and feeling, and it reflects a profound sadness at having been stripped of a native identity."
Recommended change:
"It is then, for me, someone who "rises above," even temporarily, to reveal a core of human excellence"
"It is all internal thought and feeling, and it reflects a profound sadness due to having been stripped of a native identity."
How culture impacts writing
Cultural differences are a wonderful part of what makes humans fascinating. While diversity is an important aspect of our world, cultural differences are not what serve students and clients best when choosing an essay writing service. Students and writers often experience the best outcomes when their cultures are aligned. Just as cultural differences impact language and are often noticeable when language is spoken, cultural differences also impact writing.
It is not just grammar and spelling that cultural and language differences may impact. Writers from different ethnic and cultural backgrounds may understand subjects and their context differently. This, no doubt, can impact writing tone, perspective and flow.
Special considerations for graduate students
Cultural differences are especially important to consider if you are a graduate student looking for a dissertation writing service. Your doctoral dissertation is a process in which it is not uncommon for students to invest thousands, ensuring they excel and succeed in order to reach their career goals.
Writing at the doctoral level requires an acute cultural, linguistic, and grammatical understanding of the culture and country in which the dissertation is written. Ensuring your writer natively speaks and writes the primary language of your school will be well worth your investment.
Contributing to a healthier economy
You may have heard the saying, "think globally, act locally." One of the benefits of working with an American essay writing service is that when you hire American writers, you funnel your dollars right back into your own economy. This means that you help strengthen your own local community, within the context of a global stage.
The gig economy
American writing services hiring American writers may cost more than some foreign sites, but one of the cost-benefits of supporting an American company is that you are likely contributing to fair pay.
Most writers who write for essay writing services are participating in the gig economy. This means that instead of being hourly employees, they are independent contractors or freelancers. They are paid on a project or "gig" basis.
Many writers find that participating in this gig economy helps bridge income gaps and needs, especially when it can be difficult to earn an hourly wage that supports basic living needs.

Here is a top-tier example:
Ultius is a high-quality American writing service that hires only American writers. The American writers Ultius hires are everyday professionals—with exceptional writing skills—who are also participating in the gig economy as a means to support themselves and their families. Ultius even screens writers so rigorously that only 6% of the writers who apply are actually hired (talk about top quality).
In a nutshell, when you pay a higher price for an Ultius essay, you are essentially supporting fair pay for your fellow Americans and community. This strengthens the economy of our country and helps bridge wage gaps, especially for those who may be struggling to find work elsewhere.
Why hire an American essay writing service?
We have talked about several reasons it is beneficial for American students to hire American writing services, namely that it:
Invests in quality and ensuring your paper is grammatically correct.
Ensures cultural congruency between you and your writer.
Advocates fair pay: Boost your local economy by supporting your national community.
But you may be wondering if it is the right time to hire a writing service in the first place. Here are a couple ways an essay writing service can be helpful and why an American service would be a better choice (if you are an American student):
1. Ditch the stress. Essay writing services can save you tons of time and headache when it comes too researching, outlining, citing, editing, and more. If you are a busy student, time is gold. When you hire an American service, you lower the stress meter even more by not having to worry about simple English spelling and grammar errors.
2. Make sense of confusing instructions or feedback. Sometimes, essay instructions can be cumbersome, complex and confusing, to say the least. When you are working with a native English-speaking, professional writer, sorting out the details is ten times easier than trying to do it alone, or than trying to bridge language gaps between you and a non-native English speaker.
3. Communicate with native-English speaking customer service agents. Again, wonderful as cultural differences are, nothing is more frustrating than trying to communicate a concern about your purchase over static-filled phone lines and language barriers. Essay writing services such as Ultius offer client success support 24/7 from native English-speaking agents.
How to find and hire an essay writing service that fits your needs
Once you decide it is time to hire a writing service, the search begins for the best service to fit your needs. These four tips will help set you up for success.
1) Clarify what is important to you
Make a list of exactly what you intend to use the writing service for. In other words, what are your priorities? What do you need the most help with? Is it editing or is it crafting writng that flows and sounds professional? Here are some examples of things you may choose to set as priorities:
Knowing exactly what you need a writing service for—and you may have multiple needs, which is perfectly ok—will help you screen services to ensure they can meet your needs.

2) Look at examples
Most essay writing services will have example papers for you to look at. Check them out, and if you cannot find them, contact customer service and ask to see examples. Carefully review the examples. Do they read professionally? Are they free of grammatical and spelling errors? Looking at examples is a great way to check quality.
3) Read reviews
In addition to reviews on an essay writing service site, check out third party reviews on places like Reddit and Quora. Ask peers for recommendations. Choose a site that has believable, honest, great reviews. Be wary of perfect reviews, which may be fabricated. Instead, go for authentic, high ratings.
4) Contact customer service
Last, contact the customer service department. Do not be afraid to ask a few questions, such as:
"Do you hire only native-English writers?"
Or,
"Are you a U.S.-based company?"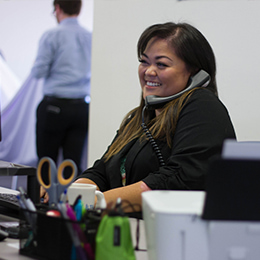 You can also ask questions about the hiring process, how quickly papers are delivered, and the revision or refund policy. Top tier sites such as Ultius will be able to provide you with complete information on services and policies.
Also, as you are talking with a customer service agent, you will probably be able to get a general idea of whether or not they are native English-speaking which will clue you in a bit further regarding the general quality of the company.
In conclusion
As with any online service, ensuring you know exactly who you will be working with and the quality of the service you will receive is crucial for success. This is especially the case with essay writing services.
If you are an American student, learn more about how you can connect with an American writer and choose an essay writing service that matches your needs.