Essay Writing Services
Ultius connects you with the best American writers for world-class essay writing services. We offer 24/7 support via voice, text and live chat. Don't wait, ordering only takes five minutes.
Get expert essay writing help on your schedule from a trusted professional.
For some individuals, writing essays is one of the most difficult tasks on the planet. Trust us, we know what you mean - it's our business to know. With so many roadblocks and commitments in life, it's difficult to find the time to get the pace going (or even to start). Many people have to worry about their essay writing alongside commitments like family, work, friends and faith. If you're stuck in this same situation and require a sample to get started, know that you're not alone. Each month, thousands of customers from around the world come to Ultius with the same exact problem - the need for an essay writing service.
To help you save time and be more productive, we have designed a wide range of essay writing services that you can use as a resource for your own work. Our platform matches your order with a qualified freelance writer that is selectively hired, vetted and available at your disposal. The sections that follow will explain how our process works, some of the features and amenities you receive by being a customer, and the pricing model we utilize. You will also read what other customers who purchased sample work have said about using our essay preparation service.
Choosing Ultius as Your Essay Writing Service
As a consumer, you have hundreds of options at your disposal when it comes to buying things online. We understand that you want to make sure that you put your trust and faith into the right sample essay service on the first try. If you haven't already, we recommend reading the various reviews (included at the bottom of the page) that customers have left us. Time and time again, customers highlight the main reasons why they choose us for their essay writing needs:
Professional and efficient
Great quality on all work provided
Friendly and helpful customer support staff
Flexible revision policy
Talented and responsive (American) writers
Let's start by taking a look at how our process works.
How Our Essay Writing Services Work
Understanding how the Ultius essay ordering process works will make sure that you are both informed and aware of what's going on at every step of the order. Luckily, it's a simple process that doesn't take up too much for your time and attention. Browse through the infographic below or scroll down further past the image to read a clear explanation of how ordering our essay writing services works.
How it Works
PDF Download
Learn more about the Ultius essay ordering process.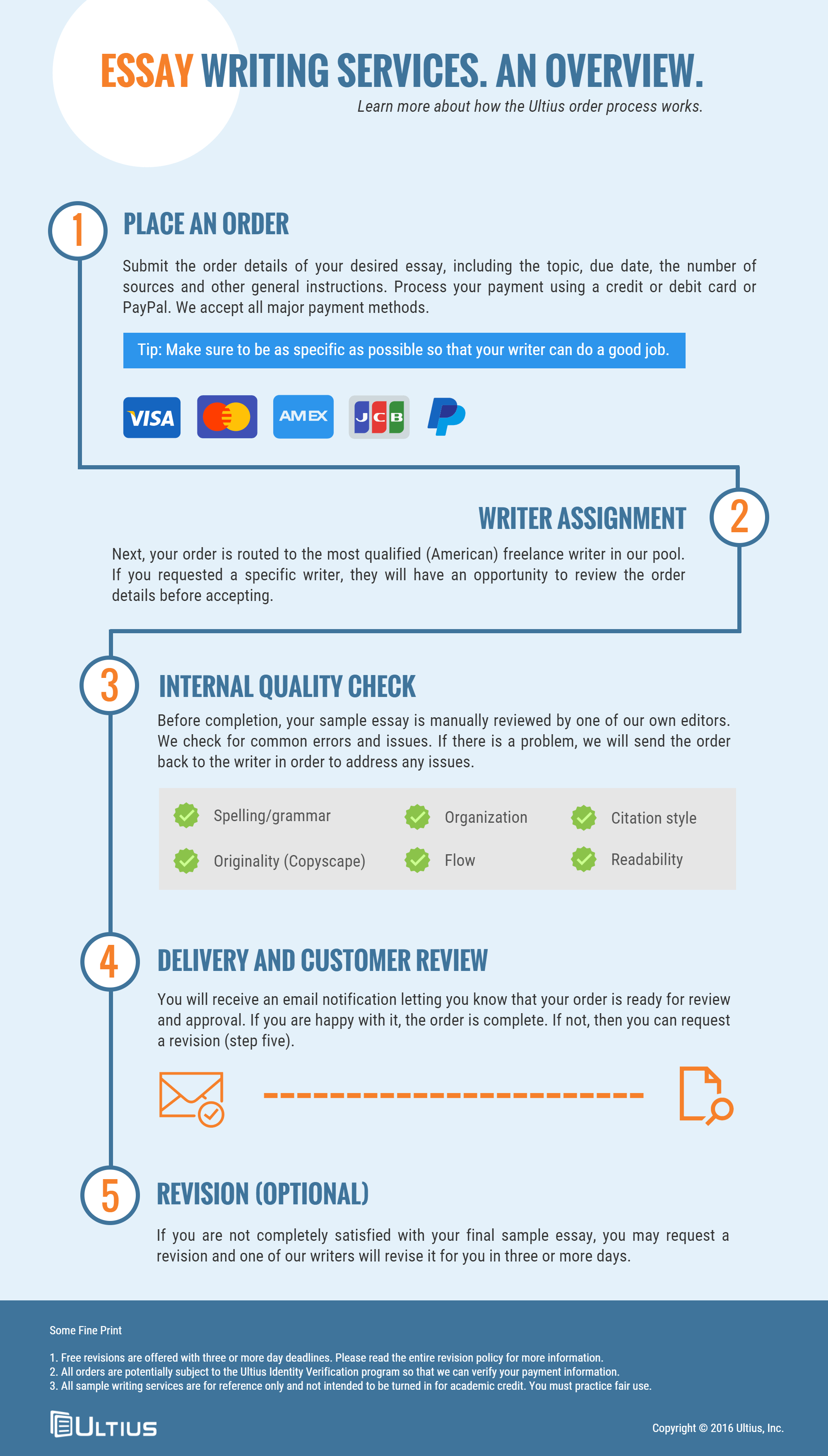 Placing Your Essay Order (5 - 10 Minutes)
When you place your written essay order, you will have to include basic information about your sample. This includes but is not limited to the following:
Page count
Number of sources
Deadline
Topic
Spacing (single or double)
Citation style
We recommend including as much information about your order as possible. If you provide too few details, then the writer will not know what you are looking for. This commonly results in essay revision service requests that could have been easily avoided.
Next, you will be prompted to create a new account on our platform. You can either use your email address or quickly create an account using Facebook Connect. If you choose to create an account using the Facebook login feature, we won't share your personal information or write on your wall. It's only used for the purpose of a speedy account registration and login process. We encourage you to read our privacy policy to see what information we collect and share about you. We recommend creating a strong password that you store away safely.
Finally, you will be prompted to create a four-digit dial-in pin code. This code is a password that you have to use when engaging with our customer support representatives. Without the code, they will not be able to speak with you about your account (or your purchased essay service sample). We understand that using this passcode may be an inconvenience, but it's a critical aspect of securing your account and keeping your information private. You can always view and edit your dial-in pin code in your account profile.
After confirming your order details, you will be prompted to process your payment. We accept all major cards and even support PayPal. Because your payment is handled off-site by one of our trusted payment vendors, we don't actually see or store any of your sensitive payment details (such as full card numbers). It's our way of ensuring that payment companies do what they do best (securing your payment details) and we do what we do best (quickly connect you with an essay writer).

Writer Assignment (10 Minutes - 2 Days)
Next, we will work on getting your order assigned to one of our world-class writers. This step in the sample ordering process can take anywhere from ten minutes to a few days, depending on your deadline and the writer type you selected when initially ordering one of our essay writing services. The table below explains the different advanced writer selection options that you have.
Writer Type - Options
Best Available
We will match your order with the best available writer for your topic and academic level.
Graduate
20% Fee
When selecting a graduate writer, you are choosing to work with the top 10% of all writers in our talent pool. These essay writers are hand-picked by our writing division manager and selected based on their track record, previous accomplishments and other factors.
Requested Writer
15% Fee
If you have worked with us before, you probably know that there is a page dedicated to showing you your past writers. If you have added any of them to your writer list, they will conveniently show up on the order form. If you select one of these writers, they will have a brief window of time to accept the order.
After your sample essay order has been assigned to one of our writers, they will begin working on it and let you know if they have any questions through the messaging system.
Internal Quality Check - Free With All Essay Services
Once the writer has completed your order, we conduct a very thorough round of internal quality checks before sending the order to you. Because Ultius takes pride in having the best quality of sample essay writing available, we employ editors (24/7) to manually review and scan all orders. Below is a brief list of what our editors look for:
Spelling/grammar: We will make sure that your completed sample essay is free of spelling and grammar issues. We use the spell checker in Microsoft Word as well as other tools to make sure that everything makes sense.
Originality: We know how important it is for your custom work to be original and written just for you. That's why we use an online service called Copyscape to see if there are any originality issues. If there are, we don't send the order out and (depending on the case) assign a new writer to work on your order. We believe that it's better to be safe than sorry.
Organization and flow: The editor will carefully read over the sample essay and make sure that it is organized properly, focusing on the type of essay writing service you ordered and its nuances. In some cases, they will do an additional audience analysis to confirm that it's written appropriately.
Citation Style: Finally, we check to make sure that the essay follows standard citation style guidelines (usually MLA for this document type). We use the latest version of the MLA handbook and rely on third party tools like BibMe to make sure they are formatted correctly. The Ultius MLA citation help section also provides helpful resources for getting this part done.
If all of these items are done correctly, we will proceed to the next step of sending the order out for your review. If, however, the editors found any issues then we send the order back to the sample essay writer with our feedback. You probably won't hear anything about this sample editing process, but rest assured that it happens privately within the conversation between an editor and writer for your written essay order.
Delivery Confirmation and Customer Review
Once the order has been finalized by our editors, we approve the final version and send it to you. You will get an email notification with a link where you can log into the site and securely download it. From here, you will have an opportunity to review the sample for yourself and determine if it meets your essay writing guidelines and original instructions. The order will also include a dedicated cover page which includes some internal notes as well as the citation you can use when referencing it for your own work.
Essay Service Addons - Free Revisions
If you are unhappy with any aspect of your completed sample essay, you have the ability to request a free revision. Orders don't always come out right on the first try, and we know that. That's why you are able to request free essay revisions and receive them in three to seven days. Please take note of some important revision policy considerations:
We will only complete revisions based on your original instructions
We will not add new pages or sources
Urgent revisions (due in less than three days) may have a cost associated with it.
We strongly encourage you to read and review the entire Ultius revision policy to make sure you understand how this portion works. Finally, if the original writer cannot do a good job of editing the order, we will reassign it to a different writer who can complete it by your revision deadline. The same editorial quality check process is included with the essay revision service process as well.
Essay Writing Service Features
When you order sample essay writing services from Ultius and work with one of our writers, you get to enjoy a number of free features and benefits. For example, Ultius only hires and contracts writers that are native English speakers that graduated from accredited colleges and universities in the United States. To ensure this, we utilize an intense screening and vetting process when we hire new writers. We also offer free revisions to make sure that if we make a mistake we can get it right for you. No essay writing service is complete without a great support experience from friendly and courteous staff members. Finally, the writers from Ultius offer unmatched quality and originality when it comes to the final sample essay you receive.
With all of these features (as well as many others not mentioned here), it's no wonder why Ultius is the trusted provider of content solutions for consumers around the world. Take an in-depth look at some of our features below.
American Essay Writers
If you have read about Ultius, you know that we are owned and operated in the United States. We don't outsource our work overseas (or anywhere else) and internally hire and train local support team members. There are many benefits to having a native English speaking writer, but the primary one is that you know the person has a strong command of the English language. Our writers won't have issues reading through your essay instructions and determining exactly what you want in your model. Finally, you don't have to deal with the hassle of having to 'overly' communicate with your writer - they get it and know what to do the first time around.
Free Essay Revisions
As mentioned before, your written essay order comes with a robust revision policy to ensure that your model order is done right. If the writer makes mistakes or doesn't follow your instructions, they will gladly fix it for you. In rare cases, your order may not use appropriate sources or the tone may not be the right one for the intended audience. Whatever the problem is with the model essay, we will work diligently to fix it for you. All we ask is that you submit your own tangible feedback so that we have a clear understanding of what we need to do.
24/7 World Class Customer Support Experience
Ultius has a very clear two-part mission statement: conveniently connect you with a writer and give you great customer support. We take the support aspect of it just as seriously as we do the first part. Our support representatives are all (local) native English speakers that have been thoroughly trained and appraised to make sure that their level of service lives up to the company's standards.
Most importantly, our representatives are available for you whenever you need them. If you have any questions about our essay writing services or the order you placed, you can contact us 24/7 through a number of channels. We offer all of these different support options because we want to live up to the magic word in our mission: convenience. See the support options we have below.
1-800-405-2972
Toll-Free (voice)
1-702-979-7365
Local (voice)
1-702-979-7365
SMS (text messaging)
No matter what time you need help, we're here and available. After all, our tagline is "on your schedule."
Unmatched Essay Quality and Originality
When you utilize our sample essay writing services and connect with a writer you are also committing to receiving a superior level of quality. For starters, we only hire the best writers on the planet. Ultius provides extensive training and ongoing support to make sure that our writers stay sharp and up to date on the latest trends in writing. We also utilize an editorial review process that focuses on ensuring that you get the highest quality content. Finally, we use tools like Copyscape to make sure that your work is 100% original. If you are still on the fence about our quality promises, check out our samples in our company blog. We have over 1,000 custom written samples that give you a glimpse into our commitment to great quality and adherence to writing standards. Click here to read one sample on cyber-bullying as an example.
Writing Services for Every Type of Essay
So many different types of essay writing services, so little time. You may not know, but there are literally hundreds of types of essays that you can purchase for your model. While there are so many different options to choose from, most customers are interested in a few main types. The most common types of essay services that customers order reflect standard, five paragraph essays aimed at convincing the reader of a specific viewpoint. We have them listed and briefly described for your convenience below.
Please also remember that if you don't require a sample essay to reference for your own work, we also offer excellent essay editing and proofreading services. Ultius editors are extremely talented and can catch most mistakes or issues that you probably missed throughout the essay review process. Plus, editing services are much more affordable than custom sample writing. Consider working with one of our essay editors and have them proofread your work to ensure that it's done properly.
Most Popular Essay Services
Other Essay Writing Services
Related Essay Services
Pricing for Essay Writing Services
If you are interested in purchasing a sample, then you must be curious about how much our essay writing services cost. Pricing for these services depends on a few factors. Almost every order has a different price because it depends on a few key factors. However, the most important determinants of price are the academic level, page count and the deadline. The academic level is the overall level of competency the writer needs to have to complete your order.
For example, if you require essay editing services at a doctoral level, you would not want someone who only has training and experience at the undergraduate level to work on it. Second, the price depends on how many pages you need your essay to be. Since pricing is done on a per page basis, the more pages, the higher the cost. The deadline is also an important factor. How quickly you need the work done can seriously impact your overall cost. If you need something in less than a day it will be much more expensive than if you needed it in ten days. Finally, if you select a specific writer type to work with, the price can be higher.
Please see the pricing breakdown below or skip to the next section to see pricing for common orders as well as the general pricing table.
How is Pricing Determined?
Academic Level
High School - Doctoral
Deadline
(3 hours - 30 days)
Writer Type
Best Available · Graduate · Requested
Now that you are familiar with how our pricing model works, let's look at what other customers typically order. Below you will see a table we have compiled of our most common types of essays, their deadlines, page counts and prices. As you can see, the best value for your dollar is anything with a deadline of ten days or more. If you are ordering essay editing, then the price is even lower as editing and proofreading prices are much more affordable than custom sample writing. Please note that all common pricing values are only for the undergraduate deadline.
If you are wondering why our prices are higher than other websites you might be shopping around on, it's because our writers are more qualified (and American) and we guarantee a high level of quality with our service. When using any essay writing service to attain a well-written model paper, it's important to remember that you get what you pay for. Ultius doesn't boast about being the cheapest service, but we do boast about high quality and great support. You can hold us accountable for that. If we don't deliver, we have a refund policy in place to make sure that you get your funds back.
Pricing for Common Essay Orders
Persuasive Essay

7 Days · 3 Pages · $66.00

Argumentative Essay

2 Days · 5 Pages · $172.50

Standard Essay

3 Days · 3 Pages · $93.00

Essay Proofreading

24 Hours · 4 Pages · $92.00

Standard Essay

10 Days · 6 Pages · $129.00

Essay Editing

7 Days · 4 Pages · $60.00
General Pricing Table
Deadline
10 days
7 days
5 days
3 days
2 days
24 hours
8 hours
High school
$18.00
$19.00
$20.00
$25.00
$30.00
$34.00
$45.00
Undergraduate
$21.50
$22.00
$24.00
$31.00
$34.50
$39.50
$56.00
Master
$30.00
$32.00
$35.00
$40.00
$43.00
$48.00
$63.00
Doctoral
$34.00
$36.00
$40.00
$48.00
$55.00
$63.00
N/A
Prices are subject to change without notice and this table may not be updated immediately. Deadline restrictions to apply for orders due in less than eight (8) hours. Please visit the pricing page for verification.
Customer Reviews
While the internet is full of options for online shoppers, we understand how important it is to securely spend your money on essay writing services that are trusted and reviewed by past customers. That's why we are happy to showcase Ultius reviews from top review vendors. Our major review vendors are SiteJabber, the Better Business Bureau, Facebook reviews and Google. We know that these companies are trusted figures in the review space and that's why we try our best to reply to each and every one of our online reviews. With over 600 total reviews and a cumulative rating of 4.3/5 stars (as of August 2016), you can be sure that Ultius is thoroughly reviewed. After all, we have been around since 2010.
Verified Reviews
It's not enough to just post reviews and show them to customers. In today's modern age, customers want to be sure that the reviews they are reading are accurate and genuine. That's why Ultius has committed to only showing verified reviews on our website. That means that for every customer review we show you, it has a link to where the original review was posted on a third party site. This method of showcasing our essay writing service reviews ensures that you are reading what other people wrote on platforms where we cannot modify or remove content.
When it comes to reviews on the Ultius platform, our motto is simple: building consumer trust starts with verified reviews. Take a look at the review vendors we use and some sample reviews below.
Cumulative Rating
Based on

631

customer reviews of our

Sample Essay Writing Services
Review numbers/ratings last updated on 7 August 2016.
Review Vendors
Essay Writing Service Reviews

Verified
If you made it to the bottom of this page, it means that you are interested in using our essay writing services to get a sample written. To recap, we have explained why you should consider using our services as well as how the entire process works from start to finish. We highlighted the top features and benefits you can expect while using our services as well as the different support options you have should you want to contact us. We explored the different types of essays as well as how our pricing model is determined. Finally, you read about our commitment to verified reviews through our trusted vendors and saw just a small number of the many reviews we have. Consider placing an order through the link below and we promise that you won't be disappointed with our sample essay preparation service.
Place an order > https://my.ultius.com/component/orders/?Itemid=114
The Ultius Promise
With every order, you can count on the following:
Delivered on time
100% original
Free revisions
Awesome 24/7 support
World-class writers