Service guarantees
What you can count on from our dissertation writing services
With each and every dissertation writing services purchase, you are guaranteed the following: 1 on-time delivery; 2 100% originality; and 3 world-class writing that any doctoral candidate would be proud of.
A 100% originality

A writer will produce your dissertation from scratch, not use a pre-written one. Our QA team ensures it's original by using anti-plagiarism tools like Copyscape and others.

Money Back Guarantee

Security, confidentiality, and discretion

We don't/won't share your information with third-parties and use industry leading security practices to keep your data safe.

Privacy Commitment

24/7 help—on your schedule

Contact us any time via any method and we'll have a qualified American Client Success Specialist ready to help you.

24/7 Availability Commitment

Satisfaction guarantee

We are so confident that you'll be satisfied with your writer and overall experience that we're willing to promise you a refund if you don't love the work you get.

Love it or your money back
Free inclusions
With all dissertation services
275 words per page
Free revisions1
Topic/subject mastery
Perfect citations
Editorial review
Money back guarantee2
1-on-1 writer chat
24/7 support
A top writer
Satisfaction guarantee
Security & Confidentiality
Safe, legal, and discreet dissertation writing assistance
Ultius considers your privacy and security to be an absolute priority. Our industry-leading practices (and strong network of security vendors) mean you can feel safe with every transaction.
A secure infrastructure for dissertation services
When you order dissertation services from Ultius, you can feel confident knowing that you'll be working with a team that values your personal safety, confidentiality, and privacy. We employ industry-leading security measures to protect your data and your identity every step of the way. Some of our security practices include:
End-to-End Encryption:

256-bit SSL

encryption (via GeoTrust)
Dial-in PINs: A secure code to access your information when interacting with our support team.
Ultius Identity Verification (UIV): A proprietary program to maximize your payment information security.
Even more: Email registration restrictions, session activity monitoring, manual account reviews, and many more 'behind the scenes' activities.
We have a number of other security measures we use, but we don't list all of them here (or anywhere else).
We practice discretion and don't share your information
We understand that spending money and sharing confidential information online can make you nervous. That's why we have made it a top priority to ensure your personal information is kept secure and private. Every part of the ordering process is secured by industry-leading practices. Even your writer will never know your name thanks to our anonymous messaging system and privacy policy.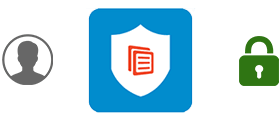 Note that unlike other dissertation writing services, we don't make orders available to search engines or the public—we keep those sealed behind our walled garden.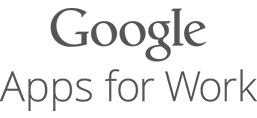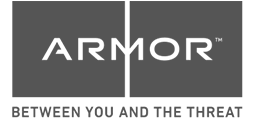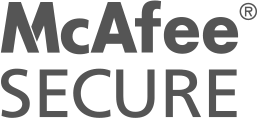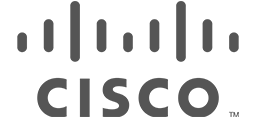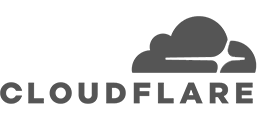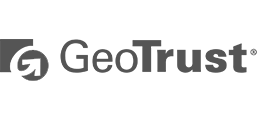 Have questions? Let's chat
We're available 24/7
Ready to get started?
Connect with a professional dissertation writer today
Get started
Expert dissertation services just 1-click away
Fill in a few blanks, make an account, and we'll do the rest—it takes less than five minutes.
Get started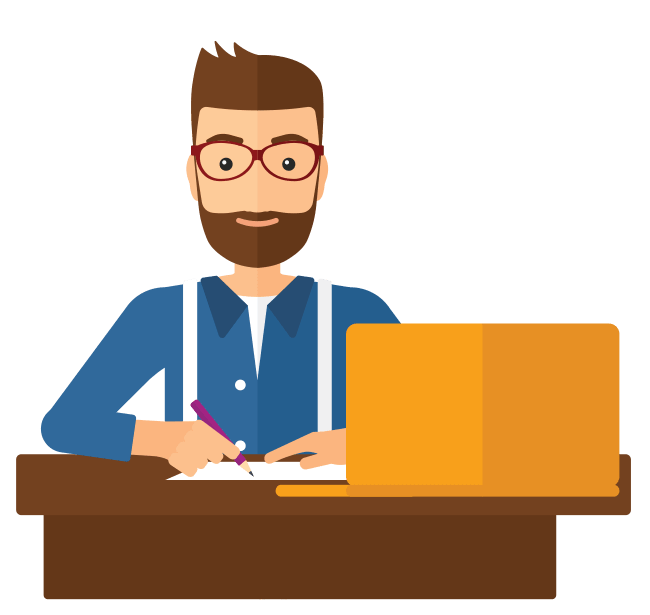 Dissertation service reviews
Customers think we're pretty great
Ultius is proud to have verified reviews from customers around the world, including an A+ BBB rating and almost 5/5 stars on all major review platforms. Because of our cutting-edge features and world-class service, we are the best dissertation writing service on the planet.
Core service features & benefits
You will get the best-of-the-best
Here are a few of the benefits you can look forward to when you choose Ultius to assist you with your dissertation writing process.
Full document or chapters

You can request assistance for a full dissertation document or just individual chapters.

Editing or custom writing

Whether you simply need a second pair of eyes or help composing an entire document, we've got you covered.

24/7 help

We realize that you're often working around-the-clock to complete projects and so is our Client Success Department. Choose from chat, phone, or email support to get answers to your questions any time of day.

Top 1% American Writers

All our writers grew up speaking English and went to an English-speaking university (guaranteed).

Ultius on-the-go

Our user-friendly interface makes ordering and communicating with your writer easy when you're on-the-go. We offer a robust mobile browser experience or a dedicated Android app.

Peace of mind

You can sleep well knowing that your most important writing project is being handled by an expert who is going to ensure it's a success.
Dissertation chapter services
Full document, chapters, editing, and more
A doctoral dissertation is typically composed of seven primary components, each divided into subsections depending on the topic, type of study conducted, the methodology used, and nature of the research design. We can help with each and any step.
Full dissertation
If you like, we can help with every step of the process from planning to those final edits and everything in between. This is our most comprehensive dissertation service (white-glove experience) and includes a dedicated Client Liaison (account manager equivalent).
Read more
Literature review
Popular
Generally the longest chapter of a dissertation, the literature review synthesizes extensive background research that directly relates to the topic of study. This chapter also explains the theoretical framework, theory, or hypothesis used to guide the research.
Read more
Abstract
The abstract of a dissertation precedes the six chapters and provides a one-paragraph to one-page description of the entire study.
Introduction
In the first major chapter, you'll provide an overview of the entire project, briefly describing each of the following sections. The introduction sets the framework and explains why the study was conducted as well as what value it will contribute to the student's field of study.
Hypothesis
The hypothesis (in quantitative studies) or the thesis (in qualitative studies) describes what you are attempting to prove or disprove. Within this chapter, you'll use supporting literature and evidence to explain why you expect to accomplish certain results. The rest of the dissertation focuses on testing the hypothesis or thesis.
Methodology
This chapter is your chance to explain the type of research methodology used (such as quantitative, qualitative, or mixed-methods) as well as the research design implemented (correlative design or semi-structured interviews, for instance). In this chapter, you'll also justify why you chose the specific methodology, design, and data collection methods (it answers basic questions).
Discussion
The final chapter of the dissertation will tie together the entire research project by relating the findings to your initial claim. In this chapter, it's important to explain how the study's findings integrate with existing knowledge in the field. You'll also want to present recommendations for future research.
Results
The results section (not to be confused with the methodology) objectively presents the research findings without drawing conclusions of explaining them. After reviewing how the study data was collected, the results chapter simply documents the findings of the research conducted.
Dissertation editing
If you have a completed dissertation or single chapter in need of expert proofreading or revision, our dissertation editing services are for you. Our staff of professional writers and Quality Assurance team will help your writing be the very best it can be.
Read more
More dissertation services
Explore other dissertation-related services that might be helpful for you.
Important service notes
See the visual aids provided below to get a good understanding of how our writers approach dissertation writing.
Note #1 → The main dissertation chapters (summarized)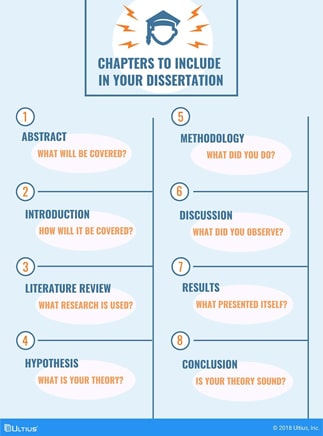 Note #2 → The methodology requires strict use of the scientific method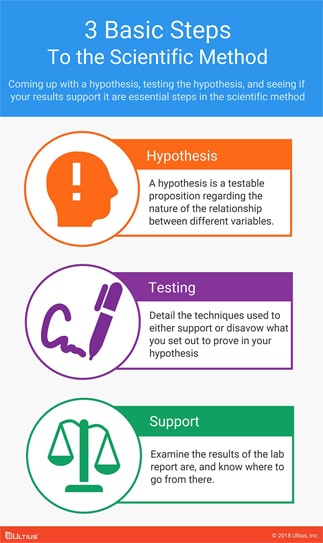 Ultius can get you to the dissertation finish line
We know it's a long-haul and our writers are ready to dig in to get you through the process and to the finish line.
Start my order
How it Works
A robust process from start-to-finish
That's why we make it our mission to connect you with the best writers possible to get you the best document you could hope for. To that end, we've developed our process based on years of experience. Here's a short summary below of the main steps that are involved:
1
Send requirements
Upload details, provide instructions, and send notes.
2
Writing process
Collaborate, write, edit, and re-write based on feedback.
3
QA review/delivery
Final internal QA review/approval and delivery to you.
Quality process, standards, and best practices
A dissertation is a seminal milestone of your academic and professional career. It requires nothing short of top-notch quality, and that's why we are happy to lay out our entire quality process for you.
Placing the order
Once your order is placed, it becomes available only to a pool of pre-screened, qualified writers. These writers have years of experience crafting world-class dissertations specific to your topic of study.
Working with your writer
Once matched to a qualified writer, your writer will communicate with you about any questions that arise during the writing process to ensure your project aligns with your needs.
Our quality assurance review
Next, your writer will submit their completed draft to our Quality Assurance (QA) Department for review. QA will review your draft to ensure that it:
Aligns with your instructions
Meets our quality standards
Is completely original content (all drafts are scanned through a plagiarism checker)
Optional dissertation revision services
Once your draft has been approved, it will be available for you to download. If there is absolutely anything you need improved, we are pleased to offer complimentary revisions.
Post-delivery follow-up
Upon request, our team will follow-up and ensure that everything went smoothly with your order. Often times, clients will reach out and request minor changes or additions in separate orders, and we generally assist clients by offering loyalty codes for opportunity to do repeat business.
Our Quality Process
The quality workflow
New dissertation order

You

You provide requirements

Working draft submission

Writer

See the writing progress

Quality & originality review

QA Engineer

We'll thoroughly review it

Final delivery

You

You will download it

Revision option

You

Request further changes
Top dissertation writers—endless capabilities
We only hire writers in the top 1% of their field
Ultius writers are highly skilled veterans who have deep experience when it comes to all facets of writing dissertation orders. Their expertise means that all you have to do is choose from the following options: best available, graduate (default selection), or requested based on a recommendation.
Advanced writer options
Best available
Get automatically matched with the best writer based on your dissertation requirements.
Main features
American writer Guaranteed native English speakers
Topic specialist Your writer will be an expert in your dissertation topic
Reassignment option If you are unhappy with the writer's performance, we'll assign you a new one—no questions asked (learn more)
Graduate writer
Upgrade to a top performer and work with the best writers in our entire pool.
Main features
Hand picked expert Graduate writers are vetted and selected by the writing manager
Top 10% performer Graduate writers represent the best in our entire talent pool3
Master/PhD graduate Graduate level dissertation service
Proven track record Graduate writers have very low client revision request rates
Add-on pricing The cost for this writer upgrade is

+20%

of the base price
Requested writer
Choose your own expert writer based on the compiled favorites list you created.
Main features
Writer inbox priority Your requested writer will prominently see your order listed first, leading to a higher acceptance rate
Availability IntelligenceSM Our proprietary technology makes sure that your requested writer will be available (what's this?)
Add-on pricing The cost for this writer upgrade is

+15%

of the base price
Add-on pricing
Writer upgrades
American writer
Native English speaker
Topic specialist
Expert in your requested field
Hand picked expert
Selected by staff
Top 10% performer
The best in our writer pool3
Master/PhD graduate
Graduate level4 essay service
Proven track record
Low dissertation revision rate
Writer inbox priority
High acceptance rate
How we hire and source the most qualified dissertation service writers
At Ultius, we're proud to boast an exhaustive selection process to source only the most-qualified writers guaranteed to be native English speakers. Here's how we choose:
We consider only a handful of candidates from thousands of annual applicants' resumes
Qualified candidates submit sample writing for our Talent & Compliance department to review
Phone interviews are conducted with the select few whose writing and experience qualifies
The top 6% of applicants who make it through all phases of screening undergo a rigorous onboarding process (these folks are the top 1% of all writers available on the world wide web)
Only writers who have proven their capability and reliability while writing for Ultius are allowed to work on graduate level orders like dissertations
We take pride in this intense selection process to ensure that our clients are beyond satisfied with the end result of their Ultius experience. We also understand that the craft of writing takes years to master. This is why we're committed to bringing you only the best assistance to help you overcome writing obstacles and present your dissertation in the most refined, academic, and professional language possible.
Finally, the capability of our writers is evident in some of the amazing long-form blog posts and infographics that they produce. For example, one of the most popular pieces of content of all Ultius-owned web properties is the infographic titled "10 best practices for writing your dissertation". We strongly encourage you to check it out (even if you decide not to buy dissertation writing services from Ultius).
We have the dissertation writing experts you're looking for
We screen thousands of applicants each month to ensure we have only the best available for you.
Claim offer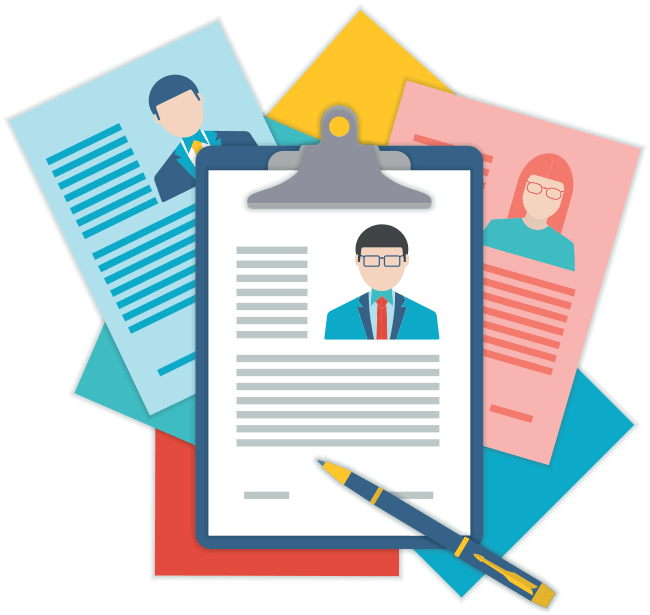 Common dissertation service questions
Read what customers usually ask before ordering
We know you've probably got a lot of questions and we want to answer all of them. Here are a few of the most common concerns raised by others who have used our dissertation writing services.
General questions
How do revisions work?
If you are unhappy with your dissertation service order after it's completed, you can get it revised for free. Just request a revision within seven (7) days of the completed order and the editor will upload a revised draft within three (3) days. Note that urgent revisions may have an extra cost, and other restrictions/limitations apply. We recommend reading the entire revision policy.
Can you guarantee I will get an original dissertation?
Your purchased content will be original or you will get your money back. Additionally, we don't submit any works to Turnitin because if we did, it wouldn't pass the originality scan. We use our own tools and Copyscape.
Pricing and payment options
How much do dissertation services cost?
Pricing depends on a few factors, but mainly deadline, page count, and writer level. For example, if you need fifty pages due within a few days, this would be a very expensive order. Alternatively, just a single dissertation chapter due within thirty days would be priced more reasonably. Ultimately, the pricing is by the page and starts at $17.00/page.
Privacy and security questions
Will my identity be protected if I order from you?
Your business with us is private and confidential. The only circumstance in which we would ever share your personal information is if we were required to do so by a state or federal court order, or as part of a law enforcement warrant. In almost a decade of business we have never been required to do that.
How secure is the Ultius website?
Our website uses industry-leading security practices like required dial-in PINs, email registration restrictions, and other internal measures to protect your privacy. We also rely on a number of other security vendors to keep our website safe
Is it legal to buy online using a dissertation service like Ultius?
Yes. You can feel confident that when you order a dissertation from Ultius that you are purchasing quality, original, one-of-a-kind content based on your specific instructions (to be used for sample/reference purposes). We don't re-sell or re-use any content. All of our writers' drafts undergo a plagiarism-scan and rigorous quality assurance check before being sent to you. The dissertation content you purchase from Ultius is meant to relate directly to your field of research to help you through your personal learning process. Our fair use policy is freely posted along with our terms and conditions so any concerns or questions you may have about the legality of using Ultius can be laid to rest.
Dissertation-specific questions
How can I be sure my writer is familiar with writing dissertations and the standards my University requires?
We understand that dissertation writing is no simple task. When you indicate that you'd like your paper written at a graduate or post-graduate level, Ultius ensures your dissertation order is only made available to a select pool of highly qualified and proven doctoral-level writers. Our simple, easy-to-use messaging platform also allows you to upload any supporting documents for your writer such as your university's grading rubric, course outline, dissertation template, or any other expectations you may have. That way, you can rest assured that the final document you receive will be considered exemplary according to your specific standards.
How do I know my writer will have access to quality, peer-reviewed research articles?
One of the great things about ordering your sample dissertation with Ultius is the fact that our diversified writers have access to empirical, peer-reviewed journal articles in a variety of subjects. Ultius writers understand that research is the cornerstone of a strong, credible dissertation. Our writers are also experienced when it comes to conducting quality, high-level research efficiently. We'll ensure your order is paired with a writer well-versed in your subject of study who is able to synthesize a variety of research. You may also use the writer-client messaging system to upload any articles and research documents you'd like your writer to reference or use in your sample dissertation.
I only need help writing certain parts of my dissertation. Can I request this?
Definitely. Writing a dissertation is a process that often happens in multiple steps. Many times, dissertations will be written chapter by chapter and revised multiple times. If you simply need examples of how certain components of your dissertation ought to be written or if you need editing completed on certain parts of your dissertation, you may request either separately or a combination of both. Simply indicate exactly what you need completed in the "order information" field when you place your order or contact our Client Success Department for customized assistance.
Can I request dissertation help for qualitative and quantitative studies of different design types?
Absolutely. Our writers are well-versed and experienced in writing qualitative dissertations using data collection methods such as semi-structured interviews as well as quantitative dissertations using designs like correlative analysis. Study methodologies and designs vary depending on the preference of the researcher, the research question(s), the type of methodology and design most appropriate for the study, and the subject being studied. Examples of common fields of study include, but are not limited to: psychology, sociology, economics, biology, nursing and education. All of these disciplines may use quantitative, qualitative, or even mixed methods methodologies and designs. To view samples of Ultius dissertation writing, visit our sample page linked previously.
Give us five minutes, we'll save you weeks
You made it to the end of the page and we hope you're ready to do business with us.
Yes, let's start now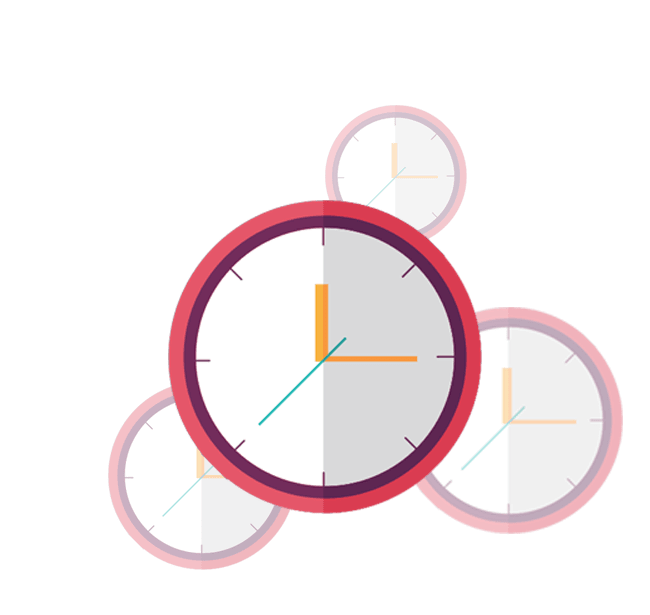 Legal Notes
Availability Intelligence SM Availability Intelligence is a registered service mark of Ultius, Inc. The mark represents our proprietary technology that utilizes various signals and data points to determine whether clients can request specific contracted writers.
1 Free revisions are offered for all custom writing services. After your order is completed, you will have seven days to request a revision and we will upload it within three days. Urgent revisions may have additional costs and other restrictions apply. Please read our full revision policy for more information.
2 Ultius offers a money back guarantee if we fail to connect you with a writer, the order is not completed or doesn't meet the required quality standards. For partially late orders, we will refund you the difference in cost between your original deadline and the deadline we met.
3 The graduate writer pool represents a total of 7.3% compared to the total number of writers we have in our database. This figure is accurate as of 4 October 2016.
4 Our graduate writers generally have professional degrees. In rare cases, the writer may not have a professional degree, but the company feels confident in the writer's ability to produce graduate level work. Revision writers or reassignment writers may not have professional degrees.
5 While we work extremely hard to secure our web properties, no system is foolproof or immune to intrusion. Therefore, we legally cannot guarantee a 100% success rate of securing our website.
Writer hiring data Writer hiring data is from the entirety of 2016 and based on 4,844 initial applicants. The data provided represents a confidence interval of 10% for each subset of data within the entire hiring process.
Reviews Aggregate review ratings are derived from reviews.io, Facebook ®, the BBB ®, Google ® and SiteJabber ®. Review vendors are not affiliated with Ultius, Inc., whether expressed or implied. As a matter of policy, the BBB ® does not endorse any product, service or business. Current BBB rating as of October 2018. All logos and marks are trademarks of the respective company.
Security disclaimer While we work extremely hard to secure our web properties, no system is foolproof or immune to intrusion. Therefore, we legally cannot guarantee a 100% success rate of securing our website.
Originality disclaimer Ultius, Inc. uses various online tools to ensure all custom writing work is original. However, we legally cannot 100% guarantee that it will be original. This may be due to software failure, indexing issues with Copyscape, unpublished (offline) content or human error. In the case that your custom writing order is not original, we will be more than happy to have a different writer re-write it or provide you with a full refund. Copyscape is a trademark of Indigo Stream Technologies and is not affiliated with Ultius, Inc.
Security vendors Ultius, Inc. utilizes security vendors like Armor, Cloudflare, Google Apps, GeoTrust and Cisco. The company logos listed are registered trademarks of their respective companies. Ultius, Inc. claims no association or partnership, whether expressed or implied. Also, no platform is entirely secure, and that includes Ultius. Despite our efforts and track record, we legally cannot promise a 100% success rate of securing our platform, your data and communications exchanged. Please read the terms and conditions for more information about limitations of liability.