Advanced Writer Options
Our technology is solely designed to do one thing well: conveniently match you with the best writer possible. Ultius offers three options and a million reasons to choose us.
Best available
By default, our writer matching technology uses your order details and past work to intelligently select specific writers who are going to be the best fit. Here's how it works:
You Order

We Filter

Writer Selects

Editors Audit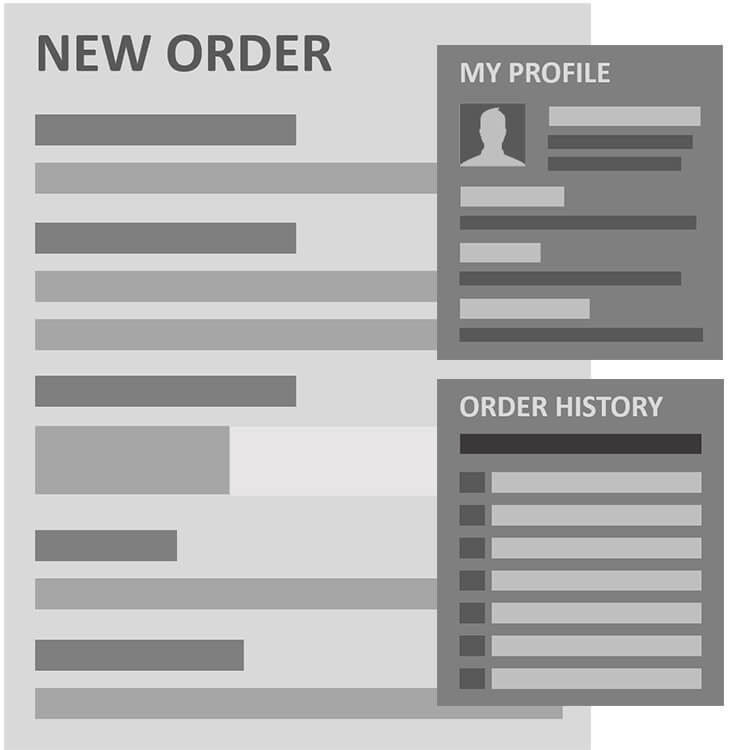 The process starts right after you place your order. We assess your unique order details and take into account past orders you have placed. This gives us a snapshot of what the core writer requirements are.
New Order + Past Orders + Account History = Requirements
From here, we start the process of filtering our writer pool for you.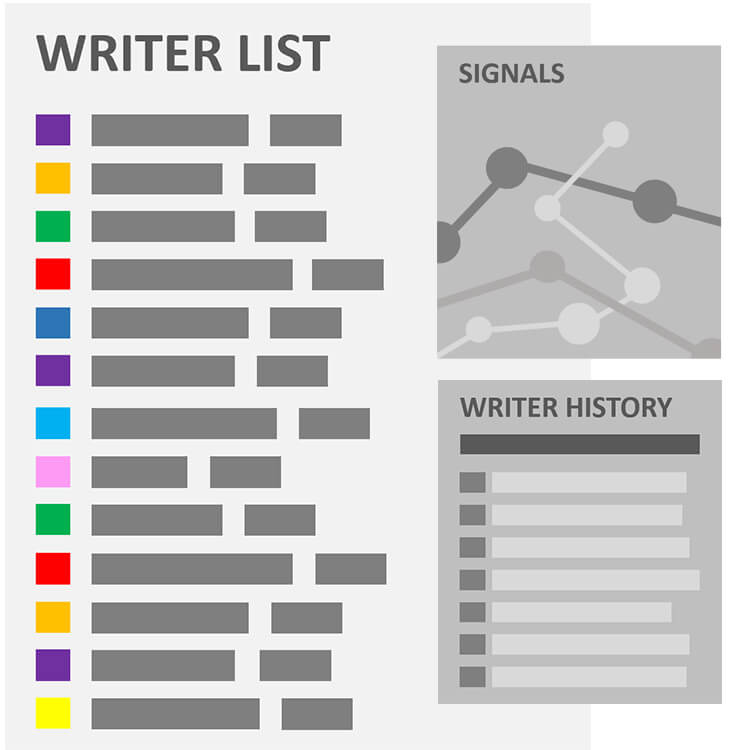 Next, we filter through our entire database of writers and look for qualified candidates. We use various internal data points and signals based on the writer's history in order to answer two questions:
Is the writer qualified to complete the order?
Is the writer available and likely to accept the order?
If these two conditions are met, we put the writer on the shortlist and move on to the next step.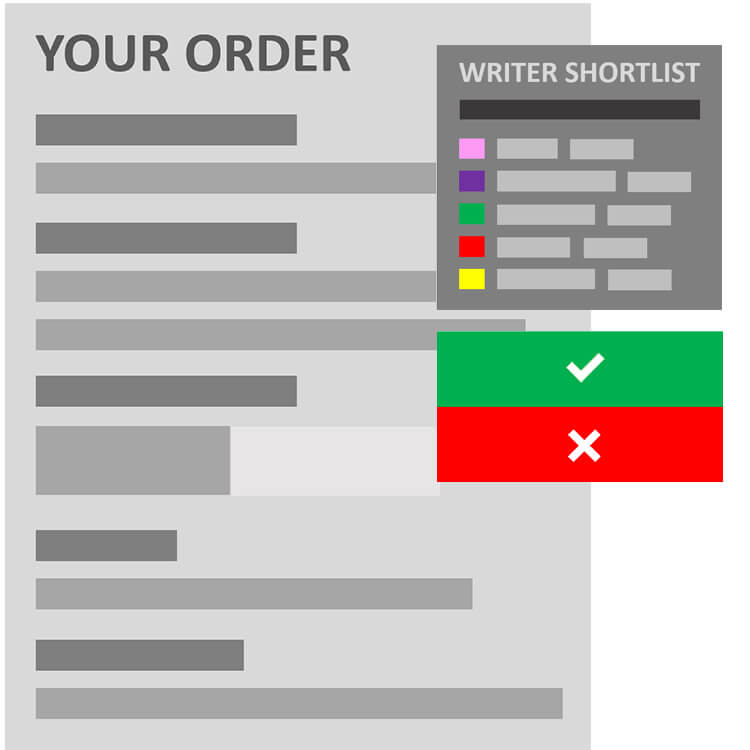 Once our filters have selected the available writers for your shortlist, we allow them to view the order details, attachments and ask the editors for any clarification.
If a writer feels like the order is a good match for their background and skill sets, they can begin working on it.
This process can take upwards of twelve hours, depending on your deadline1.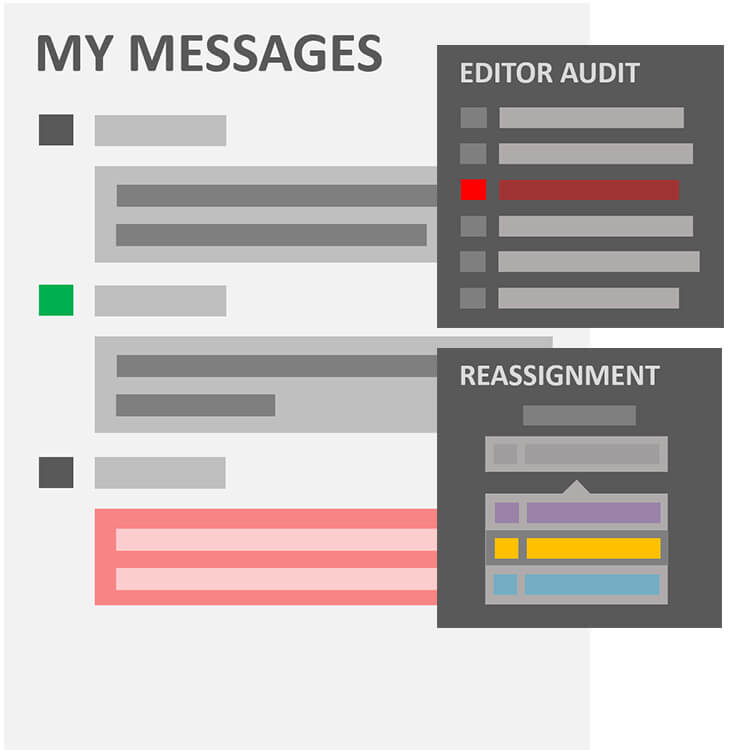 Computers aren't perfect, and neither is our writer matching process. That's why we have a staff of editors that audits writer drafts and your communications.
If we see any problems or issues that the writer can't resolve, we may flag the order as distressed and conduct a thorough review.
If we conclude that the writer isn't the best fit for your order, we'll reassign it.
Graduate writer
By upgrading to a graduate writer, you're not only getting a seasoned professional - you're getting the best that we have to offer.
Hand Picked Expert
Our writing manager personally selects graduate writers based on performance, skill level and other quality factors.
Proven Track Record
Each graduate writer has completed hundreds of orders and generally has a lower rate of client revision requests.2
Master/PhD Graduate
We guarantee that graduate writers have earned post-graduate degrees in various subjects and disciplines.
Top 10% Performer
Only the top 10% of our entire pool of writers make it into the graduate tier - ensuring you get the best we have.3
Requested writer
The advanced requested writer feature allows you to quickly and conveniently build a list of your favorite (and most trusted) writers so that you can work with them on the fly.4
Build your list
We compile your favorite and past writers into a personalized list so that you can request them with one click.
Save favorites, or block them entirely
After each order, you can save your writer to your favorites list, or block them so they can't see your future orders - including revision requests.
Instant recognition
Bold colors and memorable shorthand names for writers ensure that you'll distinctly remember who you want.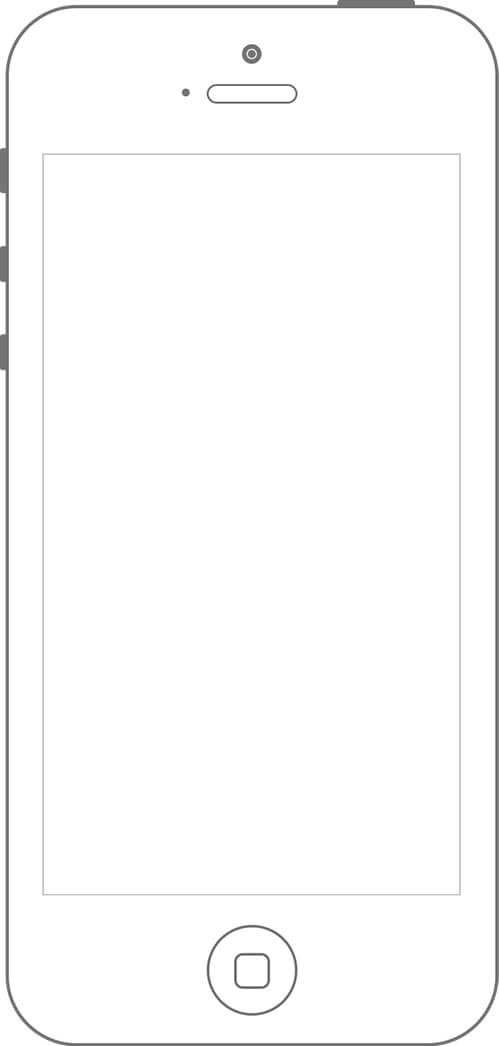 Never leave the order form
Easily view all of your past writers (including favorites) right from the order form. No writer ID required.
Browse your past orders without switching tabs
View orders your past writers have completed for you in one click - without ever leaving the order form.
Stay informed
Get notified via email as soon as your requested writer accepts the order.
Powered by Availability IntelligenceSM
Our proprietary writer availability technology uses a number of internal and writer specific signals to make sure they're actually available. This ensures that when you request a writer, there is a very high probability that they will accept it.
Writer Acceptance Rate5
Our availability technology doesn't just sound fancy - it actually works.
Feature pricing
You are in control with your writer selection options. Let our platform connect you with the best available writer without additional charges. Upgrade to a graduate or requested writer when you need a preferred performer.
Frequently asked questions
You have questions, we have answers. Read below to get answers for the most common writer selection questions that customers have. If your question is not listed and is not in our FAQ, contact our 24/7 support team and we'll address it.
Requested writer
What if I request a writer and they are unavailable?
If you request a writer and they are unavailable we will automatically upgrade your writer selection to a graduate writer, give you a 10% discount code for future orders and give you the option to cancel your order - no questions asked.
Writer availability policy
I am on the order form and don't see "Requested" as a Writer Type option.
You have to log into your account before being able to request a writer from the order form. Follow the link below to log in and then refresh the order form and you will see the new Writer Type option.
Log into my account
I accidentally placed an order but forgot to request a writer. What do I do?
If you forgot to request a writer, then contact our support team and we will get your funds refunded so that you can place a new order with the correct request.6
Contact refunds department
General questions
Can I call my writer and speak to them over the phone?
Because of our commitment to security and customer privacy, you will be unable to call your writer via voice. However, you can freely communicate with them using our messaging system and they will receive a notification letting them know you had a question or concern.
Full privacy policy
What happens if I am unhappy with my final order?
If you are unhappy with your final product, we offer free revisions (with a three day turnaround time). Some restrictions and costs may apply; please read the full revision policy before placing an order.7
Read revision policy
If I order custom sample writing, is my work going to be original?
All orders completed by our writers are guaranteed to be original and custom written just for you. Our editors use various online tools to make sure that it is original. For example, we use a tool called Copyscape and screen all outgoing orders before client submission - ensuring it isn't copied or stolen.8
Learn more about Copyscape
Legal Notes
i Graphics featuring a mobile or tablet device may resemble those manufactured and sold by Apple, Inc. The images are for illustrative purposes only and Apple is not affiliated or associated with Ultius, Inc.
Availability Intelligence SM Availability Intelligence is a service mark (pending registration as of 5 October 2016) of Ultius, Inc. The mark represents our proprietary technology that utilizes various signals and data points to determine whether clients can request specific contracted writers.
1 Twelve hours is a statistical upper limit for how long it takes a writer to claim an order (based on data gathered between the months of July and August of 2016). Actual results may vary and in some cases, depending on your order details and deadline, we may not be able to match you with a writer. In these instances, your funds are returned to you.
2 Graduate tier writers have lower revision rates compared to best available tier writers (based on data gathered between the months of July and August of 2016). Client revision requests happen for lots of reasons, sometimes even by accident. Ultius, Inc. does not guarantee that choosing a graduate writer will avoid a potential client revision request. Total order completion of each graduate writer may vary.
3 The graduate writer pool represents a total of 7.3% compared to the total number of writers we have in our database. This figure is accurate as of 4 October 2016.
4 All listed features are subject to change without notice. Some features may not be available in all markets or for all users.
5 Requested writer acceptance rates are based on weekly order data we gathered through the months of August and September of 2016. Ultius, Inc. does not guarantee that a requested writer will accept the request. Please read our Writer Availability policy for more information.
6 If you need a refund, we will process it as soon as possible. However, your bank account may not be credited for upwards of 7-10 business days. This is a limitation of financial institutions and our merchant service provider, not Ultius, Inc.
7 Free revisions are provided with a three day turnaround time and must fall in line with the original instructions. For urgent revision deadlines, additional costs and restrictions may apply. Please read our entire revision policy before placing an order.
8 Custom sample writing services are provided by writers on our platform. This service category is subject to our Terms and Conditions as well as our Fair Use Policy. You must practice fair use and cite all purchased reference material included in the order cover page. Thanks for playing fairly.