Research Paper Writing Services
Ultius offers a wide variety of model research paper writing services designed to be on your schedule. We cover any subject, citation style, and have great customer reviews.
Research paper writing services for the help you need.
Research papers are not only intimidating projects, but they also require tons of work when it comes to finding and evaluating sources, making an outline and doing the actual writing portion. Luckily, Ultius offers a wide variety of sample writing and editing services aimed at making this process easier for you. The Ultius platform can connect you with a qualified research paper writer who can deliver a wide variety of model writing or editing services.
Read below to learn about how it works, some features and benefits, service options (including pricing), review samples we have written and get answers to your most common questions.
Why Choose Ultius?
Choosing Ultius as your model research paper writing service is an easy choice once you learn about our company, track record of success and the details behind our processes. In the sections that follow, we are going to show you how since 2010, Ultius has received hundreds of great reviews from customers like you. We are also going to go over the factors that make Ultius a trusted site, our quality process as well as the features that make using Ultius extremely convenient. See below for more information about each section.
Great Reviews

Trusted Site

Quality Process

Convenience
Great customer reviews and a high cumulative rating.
Your time and money is extremely valuable. We get that. We also understand that you don't want to risk taking a chance with products and services that are new, unproven, unreliable or downright 'shady.' That's why Ultius is proud to have strong customer reviews that we can showcase to potential customers. We only show you reviews from verified vendors like the Better Business Bureau (where we have an A+ rating), SiteJabber, Facebook and Google and provide the link where you can see it for yourself. We believe that earning consumer trust starts with verified reviews. Take a look at what other customers have said about using our sample research paper writing services. You can also see all Ultius reviews to read more.
Rating Summary
Based on

631

customer reviews of our

Sample Research Paper Writing Services
Where do we get reviews from?

Read the latest customer reviews
Review numbers/ratings last updated on 7 August 2016. As a matter of policy, review vendors don't endorse or promote companies or services.
Ultius is a trusted model research paper writing service provider.
Ultius has been in business since 2010 and we have a global client base with customers in over 45 countries as well as 2,000 writing professionals in our talent pool. We know how important it is for you to work with a trusted company and we live up to that promise with our stellar track record and great features. Read below to learn more about why Ultius is the trusted name in consumer writing services.
McAfee Secure Site Seal
The Ultius site is secured and tested daily by McAfee, a global leader in internet security. Every day, McAfee's software scans our web presence for malicious code, phishing attacks and general site integrity. With these frequent checks in mind, you can be sure that model research paper writing services from Ultius rely on external vendors to keep your information safe.
Better Business Bureau Rating
The BBB is a household name when it comes to defining consumer trust and evaluating the honesty of a business and its employees. Ultius has been listed on the BBB since 2013 and we have an A+ rating. We also have almost 200 customer reviews (and company replies) as well as a 4.9/5.0 satisfaction rating. How many other research document preparation services can boast the same credentials?
600+ Verified Client Reviews
If you were just viewing the previous section, you probably saw that Ultius has over 600 verified customer reviews from trusted review vendors. We take our online reviews very seriously and try to respond to all of them. We recommend reading the negative reviews and our company replies to see how we deal with customer complaints. You can be sure that even when things go poorly, we take care of our customers.

American Company
With so many online options, it's better to go American for many reasons. First, it supports the greatest country on earth. Second, the best native English speaking freelance writers go to school in the States and work for companies located here. Ultius is based out of Delaware, holds trademark registrations there and operates a call center in sunny Las Vegas, NV. When it comes to your most important research paper writing projects, trust an American company that has a strong reputation for supporting the local knowledge economy.
256 Bit SSL Encryption
We hear a lot about internet security and encryption in the news, but what does that mean? Having an SSL certificate means that the Ultius site is verified as a local American business and has local operations. It also means that your sensitive order details and account information is encrypted so that nefarious agents cannot get ahold of it. Whenever you are visiting the Ultius site, ensure that you see the green SSL bar to the left of your address bar in your web browser.

A robust internal quality assurance process to make sure our research paper services come out great.
When you order research paper writing services from Ultius, you can be sure that your model paper has gone through many different levels of quality auditing. Our internal QA process is run by our staff of editors, who work around the clock 24/7. Check out the quality steps we take on your behalf by looking at the chart below:
Client Order

You

Draft Submission

Writer

Instructions Review

Editor

Quality Standards

Editor

Originality Scan

Editor

Final Delivery

You
This quality process ensures that your completed work followed your precise instructions, passed our internal quality review, and is original.
A convenient experience, every step of the way.
Our sample research paper writing services were designed to be convenient for you. We know your time is precious, so we've designed every step and interaction to be quick (without compromising service or quality). Check out some of the core convenience factors that Ultius has to offer.
24/7 Support - Any Time, Any Method
We know how important it is for you to have access to quick and convenient support options. That's why we have our staff available 24/7 via voice (local and toll-free), SMS, live chat, email and our facebook page. See the different support options we have below:
1-800-405-2972
Toll-Free (voice)
1-702-979-7365
Local (voice)
1-702-979-7365
SMS (text messaging)
Speedy Ordering Process (5-10 Minutes)
You may think that going through the order process is long and laborious, but it takes roughly five to ten minutes to complete. We just ask you to fill in some basic information about your model research paper writing order and then confirm the details before directing you to the payment page. While we do recommend that you include detailed instructions, submitting initial order details is a breeze and enough for our writers to get started with your order.
You also have the opportunity to include more information and upload files through the messaging system once the order is placed.
Save Your Favorite Writers - Or Block Them Entirely
As a technology company, Ultius takes pride in having convenient features and advanced writer options that no other platform has. For example, after every order you can save the writer to your favorites list, enabling easy selection for future orders. Alternatively, you can completely block writers so that they are unable to see any of your future orders. See the features in action below: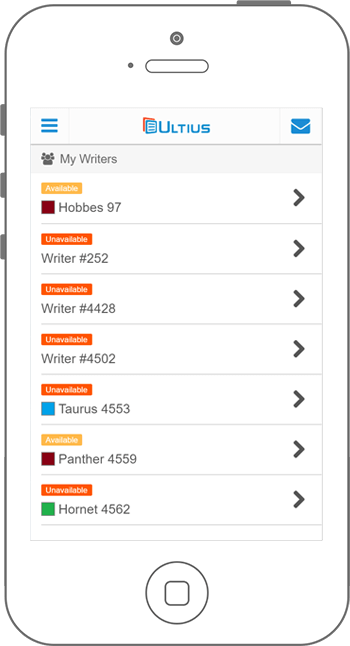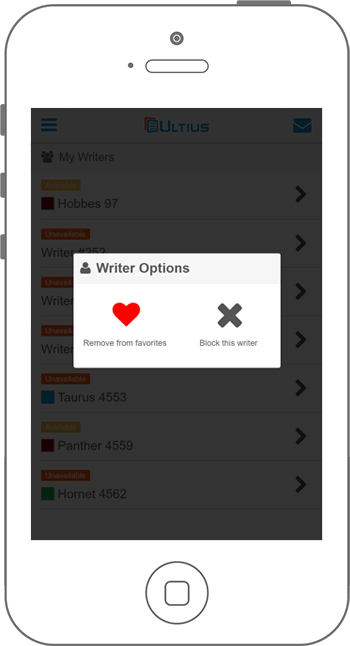 As you can see, these features are not only convenient for your model research paper writing service order, but they are also available on your tablet and mobile device. At Ultius, we know your life is on the go, so we've engineered our platform to accommodate you with a beautiful user interface and an intuitive experience.
Our Services are Designed to be 'On Your Schedule.'
If you have browsed through our site long enough, you probably stumbled upon the phrase 'on your schedule.' It's not just our tagline, it's our promise. When you trust Ultius with your project and purchase our model research paper writing services, we promise to live by that phrase. Whether it's meeting your order deadline or being available when you need us at 3:00 AM (our time), we're here for you.
How Our Research Paper Services Work
Are you wondering how our model research paper writing service process works? It's quite simple and we've created an infographic to explain it in detail. See the image below for an overview of the four steps involved.
Model Research Paper Writing Services - Order Process Overview
PDF Download
See an overview of the Ultius order process and the steps involved.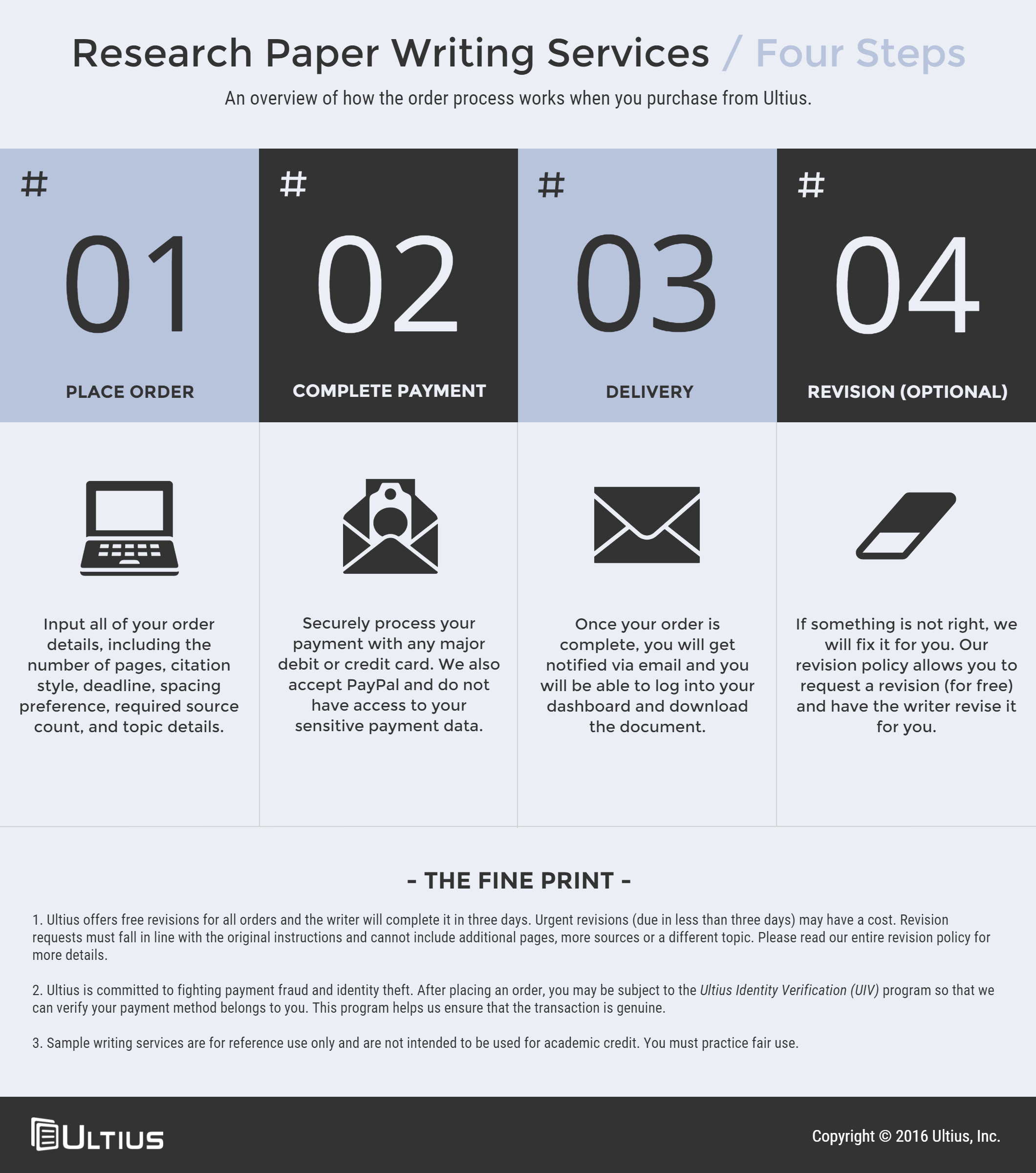 As you saw, there are just four steps involved with the entire process. The process was designed to be fast, convenient and thorough so that you can get a great end-product. Ultius takes pride in saving you time, so that's why we've engineered every aspect of your interaction with us to be meaningful and useful. Here's a brief review of each of the steps:
Step 1: Place Your Order For Research Paper Writing Services
The process starts when you place a new order for a sample on our web site. It takes about five to ten minutes and is required for us to collect information about your requirements. Here is a brief list of some information we need to collect from you:
Order topic
Number of pages
Number of sources
Spacing
Deadline (when you need it by)
Topic details
Additional information
Once you place the order, you will be required to create a new Ultius account. You will also be prompted to create a secure four-digit dial-in pin so that our customer support team can speak with you about your order.
Step 2: Process Your Payment
Next, you have to process your payment using one of our secure payment vendors: Authorize.NET or PayPal. We accept all major debit and credit cards and don't have access to your sensitive payment data as it is not stored on our web site. If you have any issues during the payment process, you can contact our 24/7 support team and we can send you a manual invoice or troubleshoot the problem for you.
Once your payment is processed, the order will be assigned to one of our writers and you can upload additional files in the messages tab of the order view interface.
Step 3: Delivery of Your Order
When your order is complete, you will receive an email notification prompting you to log into your account. From here, you will be able to view and download your final order. You may need to add donotreply(at)ultius.com as a preferred sender in your email contact list so the emails don't go to the spam folder.
Step 4: Optional Research Paper Revision Service
Should you require a revision or need some changes, you can request a revision using the form we have. Revisions are free when you order a revision deadline of three or more days. Revisions due earlier may require a payment because we may have to ask another writer to work on it faster on your behalf. Please make sure to include only your feedback when adding comments in the form.
From there, we will upload the revision in the drafts section and you can download it after receiving another email notification.
Features and Benefits of Research Paper Writing Services From Ultius
When you work with Ultius, you are tapping into the expertise of thousands of qualified American freelance writers. Using the Ultius service to connect you with a writer also entitles you to many features and benefits that you won't find anywhere else. Ultius writers can cover any subject matter or citation style. We know how important citation styles are for completing research paper models, so we even offer free online resources to our writers and the public. Finally, you should know that every Ultius writer on the platform has gone through a very intense onboarding and training process. This ensures that when you place an order, you are working with the best people.
We Cover Every Subject and Every Citation Style
From art history to the social sciences - and every subject in between - model research paper writing services from Ultius can help you get a head start on doing your work. Our writers are well-versed in all subject matters, disciplines and citation styles. After all, it's our talented writers who have helped us craft the extensive citation style and writing help sections on our site. If you are worried that your topic or requirements are obscure, have no fear because we have seen it all.
Supported Citation Styles
MLA;
APA;
CMS;
Turabian;
Oxford;
ASA;
CBE;
AMA;
McGill Guide.
Highly Trained and Qualified American Research Paper Writers
Working with an Ultius writer is a privilege that we've worked very hard to provide and uphold. We don't just hire anyone that applies - in fact, we only hire writers that can show proficiency in producing the best possible work. Ultius hires writers 24/7 and maintains ongoing quality improvement guidelines that ensures that only the best model research paper writers stick with us. See some of our hiring requirements below and/or head over to the careers section to learn more about our recruiting efforts.
Writer Hiring Requirements
Degree from an accredited four-year college/university in the United States;
Great writing sample;
Phone interview;
Ultius writer training program.
Model and Editing Research Paper Service Options
What kinds of research paper writing services do we offer? To answer that question, you should take a look at the table below. From standard model documents - to editing and proofreading - Ultius writers can do it all. Whether you need a model to get started or just some additional help with an outline or some editing, we have reasonably priced services that can help you get your work done.
See our most popular services below and click on the links to read more about them.
Popular Research Paper Services
Related Research Paper Services
Each of the above listed service options are designed to help you save time, money and get the most out of your experience with us. When placing order, we strongly recommend that you take the time to find out which exact service you need. This makes the process go a lot smoother.
Service Pricing
Are you wondering how much our services cost and how we determine the prices? Let's take a look. First, you should know that pricing is different for every order and determined based on four factors:
Deadline: When do you need the work done by? The deadline impacts the price the most. If you need something in twelve hours, it's going to be more expensive than if you needed it in ten or more days.
Number of Pages: Pricing is by the page, so each page you add is going to add to the cost. Keep in mind that any title or reference pages of your model research paper are not included in the price. These are free additions that we don't charge for.
Academic Level: The academic level is the overall competency required for your order (high school, undergraduate, master or doctoral). While the High School option may be the least expensive, it is designed to connect you with a writer proficient in that level, so make sure to carefully choose this field wisely.
Writer Type: The experience level of the writer is also a pricing factor. You have several writer type options to choose from, and we recommend considering your research paper writing service needs carefully before selecting one. Here is a breakdown of the options:
Best Available: Best available writers are writers we feel will do a good job based on your topic and level selection.
Graduate: Graduate writers make up the top 10% of our staff and are hand-picked by our writing manager. Although this writer option costs an additional 20%, it ensures that you are working with someone who is not only an Ultius writer, but a proven and seasoned veteran that has completed fifty or more orders without major issues.
Requested Writer: You can also choose to work with a writer from your favorites list or one you worked with before. This option allows you to directly connect and work with a specific writer. There is a 15% service fee for this option and the writer availability policy does apply. Click here to read this policy and our commitment to making sure that requested writer orders are honored.
Now that we have covered how our pricing model works, let's review pricing for the most commonly ordered model research paper writing services. Below, you will see what customers usually order and the price point for it.
Pricing for Common Research Paper Services
Research Outline

7 Days · 2 Pages · $40.00

Model Research Paper

10 Days · 8 Pages · $156.00

Research Proposal

12 Hours · 1 Page · $44.00

Model Research Paper

5 Days · 6 Pages · $132.00

Research Paper Editing

24 Hours · 6 Pages · $138.00

Annotated Bibliography

3 Days · 2 Pages · $56.00
General Pricing Table
Deadline
10 days
7 days
5 days
3 days
2 days
24 hours
8 hours
High school
$18.00
$19.00
$20.00
$25.00
$30.00
$34.00
$45.00
Undergraduate
$21.50
$22.00
$24.00
$31.00
$34.50
$39.50
$56.00
Master
$30.00
$32.00
$35.00
$40.00
$43.00
$48.00
$63.00
Doctoral
$34.00
$36.00
$40.00
$48.00
$55.00
$63.00
N/A
Prices are subject to change without notice and this table may not be updated immediately. Deadline restrictions to apply for orders due in less than eight (8) hours. Please visit the pricing page for verification.
Read Samples of our Research Paper Writing Services
Before placing a research paper writing or editing service order for model work, we want you to have clear and reasonable expectations. That's why we are happy and proud to offer samples of our work that you can review for yourself. The Ultius blog has over a thousand samples for different product types and you can literally get lost for hours reviewing them. However, in line with our mission of conveniently serving you, we have compiled some of the most relevant examples of our research writing services below.
FAQ - Before Trying our Research Paper Writing Services
You have questions and we have answers. Before you place an order, we wanted to highlight some important questions and answers that previous customers have asked us before placing research paper writing service orders. While the following FAQ section is not exhaustive, we do offer a full frequently asked questions page so that you can get even more answers.
How do revisions work?
If you are not happy with your order, we can make changes for you once you request a revision. You have seven days from completion to request one and the free revision deadline is three or more days. We will surely address any items and correct mistakes where we didn't follow your original instructions. Please read the full Ultius revision policy for more information.
Where do you get sources?
Our writers gather sources from trusted journal databases like JSTOR, EBSCOHost, ProQuest, Google Scholar and others. If you require a specific book, we can usually find it on Google Books or the Kindle Store. You can also upload your own sources in the messaging interface once you've placed an order.
Is the Ultius site secure and private?
Yes, using the Ultius platform is secure and private. We use 256 Bit SSL encryption and don't handle payment processing on our site; instead, we rely on trusted payment vendors like Authorize.NET and PayPal to securely handle your payment data. We also take your privacy very seriously and do not share information with third parties, unless required to do so by federal law.
Is the sample work I order original? How do you guys make sure it is?
Ultius takes lots of steps to ensure that your order is original and written just for you. We use a tool called Copyscape to screen orders for originality issues. While it's not perfect, it does catch most matches on the internet and has proved to be reliable.
What's included with my order?
When you order from Ultius, you are granted free amenities and features without an extra charge. For example, title pages, reference pages and formatting based on your citation style doesn't add to the page account. Additionally, you get access to 24/7 customer support via any channel you prefer.
My question wasn't answered here, who can I talk to?
If we didn't answer your question and it wasn't included in the dedicated Ultius FAQ page, you can always contact our 24/7 support team and get an answer from a real person.
The Ultius Promise
With every order, you can count on the following:
Delivered on time
100% original
Free revisions
Awesome 24/7 support
World-class writers