Ultius Blog
Ultius is the trusted provider of content solutions for consumers around the world. Our platform matches customers with highly qualified American writers for custom sample writing, editing, and business writing.
7 Types of Essay Writing You Will See in School
Essay writing is a necessary part of school, whether you are a high school, undergraduate or graduate student. However, writing can often be intimidating, especially when you are given your first 10 or 20-page essay assignment. Where is the best place to start? How do you get started?
In this post, we will talk about the most common types of essay writing you will find in college, what to expect, how to handle each type of assignment, when to look for assistance and where to find help from an essay writing service.
The 7 most common types of essay writing
There are many different types of essays you will probably encounter in school, depending on your subject of study. However, these 7 types of essays are the most common. Especially if you are completing your undergraduate prerequisites, you will most likely have to write at least a couple of these types of essays. We will review the basics of each type so that you can feel confident when your next assignment is given out-- whether it is a 2 page or a 20-page essay.
1. Narrative
Narrative essays are traditionally intended to tell a story based on the writer's real-life experiences. Generally, a narrative essay tells a story to make a point. For example, you may receive a narrative essay prompt that asks you to "write about your most memorable childhood experience." Narrative essays include a motif (main or central point), and follow a standard essay format (introduction, body and conclusion). They also include characters and action.

Best approach:
The best way to approach writing a narrative essay is to first define the essay's central point, (which can usually be derived from the essay prompt). Once the motif is defined, create an outline of the narrative you will write. This is one of the few essays in which using "I" (first person language) is appropriate. Conclude the essay by explaining how it relates back to the main point. If you get stuck, consider reaching out to a high-quality essay writing service for help.
2. Descriptive
Descriptive essays essentially paint a picture of something. When you write a descriptive essay, expect to be describing your main topic, and plan to use a lot of adjectives. Your topic of description may be a person, place or even an experience or emotion. But, unlike a narrative essay, you will most likely be required to write in third person.
A Venn Diagram comparing humans vs. gorillas
A Venn Diagram can show the similarities and differences between two different subjects, such as humans and gorillas.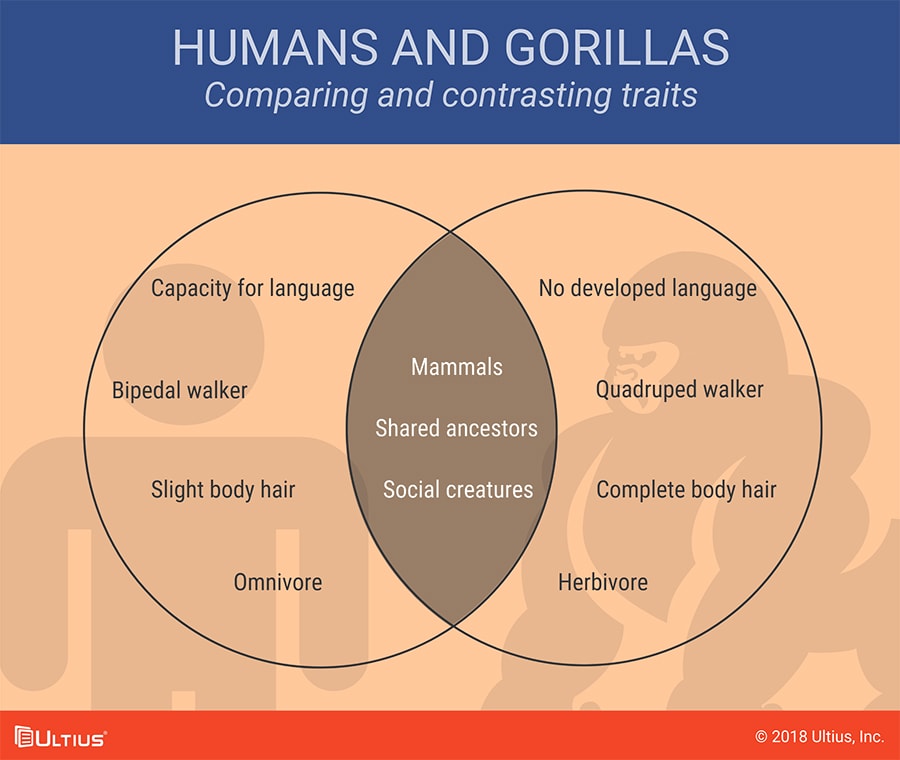 Best approach:
A logical approach for writing a descriptive essay is to first define what you will describe. Write an introduction that explains what will be described and why. Write the body using rich description, and conclude by explaining the significance of the description (why it is important). Essay writing services are a great resource for help if you are stumped.
3. Expository
Expository essays present facts. They require students to research, investigate and present an idea based purely upon factual evidence, rather than based on an opinion. Expository essays use empirical, scholarly sources and are written with clear logic.
Rhetoric tips for your expository essays
Expository essays combine description, explanation, and information to influence the reader.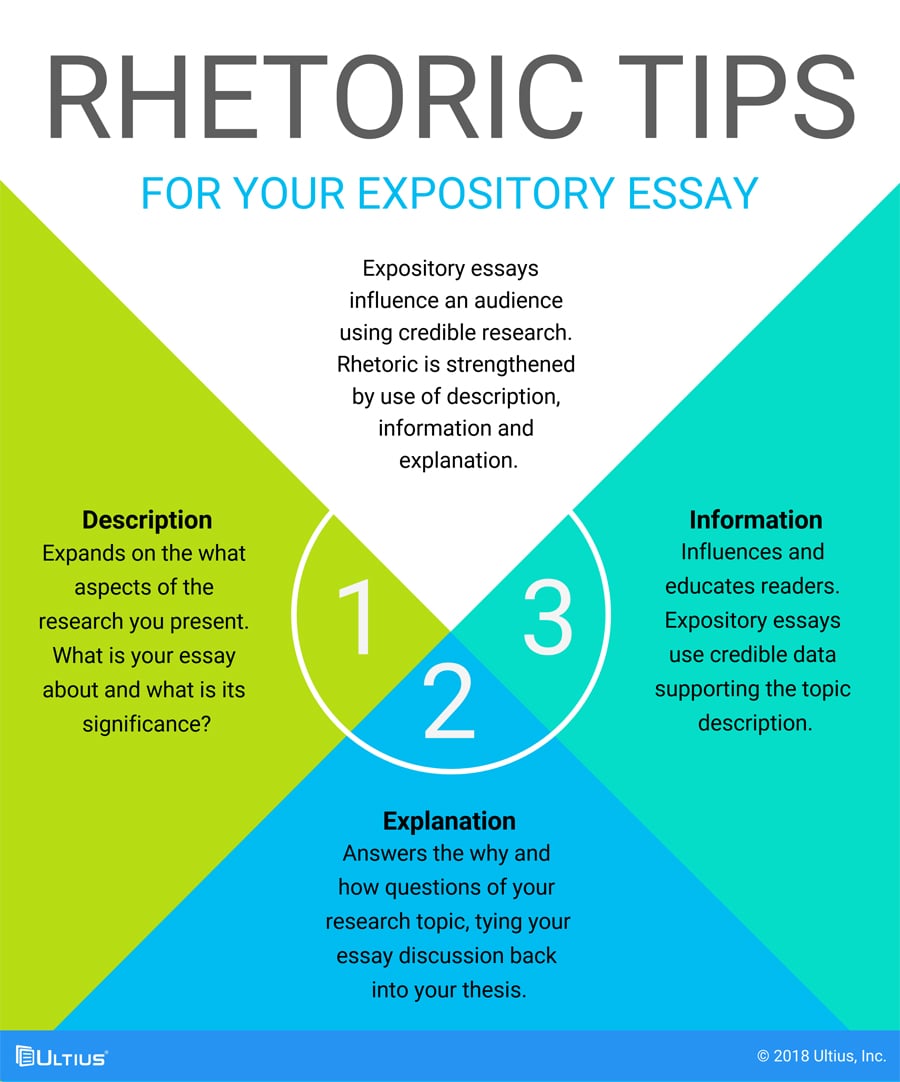 Best approach:
If you are embarking on writing an expository essay, it is critical to make sure that the sources you use in your essay are credible and present information that supports the idea or topic that you are describing. As always, use third person when writing an expository essay, and start by creating a clear outline. Reach out to a credible essay writing service if you need help creating your outline or finding scholarly research.
4. Persuasive
As the name implies, persuasion is the primary goal of a persuasive essay. Persuasive essays should be convincing, argumentative and logical. Unlike expository essays, which may also support a position or certain argument, persuasive essays rely less on concrete fact alone, and may also incorporate opinion-based writing.
Comparing the modes of persuasion
Logos, pathos, and ethos channel logic, emotion, and credibility to persuade.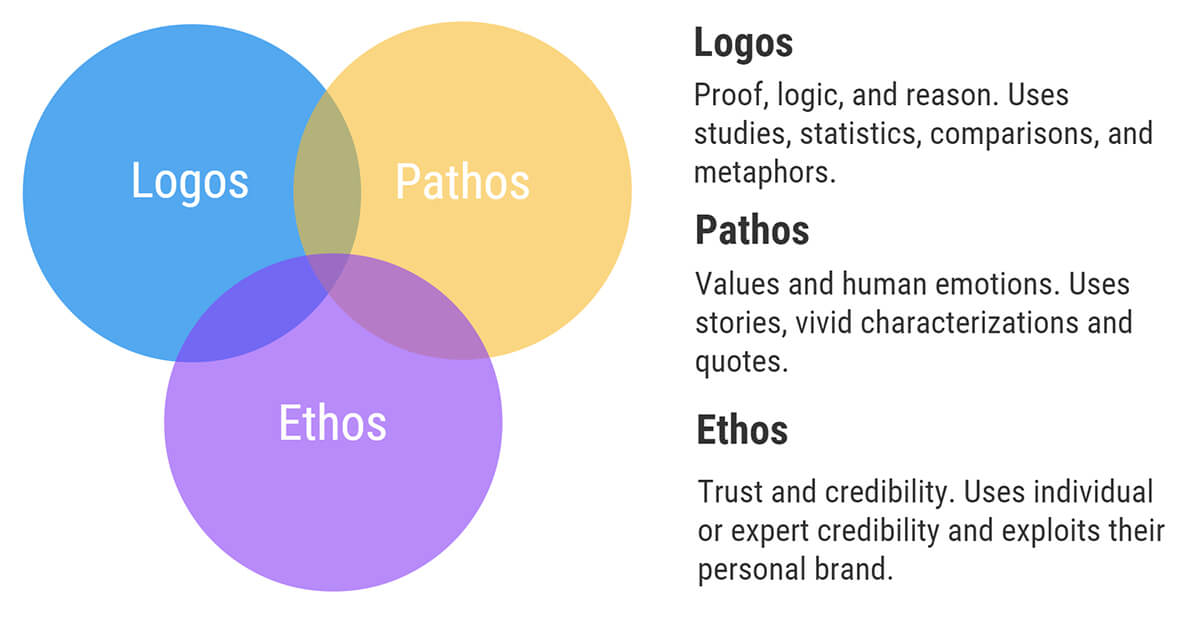 Best approach:
If you are writing a persuasive essay, do use logic and facts. However, you may also write about your opinion, as long as you write in third person and the facts you present suggest the validity of your opinion. In other words, your opinion itself doesn't need to be fact-based, but the facts you include should strongly suggest that your opinion is legitimate.
Once again, the nuances of this type of writing can be tricky, so if you are still scratching your head, do not be afraid to ask for help and explore essay writing service options to get you started.
Writing a persuasive essay? Use our step-by-step guide on how to write a persuasive essay.
5. Compare and contrast
Essay assignments that ask you to compare and contrast something are a little different than essays that simply present facts or an opinion. Compare and contrast essays evaluate differences and similarities between two things.
Best approach:
Outlines are especially helpful when writing a compare and contrast essay. Because you will likely be switching back and forth between whatever two topics, or things, you are describing, creating an outline will help you to connect your ideas logically and write an essay that flows. For instance, it is helpful to follow a systematic process within the body of the essay.
To see examples of a compare and contrast essay outline, look for credible examples from an essay writing service.
6. Reflective
Like expository essays, reflective essays also introduce ideas that are based on facts, But, in contrast to expository essays, reflective essays ponder and reflect on what the topic or idea means, and its significance.
For example, a reflective essay about the shortage of healthcare workers in America would not only cite facts about this problem, but would also synthesize and interpret the facts to explain how or why they are significant to America's society.
Within this example, a conclusion may be drawn such as: "If the shortage of qualified healthcare workers in America is not successfully addressed, the nation's state of health and access to healthcare may continue to decline, which could have negative social and economic impacts."

Best approach:
When writing a reflective essay:
Start with an outline that presents facts based upon your research.
In conclusion of each paragraph, explain the significance of the facts you discuss.
Conclude the essay by interpreting the overall significance of the subject.
The key to a successful reflective essay is to synthesize and interpret facts. If you are stuck, quality essay writing services are usually able to help with reflective essays as well. Some essay writing services, such as Ultius, offer assistance researching, outlining and editing in addition to helping with the writing process itself.
7. Personal
Depending on the nature of the assignment you receive, most personal essays will allow the use of first person, as the name implies. Like narrative essays, personal essays may describe the writer's own experiences.
However, personal essays are often used for a wider variety of purposes than a narrative essay, which is similar to a story. For instance, personal essays may be used to demonstrate or show your personal goals and interests. For this reason, they are often used as college application essays.
Best approach:
One key to writing a great personal essay is to first get clear on the "why" of the essay. In other words, what purpose will it serve? Is it for a class assignment that asks you to write about your personal experience of something (like a narrative essay)? Or, is it a college application essay that will show your admissions board why you are a good candidate for the school based on your goals and experiences?
Essay writing services like Ultius are also a great resource if you are wanting to polish a personal essay and make your impression stand out.
When to look for essay writing service assistance
We mentioned the fact that an essay writing service can be a helpful resource during the writing process. But, you may be wondering if you really need to pay a writing service for help. Here are some general instances in which writing services are especially helpful:
If a final grade is contingent upon your essay and you want to make sure your outline, research and writing align with the instructions and thoroughly meet the requirements.
If you are stumped trying to understand the essay's instructions or feel overwhelmed with writer's block.
If you are writing a college entrance essay, or another type of essay, and want to be sure you hand in polished, proofread content. Essay writing services can be a great resource for editing and proofreading.
If your schedule is super busy and you could use help with the outlining and research process to make writing more efficient.
Where to find help from a top quality essay writing service
There are numerous writing services online. But, if you are looking for help with any of the above types of essays, it is critical to find an essay writing service that can offer assistance with the specific type of essay you need to write. Essay services like Ultius hire skilled writers that specialize in a variety of subjects and are able to create high-quality, undergraduate and graduate level content.
So, before opting for the first or least expensive service, be sure you choose a top essay writing service that offers custom, original writing and helpful guidance, on time.