Ultius Blog
Ultius is the trusted provider of content solutions for consumers around the world. Our platform matches customers with highly qualified American writers for custom sample writing, editing, and business writing.
Poverty is a common social issue that has troubled nations for thousands of years. While nations like the United States of America have worked diligently to eradicate it domestically, it still widely exists internationally. The following essay on poverty presents a few arguments from prominent scholars regarding solutions to poverty and should prove especially valuable to those readers considering buying an essay for their own use. Take note how this writer has stressed the importance of noting that while the challenges facing poverty are daunting, the solutions are feasible and can happen.
Poverty: A multifaceted issue
Poverty has been a consistent problem throughout history. No matter what the median income, unemployment or overall prosperity level is, there will always be people who are homeless and hungry. Despite being one of the most prosperous countries in the world, the United States is not immune to it either. Even today, there are still people struggling to find shelter, feed their kids and find warm clothing. For children, growing up in poverty conditions can have adverse effects that last a lifetime. This social problem has various impacts on different institutions and people. However, there are feasible solutions that are available to alleviate this social problem. In discussing poverty in the United States, the following essay utilizes three major perspectives: the general condition, the emerging middle class poverty and the relationship between small businesses and strategic measures to alleviate poverty.
World Poverty Statistics
Source: OWID
See how many people in the world live in extreme poverty.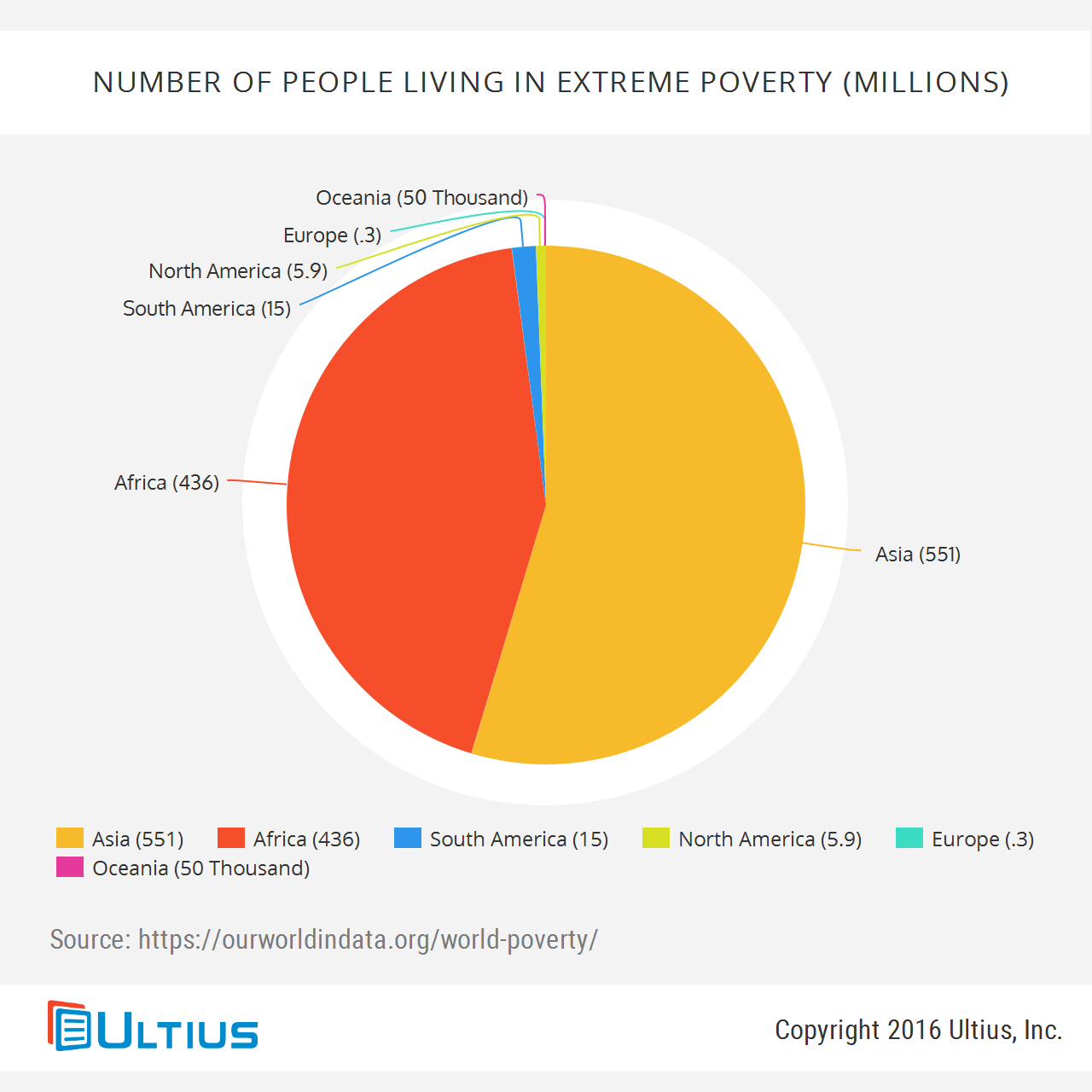 As you can see, there are over a billion people living in poverty around the world.
America's stagnant poverty line
According to Howard Glennerster in "United States Poverty Studies and Poverty Measurement: The Past Twenty-Five Years," poverty has been a steady condition in United States history. Not only that, but today there is even more discussion focused on the "culture and race of poverty" (Glennerster, 10). More and more aid seems to be going to minorities in which there is a high density (such as African-American or Hispanic communities). Moreover, the attention has also been placed on women on welfare (click here to read about how poverty impacts teen pregnancy rates). This segment of the population has retracted to working multiple jobs while taking care of children (Glennerster, 13). Therefore, in the mainstream sense of the term, Glennerster attributed a majority poverty related issues to minorities and single mothers. This mainstream analysis indicates the general level of poverty that is evident in most countries as well.
Homeless couple with dog in San Francisco, CA
Source: Flickr
Homeless people often make camp in street corners with the hope of getting by through the donations of generous passers, as shown in this 2008 photo by Franco Folini on the corner of 6th Street and Mission in San Francisco, CA.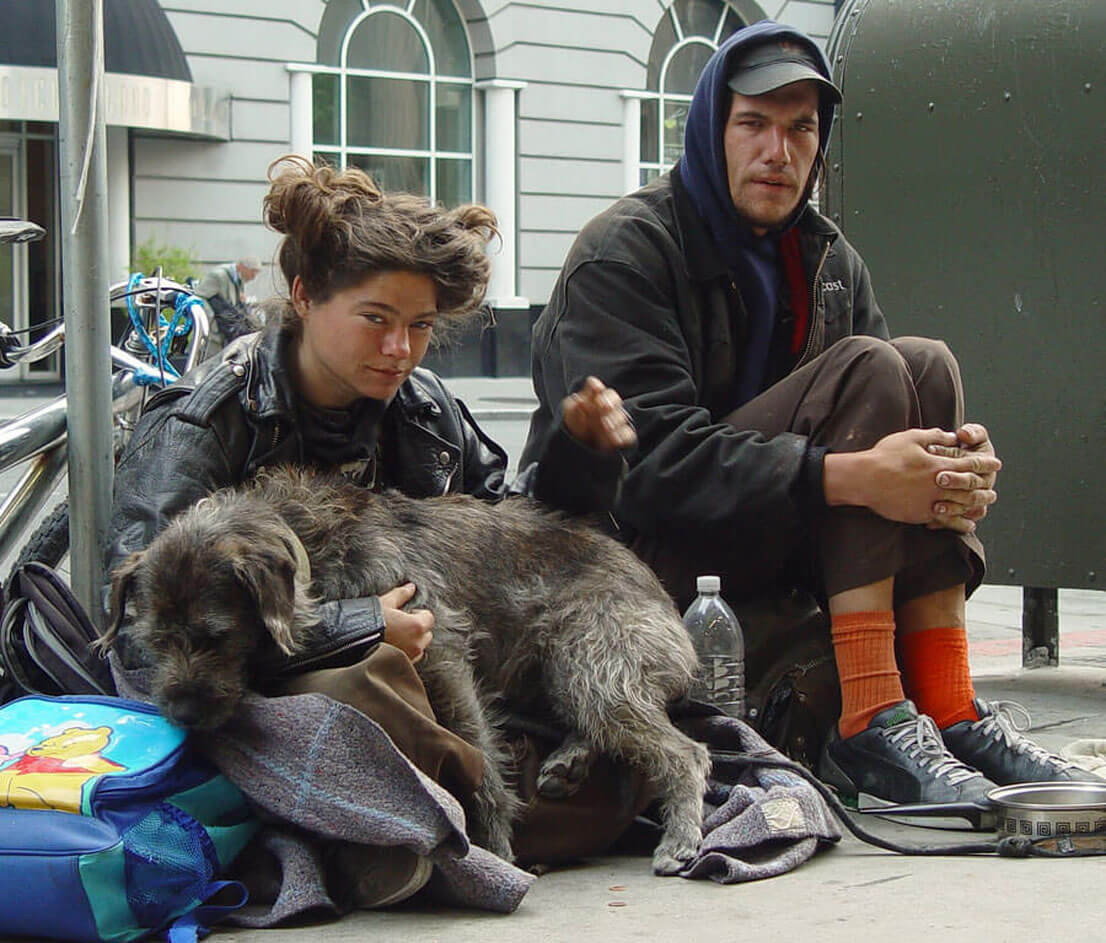 Allan Singer, in "Business Strategy and Poverty Alleviation," focused on the issue of poverty with regard to small business owners who don't have these social problems integrated with their own interests. For instance, he boldly claims that "entrepreneurs and corporations overwhelmingly do not view the alleviation of global poverty as a strategic priority" (Singer, 225). Essentially, personal interests overcome the need to help others. Interestingly enough, Singer does not label poverty as a lack of income or assets, but an issue of "capability-deprivation" because of the circumstances some people are born under (Singer 226). Singer views this perspective as an unfair facet because people do not have control over their futures based on sociological limitations of their location or demographic (read more about how unemployment impacts young adults). Finally, he placed emphasis on the role of government and businesses to alleviate this issue.
Blaming the recent economic crisis
Finally, Stephanie Chen, in "The New Hungry: College-Educated, Middle-Class Cope With Food Insecurity," maintains her position on poverty from the perspective of a recently bogged down economy. She argued that "more than 50 million American were living in a food insecure home at some point in 2009" (Chen, 1). She compares this to the 36 million in 2006. The main dilemma that these poverty stricken individuals face is whether to pay their mortgages or put food on the table. Surely, Chen focuses her discussion not on the minorities or single mothers, but on the working class families that are struggling. Her evidence comes from the hundreds of food banks across the country that is struggling to meet demands from various areas of the spectrum from the homeless to the middle class (Chen, 2).
These three perspectives offer a wide range of social problems resulting from poverty. For instance, Glennerster's perspective on minorities places the blame like a laser beam of Hispanics and African-Americans. As a result, the widely launched government aid programs were targeted towards these minorities (Glennerster, 10). Consequently, this raises the larger issue of generalization and racism. If the country's resources are being utilized for a specific segment of the population, then it singles them out for extraneous scrutiny by those not reaping the tax payer benefits.
Moreover, since small businesses (even custom writing services like Ultius) are the primary catalysts of jobs, Singer argues that the major consequences of greedy business owners are that they are not helping the job creation process enough (Singer, 226). Also, this process also puts duress on governments to intervene either positively or negatively to encourage businesses to foster job creation. Finally, the middle class poverty issue is primarily affecting the local state and city governments that are under pressure to fund and supply food banks for people that don't have the means to do so (Chen, 3). Therefore, the issue of poverty under these perspectives influences not only local and state governments, businesses, but also people's attitudes towards those suffering from poverty.
Big liberal government as solution to poverty
The solutions presented by all three articles indicate that government intervention is the solution. For instance, Glennerster cited that poverty management over the past twenty-five years has been alleviated by government programs targeted towards specific demographics (Glennerster, 14). He also offered solutions by enhancing education levels in order to promote a long term solution. Conversely, Singer argued that since governments have control over tax payer dollars and small businesses have control over job creation; the solution would be derived from the synergy of these two institutions working together (Singer, 227). Furthermore, by utilizing funding and coordinating business strategy to help alleviate poverty, the cooperative partnerships between these two entities would surely help promote long term job growth. Finally, while Chen doesn't offer a direct solution, the context of middle class poverty reflects that only short term support is needed. Therefore, by helping food banks and local city governments push through enhanced demand for the short term, this would suffice until a long term solution has been found.
The evidence suggests that these solutions would, in time improve the social condition of poverty. By first focusing on short term alleviation through food banks and local city support, the immediate issue of feeding people would be met. For the long-term, the government would play a very influential role in helping stimulate employment (like through community education). This would require the help and partnership of small businesses with interests that align with the federal government. Finally, as long as short term aid is readily replaceable with long term solutions, poverty can be eliminated.
The following sample essay on poverty was brought to you by Ultius, the platform that matches you with qualified freelance writers for editing and essay writing services.
Works Cited
Glennerster, Howard. "United States Poverty Studies and Poverty Measurement: The Past Twenty-Five Years." The Social Service Review 76.1 (2002): 1-26. JSTOR. Web. 7 Mar. 2011.<http://www.jstor.org/stable/10.1086/324609>
Singer, Alan. "Business Strategy and Poverty Alleviation." Journal of Business Ethics 66.2/3 (2006): 225-231. JSTOR. Web. 7 Mar. 2011.<http://www.jstor.org/stable/25123827>
Chen, Stephanie. "The New Hungry: College-Educated, Middle-Class Cope With Food Insecurity." CNN. 13 Dec. 2010. CNN. 7 Mar. 2011. <http://www.cnn.com/2010/LIVING/food.insecurity.holidays.middle.class/index.html>
Cite This Post
This blog post is provided free of charge and we encourage you to use it for your research and writing. However, we do require that you cite it properly using the citation provided below (in MLA format).
Ultius, Inc. "Sample Essay on Poverty." Ultius | Custom Writing and Editing Services. Ultius Blog, 24 Apr. 2013. Web. <https://www.ultius.com/ultius-blog/entry/sample-essay-on-poverty.html>
Thank you for practicing fair use.
This citation is in MLA format, if you need help with MLA format, click here to follow our citation style guide.