Ultius Blog
Ultius is the trusted provider of content solutions for consumers around the world. Our platform matches customers with highly qualified American writers for custom sample writing, editing, and business writing.
What to Look for When Purchasing An Essay Online
Whether you are choosing to buy essay papers online for the first time, or you want to have a more optimal experience working with an essay service, consider this post your complete guide to purchasing essays online.
We will cover everything you need to know when deciding to buy essay papers online—from knowing when to buy and choosing the right service to ensuring you are happy with your order.
Should I buy essay papers online?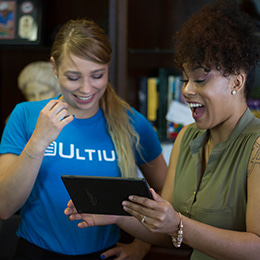 Buying an essay online for the first time can cause a bit of apprehension if you are not sure what to look for or if you even should purchase an essay online. First, it is important to understand that there are many valid reasons to buy essay papers online. It is also completely safe to buy essays online if you are working with a high-quality, top-rated service.
When to buy an essay paper online
Here are just a few examples of reasons you may choose to buy essay papers online and how essay writing services can help.
Time is short. Many students today attempt to manage intense academic and extracurricular workloads. It is not uncommon for graduate and undergraduate students to juggle one or two jobs plus a family life while completing school. Finding ways to make the writing process more efficient can mean the difference between failure and success.
You need assistance researching. If you are working on a graduate level thesis or dissertation, the research process can often feel overwhelming. Even if your essay is an undergraduate assignment, the research process can be tricky. Finding applicable and credible sources is sometimes challenging. Buying an example essay can be a great way to access relevant research sources.
You need help organizing, outlining, or editing. Purchasing essays that reflect your exact assignment instructions can help you better understand, organize, and outline your own thoughts about the topic. Plus, many essay writing services can provide a simple outline for you to work from as well as editing services.
Citation styles are confusing or unclear. Last, if you buy essay papers formatted and cited in the style your assignment requires, it provides a simple, quick, and easy way to learn a new citation style while ensuring your paper is correct.
If you are still not sure whether or not working with an essay service is right for you, you can learn more about how to make the best decision when choosing to purchase essay papers.
Where to buy an essay paper online

Choosing the right essay service to meet your needs is the most critical factor to ensuring all-around success when you purchase essay papers.
If you are wondering "where can I purchase an essay?" and how to choose the best essay writing service for your situation, it is important to realize the benefits of choosing a top-rated writing service such as Ultius. These benefits include:
Plagiarism-free papers.
Protection of your confidential information and identity.
Papers that are delivered on time.
Flexibility in citation styles, page count, and subject matter.
World-class writers who are able to produce high-level, original content, as well as writing, editing, and research services.
The ability to communicate directly with your writer and make sure all instructions are clear.
Also, when you decide to buy essay papers online, try reading reviews as a way to qualify the service before placing an order.
How to purchase an essay online

Once you choose a top-tier essay service, consider following these 5 simple steps in order to be sure your experience is smooth and successful.
1) Clarify your needs and prepare your instructions
Before placing an order, clarify your needs. This includes:
Any assignment details that may be confusing. If any details are confusing to you, they may also be unclear to your writer, so it is critical to iron out the details before you provide your instructions. This minimizes miscommunication.
Your topic so that your writer knows exactly what to research and can get started on your essay as soon as possible.
The citation style you would like used so your writer can work efficiently and provide your paper in the correct format.
When you buy essay papers online, it helps to have all of your instructions and any research resources you already have, all compiled and ready to go. This way, you can easily place your order with everything you need. This saves you and your writer time. Plus, it also allows your writer to ask any questions she or he may have as soon as possible rather than waiting until the last minute.
If, for some reason, you do not have all the instructions ready to go, make a note for yourself to upload any additional instructions as soon as possible. Also, be sure to let your writer know that more instructions are coming and when they can be expected. This way, your writer will know to wait to begin your order until all the instructions are ready, rather than writing a draft that is not correct.
2) Choose a service that matches your needs
Once you have gathered your instructions and understand exactly what type of essay you need, how long it needs to be, and its format, choose an essay writing service that matches your needs. Check to be sure the essay service you will buy essay papers from: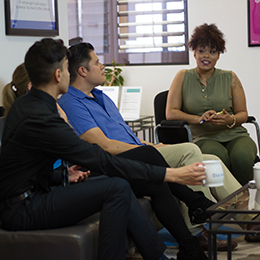 Hires writers skilled in undergraduate and graduate level writing, if you are a Master's or Doctoral level student.
Can provide an essay in the page length and citation style you need.
Has writers well-versed in your topic.
Offers revisions.
Has great reviews and a great track record of delivering client orders on time.
Provides original, high-quality content. Most top essay sites will have sample essays available. Viewing samples is a great way to verify quality.
If you are unsure of any of these checklist items, call the customer service department and ask to see samples or reviews. Also, ask how writers are qualified.
3) Specify your details
When you buy essays online, it is important to give your writer as much information as possible. Once you choose an essay writing service that matches your needs, be sure to specify all the details. Most essay writing sites will have input fields for you to fill in on the order screen when you buy essays. Here are some examples of things you will need to specify:
Type of service (whether your order includes custom writing and/or editing)
Page count
Deadline
Writing level (such as high school, undergraduate, or graduate)
Subject (examples include biology, economics, or sociology)
Topic (such wildlife extinction, the Great Depression, or social services)
Document type (examples include an argumentative essay, a dissertation, or a thesis)
Citation style and number of sources
Spacing
Other information and instructions
4) Upload additional instructions

When you buy essay papers, you should be given an opportunity to provide specific instructions in your own words. This is where you will want to be sure and include all relevant details for your project.
If you have images, PDFs, or word documents that include instructions, grading rubrics, or background information about your essay or project, upload these documents into the messaging system where you will be able to communicate with your writer. Instead of copy-pasting lengthy instructions into a form field, uploading original PDFs and documents onto the message board makes it much easier your writer to interpret your instructions clearly and accurately.
The more the better. If in doubt, include more, rather than fewer, instructions. If your writer has questions, he or she will let you know. Also, here are some tips for making the communication process with your writer smooth and easy:
Use color-coded text to clarify complex or lengthy instructions in Word documents.
Clearly label your documents according to their purpose (such as "instructions," "rubric," or "research").
Regularly check messages in case your writer has questions that need clarifying.
Proofread messages before replying (autocorrect features and silly typos can make a big difference when it comes to clear interpretation).
5) Communicate throughout the process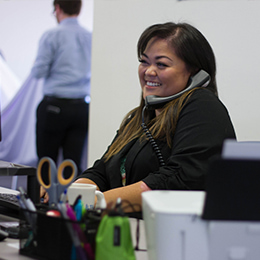 This one speaks for itself. If things come up or instructions change, always let your writer know as soon as possible. If you have any questions at all, you should feel free to message your writer or call customer service. All questions are valid! It is important for you to receive a top-quality essay and the specific help you are looking for.
Get a paper that meets or exceeds your expectations
Receiving the "wrong" paper, or one that simply doesn't meet the instructions' requirements, is a big concern for many students. Unfortunately, this is far more likely to happen when using a free or cheap writing service. If you buy essay papers from a top-tier writing service, you can rest assured you will be paired with a writer well-prepared to provide you with the custom writing you need. And, in the rare event that a mistake does occur, top-tier services, such as Ultius, will offer a free revision and/or refund to make things right.
In review, here are some key takeaways for ensuring you receive a top-notch document when you buy essay papers online:
1. Clarify your needs and gather your instructions.
2. Choose a top-tier service that matches needs.
3. Specify all your order details.
4. Upload all instructions.
5. Communicate with your writer and always feel free to ask questions.
Checklist for essay quality
These are the key points that our Quality Assurance goes through on your behalf to ensure every draft is of the highest standards.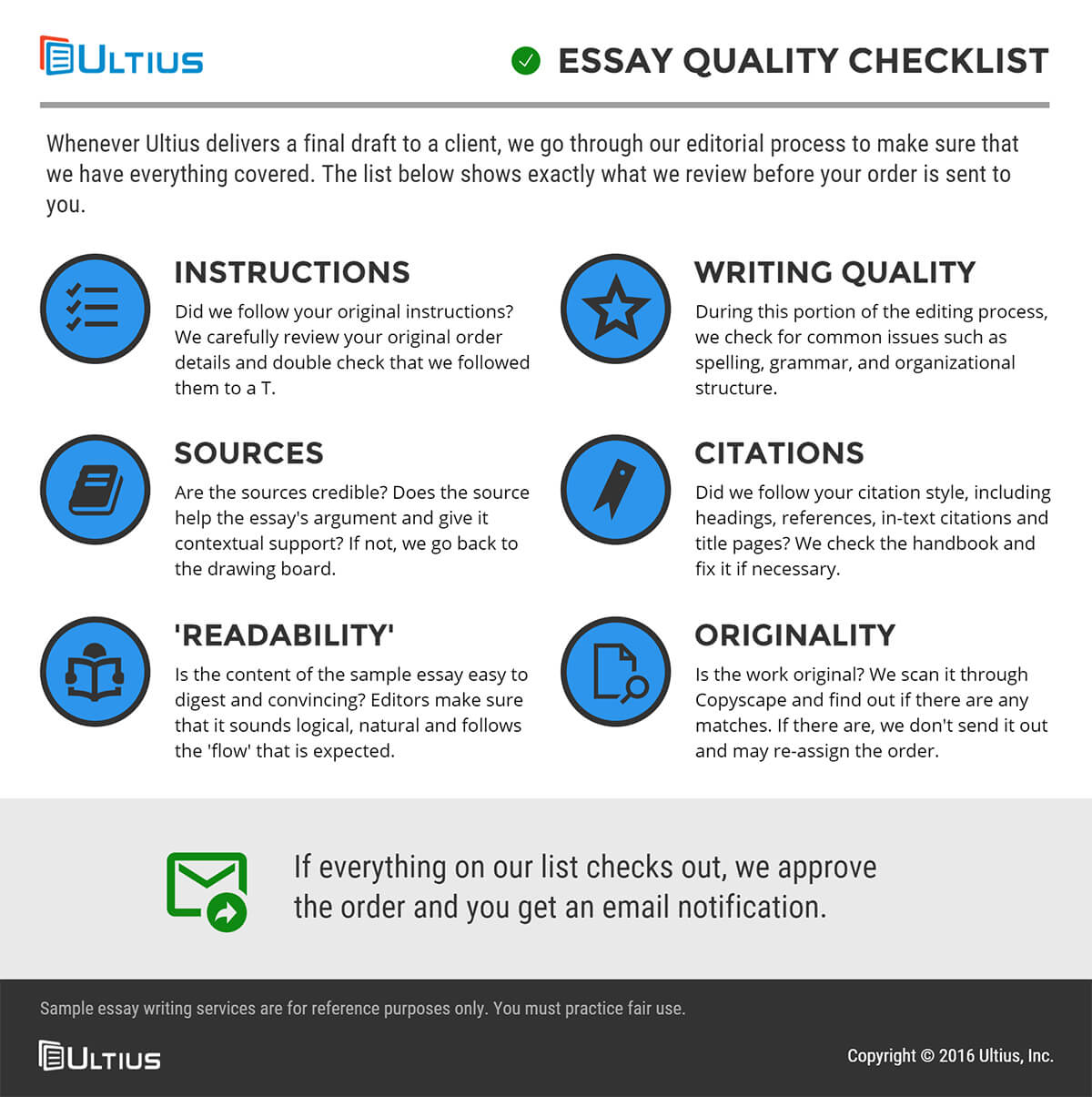 Getting Started
Whether you are purchasing an essay online for the first time or looking to have the best experience possible, save this post as a guide to use when you buy essay papers online, and you will be off to a winning start.