Pay for Essay
Easily confirm payment with our secure methods
You can easily pay for your essay with one of our secure payment methods. Log in to your PayPal account, make a one-time payment with your credit/debit card, or checkout with ExpressPay. We've made paying for your essay as easy as cake.
Deciding to pay for an essay
If you are in a time crunch and you're about to click "pay for essay," it is important to consider a few simple things that can protect your identity, security, and ensure you receive a top quality essay. You need to free up your schedule, but you want to be sure that you have no future headaches. We can help with that.
When you are investing in an essay online, ensuring your transactions and identity are secure is key. It is also critical to find an essay service site that makes it easy and convenient to reach the "pay for essay" checkout point without sifting through pages of form fields.
For example, Ultius is a top-tier essay writing service that makes the "pay for essay" process simple and easy while still making sure all the essential information is captured (like the number of pages you need, your deadline, citation style, and instructions).

In addition to convenience, it is important to know exactly what you can expect to pay for essays. Top quality sites like Ultius include a price calculator so you know what to expect when you reach the checkout. But first, you may be wondering what exactly you should be paying and what is reasonable. Hundreds of sites online today offer college level essays for a variety of price points. So, how do you know what price is fair to settle for?
How much should I pay for essays?
The amount you can expect to pay for an essay online will depend on a few factors, which may include: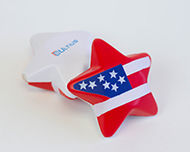 The writing level (whether the essay is high school, undergraduate, masters, or doctoral level writing).
How many pages you need written.
How quickly you need the essay written.
It is difficult to know exactly what you can expect to pay for an essay without first pinpointing these specifics. For example, if you are ordering an undergraduate essay that isn't due for at least a month, you might expect to pay about $18 per page. However, if you are ordering a doctoral level essay that you need in less than 24 hours, you may expect to pay between $55-$65 per page for high-quality writing.
Some online essay service sites offer extremely inexpensive essays, but this isn't always the best choice, as we will explain next. Ultius doesn't pretend to be the cheapest option, but we are clear about the value you can count on when you trust us with your essay projects. Consider the alternatives and decide for yourself.
Why free essays are not the best choice

As tempting as it can be to opt for free essay sites, or even extremely inexpensive essay sites, these sites are not always the best choice. This is especially true if you are working on an important project and want to excel in your academic career. As ironic as it may sound, it is almost always better to pay for essays than to opt for freebies.
This is because some free essay sites actually re-sell and reuse content which can be an enormous issue in terms of plagiarism. If you use a free or inexpensive site you may also run the risk of receiving writing that is below quality standards and expectations which means the essay may have to be completely re-written.
In contrast, Ultius is a high-quality professional writing service site that allows clients to pay for essays according to the writing level, page count, and deadlines clients choose. Ultius also makes it simple, fast, and easy to pay for essays online in a secure way.
Cumulative comparative table of top online writing services
Based on the comparison of eight points, it is clear that Ultius is the most credible of the all the most popular online services.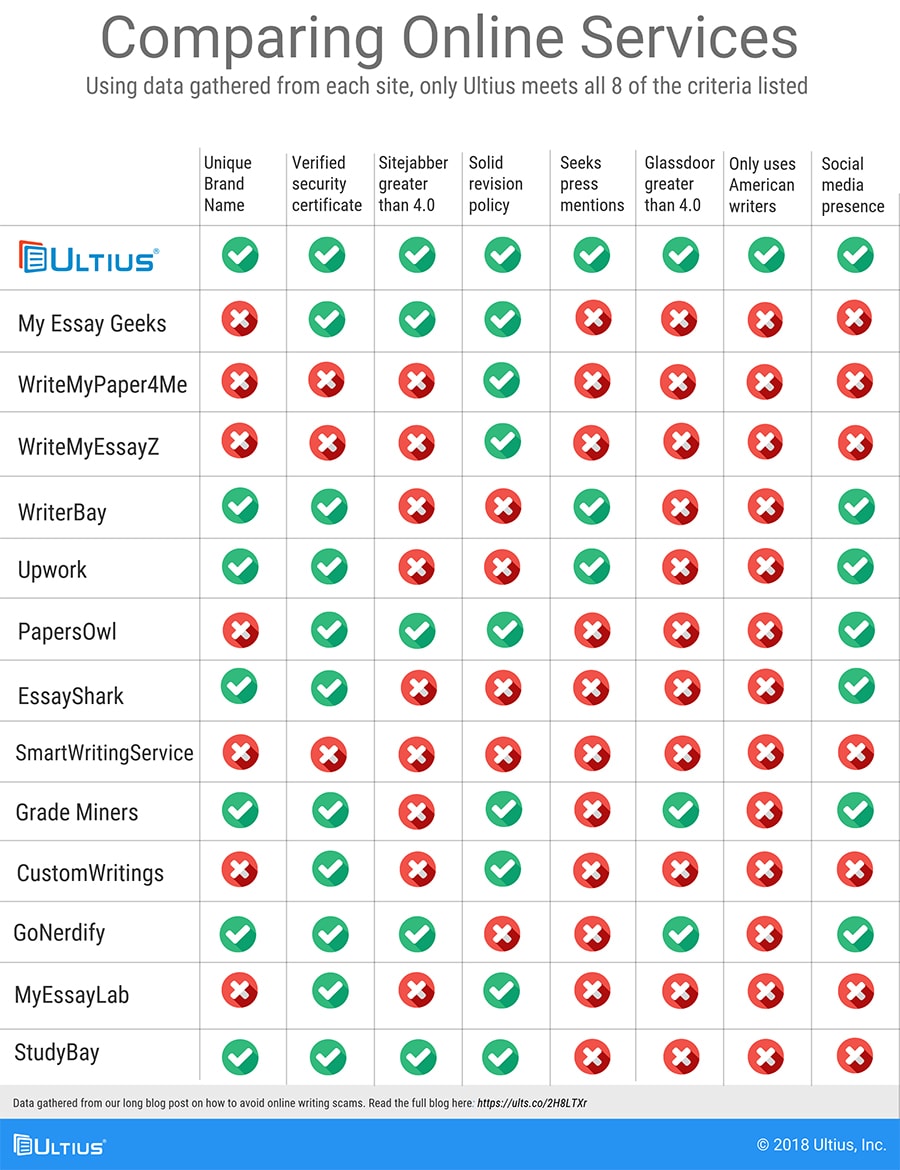 The benefits of buying through an essay service
College essays can be purchased from freelance writers on sites like Thumbtack and Upwork. While this may work for some clients, there are a couple reasons essay writing services like Ultius are preferred by many students. These include:
Top essay writing services hire professional writers that are skilled specifically at academic essay writing. While some freelance writers may also be qualified, it can be more difficult to evaluate and feel confident in their qualifications.
Essay service sites like Ultius hire writers based on stringent criteria and place writers through a rigorous hiring and onboarding process. This ensures clients are working with only top quality professionals.
When clients order through a top quality essay site, not only is payment information protected, but clients are also protected with company policies including complimentary revisions, identity protection, and refund guarantees in unfortunate circumstances.
Keep reading to learn how essays are priced at Ultius and how the checkout process works.
How essays are priced at Ultius
Ultius essay prices are based on four primary factors with the option to upgrade to a requested writer. When a client clicks "pay for essay," the final price reflects these four factors: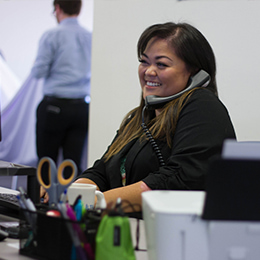 1. The writer level selected (high school, undergraduate, master or doctoral).
2. The deadline (clients can select a deadline with options between 60 days and 6 hours).
3. Page count (options range between 1 and 50 pages, or, clients may call the client success department to request a longer, custom page count).
4. Page spacing (double-spaced pages are half the price of single-spaced pages).
When clients purchase essays through Ultius, the price may also be adjusted by upgrading to a requested writer. This is the first choice for many customers as it allows them to work with a writer familiar with their preferences.
When Ultius clients pay for essays, they are investing in custom writing that is:
100% original, proofread content.
Delivered on time.
Written by some of the best writers in the US.
Ultius makes it simple and easy to purchase essays that are professionally written and customized to clients' instructions. No other service guarantees originality, American writers, and top-tier security.
Pay for essays easily through Ultius

There are a few features that make it especially easy and secure to buy essays through Ultius. They include: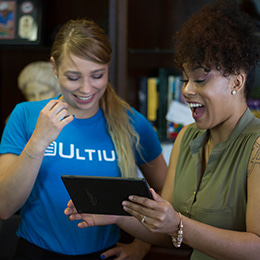 Secure payment. Online security is critical in today's digital world and the security and privacy of clients is an Ultius priority. Ultius uses third-party payment vendors which adds a layer of financial security. This means that Ultius employees do not have full access to your credit card information if you buy essays from Ultius. Clients can feel secure that their payment information is fully protected by a third-party financial vendor devoted to security.
Privacy. When you purchase a service or pay for essays from Ultius, your personal and identity-related information is kept completely confidential and private. We use industry leading practices to protect your data.
Multiple ways to pay. As an Ultius client, you get to choose the most convenient payment method for you. Essays can be purchased using PayPal, a one-time payment with a credit or debit card, or checkouts can be handled with ExpressPay.
Here is how the process works when you pay for essays from Ultius:
1. Log in and order. Simply click "sign in" or create an account using the Ultius secure platform. Once you are logged in, you can easily click "order now," or "price calculator" on the top right and you will be walked through the steps of placing an order.
2. Skip login and order immediately. To skip the sign in step and order immediately, you can start selecting your order details right from the top right corner of the Ultius home screen. Once you select your writer level, page count, and due date, you can click "proceed to order."
3. Finalize order details. This will take you to the next screen where you can finalize your order details by indicating things like how many sources you would like included (Ultius offers unlimited sources and citations), your citation style format, your topic, and your order instructions.
4. Secure checkout to dashboard. The Ultius payment checkout process uses 256-Bit SSL Encryption which basically means your transaction is super secure. Once you finalize and place your order, you will see it on your Ultius dashboard when you log into your account.
5. Navigate your dashboard. From your Ultius dashboard, you will be able to easily navigate between tabs that allow you to "view your order details," "view your messages," and "view your final drafts" when they are ready. The messaging tab in each order is a great place to share information with your writer like additional instructions, uploaded documents, and questions.
6. Questions? If you have any questions about the ordering process, our Client Success Department is available 24/7 by phone, text, or email.
Ultius essay quality checklist
Before we deliver your final draft, our Quality Assurance team verifies the writer followed your instructions, the sources are credible and follow proper citation, the writing quality is immaculate and readable, and the document is original and free of plagiarism.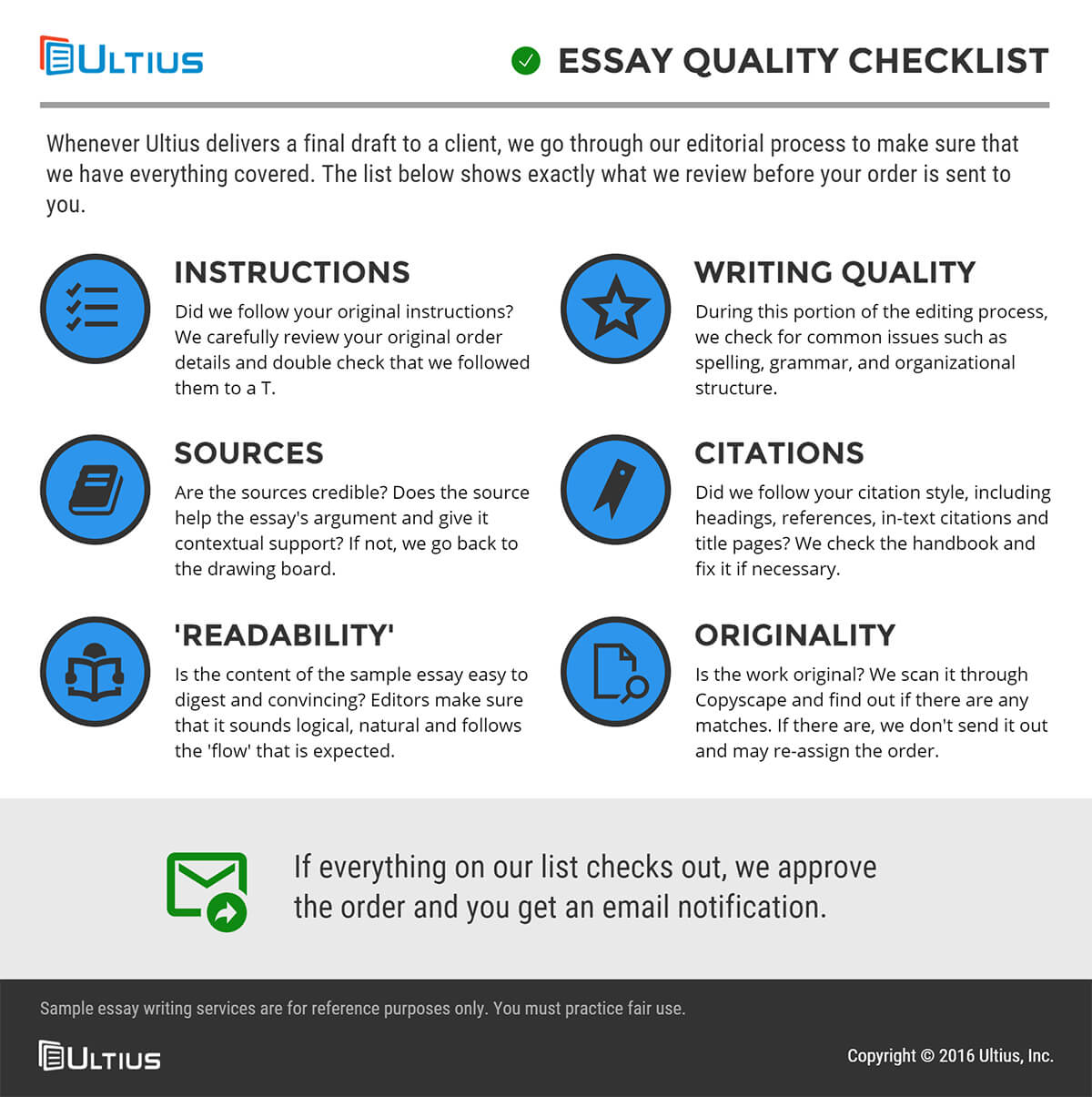 Based on client reviews and the professional standards Ultius is managed by, Ultius is proud to be known as America's top choice for professional and academic custom essay writing. We are confident that if you give us a try, you will see for yourself that we are the most trustworthy way to buy essays with the highest academic standards.
If you are looking for a reliable, well-reviewed professional site to meet your writing needs, Ultius is a great choice when you decide to pay for essays. Getting started is simple and secure, so start today.