How to Write a Descriptive Essay
Think of the last time you were completely captivated by a good story. What made it so enthralling? What caused it to take your attention from everything else? Most likely, it was the author's use of descriptive language that helped you feel like you were actually a part of the story. You could probably imagine what it would have looked or felt like to be in each place the book described. Descriptive essays do much the same thing. They're essays meant to engage the readers to paint a descriptive picture of the words on paper.
Let's say you are assigned to write a descriptive essay about a place, and you're wondering where to begin. How do you make sure your essay is captivating, and passes with flying colors? In this blog, we'll show you exactly how to write an all-star descriptive essay about a place, by covering the steps involved in writing, and the elements of how to write a great descriptive essay.
First, we will review the purpose of descriptive essays, then discuss why they are important, and we will end by sharing pro writing tips to help find the right words.
What are descriptive essays?
The goal of a descriptive essay is to be captivating, including sensory-oriented details of a person, place, experience, or object. Include this in your essay and the reader's imagination will go wherever is being described. These essays accomplish this by using vivid language, specific adjectives, and clear explanations so that the reader can personally relate. Descriptive essays are written so that readers can imagine and understand the feelings, sensations, visualizations, and sounds the author is describing.
Related how-to guide—How to write a narrative essay.
Why are descriptive essays important?
A detailed description helps readers empathize with your experience and, as an author, you can communicate this meaning. This is important because much of our academic and professional success depends on our ability to clearly, and specifically, communicate our experiences to others. We may not be writing a descriptive essay each time we communicate our experiences, but writing descriptive essays definitely strengthen our ability to convey specific details in compelling ways.
For example, writing a descriptive essay about a place can strengthen your ability to communicate your work expertise to your next potential employer; or to write your life experiences in a compelling way in your next scholarship essay (learn how to write a scholarship essay).
Perhaps you'd like to write your own book some day or craft your own advertising campaigns using your business degree—both of which are more successful when the reader can empathize with your writing. You'll use descriptive language to succeed at both!
Choosing a descriptive essay topic
Descriptive essays can be written about many topics. One of the most common assignments you may receive is to write a descriptive essay about a place. Here are a few descriptive writing example topics you might choose:
| | |
| --- | --- |
| Place / Topic | Purpose |
| Favorite vacation spot | To allow readers to understand your personal experiences |
| The house you grew up in | To help readers gain a background understanding of who you are and what growing up was like for you |
| Your place of work | Helping readers understand your daily life |
| Riding a New York subway | Allowing someone who has never experienced this to understand what it feels like |
| Driving through a snowstorm | To enlighten readers to the dangers felt during this experience |
Who writes descriptive essays?
Being able to write well is a skill for any career you're pursuing whether it be business, arts, marketing, education, or even medicine!
Students in these areas will be assigned to write a descriptive essay at some point during their high school or undergraduate careers:
Language arts students
Literature and cultural studies students
Social studies students
Psychology students
Finding the right words for an engaging essay can be challenging. Plus, many students are pressed for time, juggling work, family, and extracurricular activities on top of trying to complete assignments. If you can identify, this blog will help get you started.
A great descriptive essay brings even the simplest details to life
A man sitting in a chair while reading a story during a sunset may not seem like much, but a great descriptive essay can be written about the colors of the sky, where he's seating, and the overall mood of the place.

When your future career depends on it, you want to feel confident and proud of your work instead of overwhelmed by it. Practicing smart time management and finding the writing help you need, when you need it, is important.
Elements of a great descriptive essay
Before we dive into how to write a descriptive essay, let's review some key elements that will help you paint a picture in writing:
Clear organization
Effective descriptive essays are clearly organized. In other words, the reader is able to easily understand why she or he is reading the essay, the place the essay will describe, and what the purpose of the description is. This is accomplished by organizing the essay into and introduction, body and conclusion.
Introduction: A captivating hook
The opening of your essay is one of the most important parts because it interests readers. Start with a captivating introductory paragraph. One way to do this is by using anecdotes to grab readers' attention. Anecdotes are short stories that can be used literally or metaphorically to help readers relate to what you're going to write about.
For example, an anecdote that opens an essay with descriptive words about what it's like to be working in the middle of busy production factory might read:
"Imagine every appliance in your house is turned on—your vacuum cleaner, your blender, your fans—and imagine on top of all that, you hear airplanes and helicopters flying overhead and cars buzzing by outside. Meanwhile, you're trying to focus on your tasks…"
This type of anecdote accomplishes two key things: First, it engages the reader and helps them personally relate to your essay by asking them to imagine. Second, it immediately clarifies the type of place you're going to write about.
Build your essay with strong imagery. Capture the time, date, weather, and mood of the place.
The introduction paragraph should end by explaining the place the rest of the essay is going to describe and why. This includes any key setting logistics like time, specific location, and who's involved.
Body: Full of specifics and adjectives
Anecdotes are also helpful in the body paragraphs of a descriptive essay, for the same reasons noted above. The body of a great descriptive essay about a place should be packed full of vivid, sensory language. During the body of a descriptive essay, the reader gains a clear image and understanding of the place being described, as if he or she were actually there. To accomplish this, the body paragraphs use descriptive adjectives and colorful phrases such as, "The chaotic, clashing noise was deafening," or, "The scent of freshly fallen rain cleansed the sunlit air, and I could see the horizon for miles."
How to use adjectives correctly
Use adjectives in your descriptions to paint a vivid picture and tell a story in the reader's mind. This example incorporates enough adjectives to convey the idea without cluttering the sentence.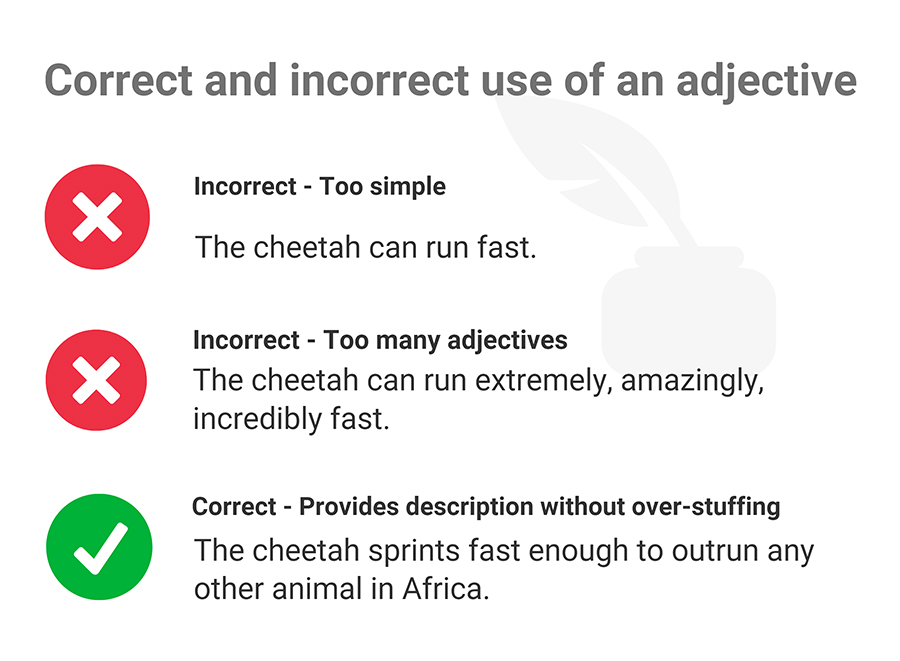 Use one or two strong adjectives to convey descriptions in your sentences. This creates a flow throughout the entire essay. Be sure to note, not every sentence requires an adjective or adverb.
If you're having trouble with finding adjectives and adverbs, use strong action verbs instead.
Conclusion: Reminding readers of the meaning
Just as the introduction of a descriptive essay previews what place will be written about and why, the conclusion reminds readers of what was just described and why it's important. The key is to not sound redundant. For instance, while the introductory paragraph hooks readers and then tells them what they can expect to read, the conclusion summarizes what was written and leaves readers with thought-provoking ideas to consider, helping them to understand how the essay may relate to their lives, or why it's important to the reader.
Revisiting the production factory introduction example, the same essay's conclusion may summarize with a statement highlighting the essay's takeaways, such as, "The chaos and noise of the factory made it difficult to focus, but after working there for five years, I learned how to overcome that challenge. Now I can focus in even the most noisy of places."
Steps to writing a great descriptive essay
1) Choose a topic
Depending on the purpose of your descriptive essay assignment, you may have varying flexibility in terms of what place you can choose to write about. Nonetheless, try to choose a topic that vividly stands out in your memory. The more you can remember about a place and how it felt, the better your descriptive paper is likely to be. For example, if you're assignment asks you to write about a place you've traveled to, what destination comes to mind first? Perhaps it's a foreign country. Or, if you haven't traveled much, it could even be a different town.
Brainstorming techniques
Follow these brainstorming techniques to flesh out your ideas to find the perfect topic for your essay.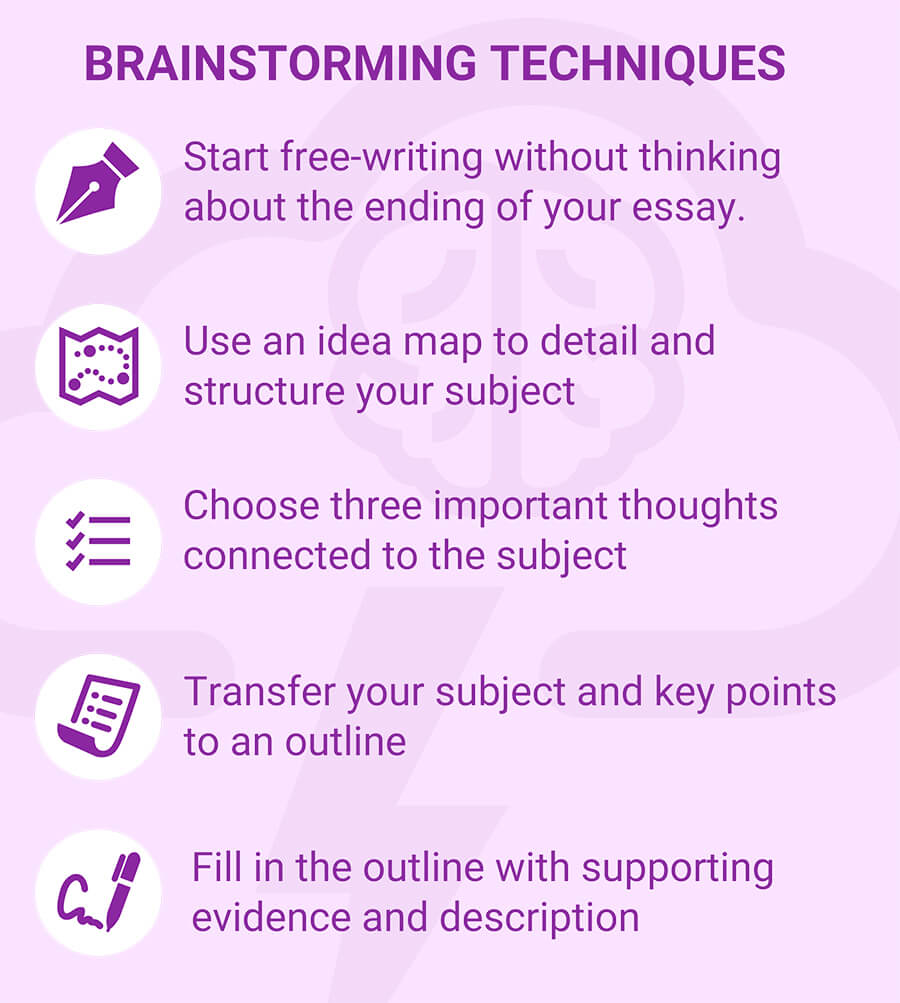 2) Observe the details
If you're writing about a place you're currently at or can easily visit, spend time observing the details. Watch what the scenery looks like, including colors and objects. What sounds do you hear? What's the temperature? What scents do you notice? How do you feel being there? All these questions will help guide your descriptive flow writing process (step six).
If you're writing about a place you visited in the past, ask yourself the same questions. Perhaps look at old photos to jog your memory. Finally, if you're asked to describe a place you've never been, use your imagination to answer similar questions. The more time you take to list details about what your place feels like, the easier the next steps will be.
3) Understand why your place is important
Ask yourself why you think it is important to share this with your readers. Having a clear understanding of your essays' importance will not only help you write your introduction and conclusion, but it will also help you stay focused on describing the details that matter most.
4) Outline and organize your writing
Now it's time to begin the actual descriptive writing process by organizing your ideas into an outline. Your outline doesn't have to be formal; just a simple numbered list of points to include in your introduction, body and conclusion will suffice. This will guide your writing process and keep you focused.
5) Start with the introduction
Remember step number one and three, "your topic" and "why your place is important?" Those are the two main highlights you'll want to make clear in your introductory paragraph. When writing your introduction, be sure it explains what you're about to describe and why you're going to write about it.
6) Write the body in free-flow style
The body paragraph of your essay can sometimes be the most difficult part, depending on length, a great way to start is by free-flow writing. This means that you simply start writing your detailed description of the place you're writing about, without editing or analyzing as you write. This often helps to overcome writer's block while making sure that all the critical details you jotted down in step two, "observe the details," get down on paper and into the body of your essay. You'll be able to go back later and edit the body of your paper for organization, flow and grammar. As long as you start your free-flow within the bullet points of the outline you created, the process will be relatively simple and easy.
7) Revise the body of your essay
Now it's time to go back and be sure all the free-flow writing you just did is clear, makes sense and follows your original outline. You may need to re-arrange a few sentences or even paragraphs. This is also a great time to check for spelling and grammar errors.
Next, read the body paragraph of your essay and pretend you're someone else reading it for the first time. How does it sound? Does it make sense and flow? If not, ask yourself what would make your descriptions more understandable for the reader. Finally, remember that not every sentence of your descriptive essay needs to sound fancy, artistic, or be long. Vary your sentence length, breaking up long sentences with short sentences to make reading easier. Use exciting language, but don't over-do it or adjectives will lose their power.
8) Finish your essay strong
Writing a strong conclusion is key to leaving a lasting impression with your readers. A great way to conclude your descriptive essay about a place is to reiterate, in a new way, how the place you're describing impacted you and why you believe it's important. You can also describe what you hope readers may learn from your essay.
9) Proofread your work
You can never re-read your essay too many times. Proofread your work at least twice for spelling and grammar errors. It's often helpful to read your writing out loud, since that slows the reading process and helps us catch errors we may otherwise overlook.
Steps to produce a descriptive essay (infographic)
Don't forget descriptive essay follow the same rules as narrative essays. Follow the prewriting, drafting, revising, editing, and publishing procedure.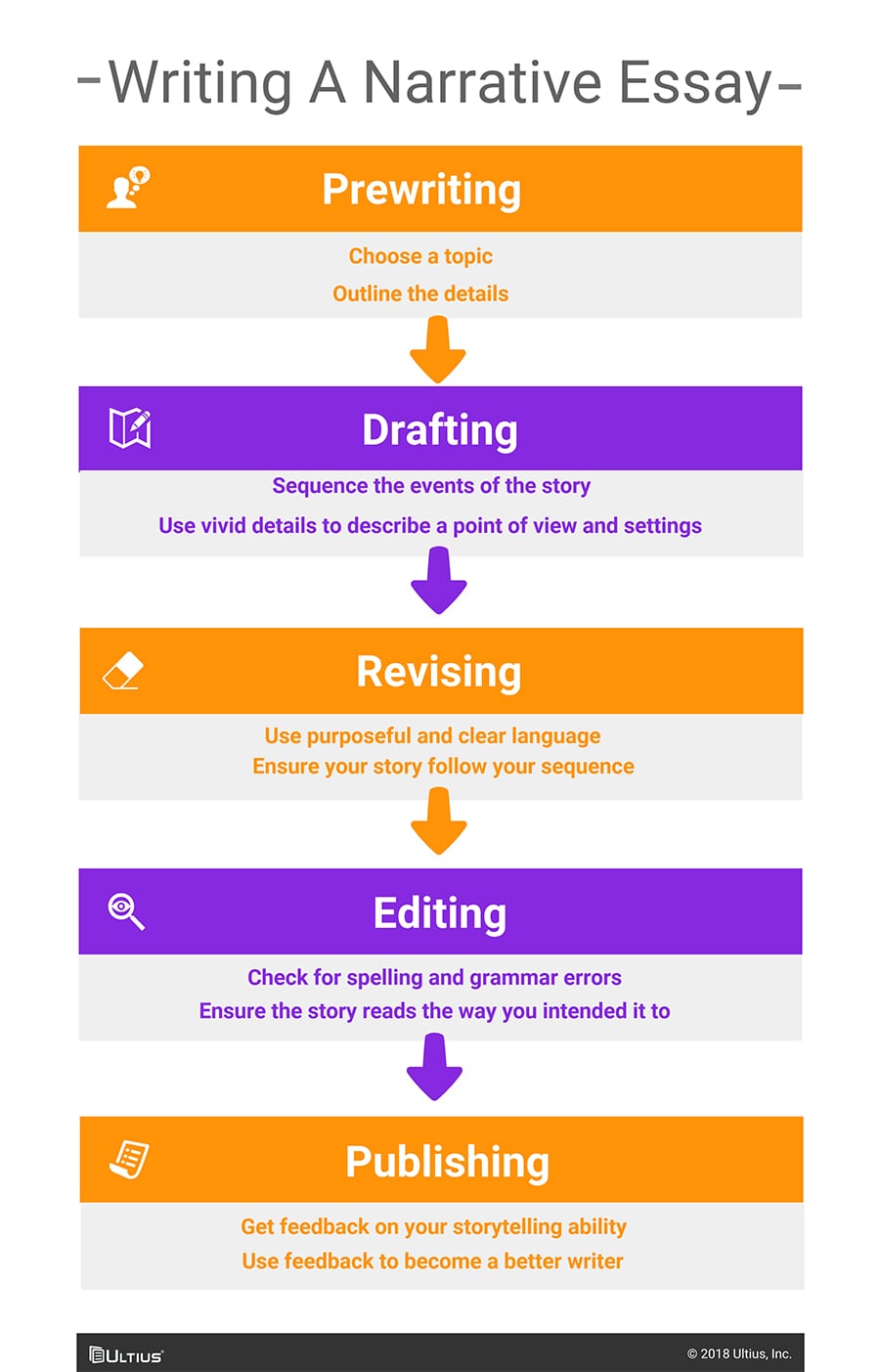 Also, don't be afraid to ask a friend to proof your work. If you're still stuck or need help, the writing center has tons of resources just for you like expert advice, essay examples, and more.
Final words of wisdom
| | |
| --- | --- |
| 1) Be specific | The more specific you are, the more readers will be able to relate to your descriptions. For example, "The heat outside made me feel sluggish and exhausted" is a more effective description than, "It was so hot outside." |
| 2) Write first, edit later | Break writer's block by writing unedited. You can always revisit your work later, as many times as you need. |
| 3) Remember your adjectives | Descriptions would be lifeless without adjectives! What words can you use to make the place you're describing come to life?! |
| 4) Include the 5 senses | How does the place you're describing feel, smell, look, taste and sound? |
| 5) Read from an outsider's perspective | Pretend you're your instructor or friend, reading your essay. Does it flow and make sense? |
| 6) Ask for help when you need it | Juggling work, family and other non-school obligations shouldn't keep you from succeeding academically. Ultius is here to help by providing you with the exact resources you need to save time and put your best foot forward. |
Like what you read? Check out our guide on how to write a persuasive essay.
Discover more
Now you have all the information for how to write a descriptive essay. At Ultius, we offer great features that are unmatched by other competitor's platforms. Learn more about our writing services, browse various customer resources, buy essays and read informative content on our blog.