Step 1: Essay Topics
If you're looking for essay topics, there are many options and numerous means to pick the right one. It's a matter of choosing the right means and then narrowing down your options. For starters, it's best to consider what is most appropriate for the specific essay type you have been assigned. For instance, persuasive and argumentative essay topics may be a bit more controversial in nature while creative essays have less need for such scrutiny. Ultius and our writing services have compiled some items below that outline each of the following methods you can use to pick the right essay topic for you.
Already Assigned One
The first place to look for an essay topic is your instructional document or any options provided by your professor. For example, specific English classes may require that you use a specific topic that is designated by your professor. Checking your instructions should be your first priority. If you have a pre-approved list of topics, then at least you have narrowed it down from unlimited options to a shortened list. If you aren't given one then see below for more options.
How to Choose a Topic
Choose what interests you
If you aren't assigned one or have a brief list handy, it may be your first instinct to choose something that interests you. Choosing an essay topic that is interesting to you can be beneficial because you can:
Learn more about something you care about
Be more excited about the writing process
Acquire information related to your career aspirations (always a plus!)
For example, if your desired field of study is nursing, then choosing abortion as your essay topic may be beneficial because it deals with the health field, pertains to the ethics of your future career and may be interesting. Think of it as killing multiple birds with one stone.
Choose based on what has the most available research materials
While choosing a topic based on interest may be appealing, it is much more beneficial to choose an essay topic based on what has the most sources. If the essay you need to write is research heavy then this doubly applies. For example, think about choosing between gay marriage and Kenyan suicide rates. While you may be more interested in the latter topic, you will probably find more (LINK) academic sources and research materials on the first topic. Having easier access to an abundance of potential sources will make the research and writing portion quicker. If tons of other scholars have poured over the data and opinions then you are doing less work by merely compiling what's already been written and is out there.
Choosing more general topics is therefore more beneficial to you. However, your professor may want you to pick something specific in order to gain a deeper understanding of the subject matter. You probably want to avoid this as much as possible and negotiate with your professor until you can find a level of depth that you can both agree on. But, make sure to do your due diligence and see what sources are available before you commit to it.
Choose topics you studied in previous/concurrent classes
Another great piece of advice is to pick an essay topic that you have either studied in a different class or have to write about. Think of it this way: you are already familiar with the material, you may even have sources hidden somewhere in your folders and you may have a similar essay already written. In this case, you can simply recycle the work that you have and reduce the overall time you spending during the essay writing process. Be careful about reusing materials that you have already turned in though. Some professors rely on anti-plagiarism software like TurnItIn to find out if the essay has already been submitted. It's better to avoid this potential anxiety and just reuse the ideas, concepts and sources if you can. If you are writing on the same topic for simultaneous classes then it's an even bigger time saver for you.
Essay Topics to Avoid
Believe it or not, there are some topics you should just plain avoid altogether. For example, you want to stay away from essay topics that your professor has lots of experience in. This is because if they know too much about it, the slightest error in your logic or argument may cause them to punish your grade severely. Also, if they have a set opinion on the topic then you are going to get on their bad side with not agreeing with their point of view. This may seem like an immature practice, but professors are human too and thus subject to having their own biases. A good way to avoid this potential hazard is by checking your school's staff web pages. Your professor's credentials and their fields of study will be listed there. If your topic dances around something that they studied extensively and earned a PhD in, then be sure to avoid it at all costs unless you're up for the challenge.
Lists of Essay Topics by Relevance
Common topics
If you've made it this far in this guide, then you probably want to just see a list of the most common topics. Common topics fall under the scope of things that are discussed pretty frequently by the public and other scholars. The exact essay topic will vary by the essay type and subject you're studying, but the list below is a great starting point:
Common essay topic list
Legal drinking age
Universal healthcare
Abortion
2nd Amendment
Education crisis
Immigration
Poverty
War on drugs
Crime rates
Rape culture
Stem cell research
Obesity
Racial inequality
Terrorism
Gender inequality
Doping in sports
Leadership
Bullying
Censorship
Same sex marriage
Marijuana legalization
Texting and driving
Child labor
Organic food
Each of these topics are worthy of choosing because they have been evaluated on the basis of available scholarly material, relevance to society, and generality. This is by far the most commonly used means of picking an essay topic.
Ultius Writing Services
Writing essays can be hard, and Ultius is here to help.
Need Some Help?
Recent topics
Recent topics are generally news related and have to deal with what's going on in the world today. These topics also can make the research portion interesting because of its overall novelty. Below are some recent topics that we try to update on a regular basis
Recent topic list (last updated: 4/4/2014)
Obamacare
Shool shootings
Malaysian plane
Same sex marriage
Online privacy
Turkish censorship
Minimum wage
North Korea
Drones
Crimea invasion
Chemical warfare
Terrestrial oceans
Ft. Hood shooting
Mudslides
Nuclear weapons
Controversial topics
Choosing a controversial topic is most desirable for argumentative or persuasive essays. These topics generally have a heavy two-sided debate where there is no concrete "right-answer" and evaluation requires taking into account one's own personal values and ideologies. For instance, anything related to politics is generally going to result in a heavily controversial topic because the division is clearly outlined in the ideologies of the political parties (Republican and Democratic in the U.S.). Likewise, any major moral issues will be classified as controversial because of the involvement of personal values. If you're going to choose a controversial essay topic then be sure to pick one that has gained the public's attention. Checking the news is a great start because you can find out of experts or known figures have voiced their opinion about it. Also, this is a bit of a longshot but if you search for the topic in Facebook and see that there are many dedicated community pages for that topic with millions of followers then you probably found something that's worth writing about in your essay.
Controversial topic list
Obamacare
Same sex marriage
Online privacy
Minimum wage
Immigration
Abortion
Evolution
Death penalty
Legal marijuana
Narrowing Down the Choices
Create a list of 7-10 potential topics
Hopefully you have been keeping a list of topics that you are considering using. If not, now is a good time to compile a brief list of maybe 7-10 topics total. Any more than that and you are going to be stuck in the next phase for far too long. Getting a shortened list also helps you keep track of common themes between the topics. For example, if all of your topics have to do with medicine or ethics then you should probably further your search into that specific subject matter and seclude the others. Once you have narrowed down your list to 7-10, then it's time to dig a little deeper and find out if it's something you want to commit your essay topic to.
Initial research
Now that you have your list, it's time to explore the topics in a bit more detail. Keep in mind that this portion isn't full on (LINK) research, but basic inquiry into the matter to determine if there are adequate source materials available and if it peaks your interest. You may find out upon further research that an essay topic on your list is more boring or dry than you originally imagined. So, to avoid that it's highly recommended to go through the relevant topic's Wikipedia page and read more about it. You may be thinking to yourself, "my professor told me not to use Wikipedia, so I shouldn't!" This is a still a valid suggestion; however, using Wikipedia to get a general understanding of the topic is highly reliable and will save you lots of time from digging into heavier sources. Don't be afraid to skim through various Wikipedia pages and find out more about the topics. If you check on the Wikipedia citations at the bottom you can even find more links to other relevant sources that can help narrow down your topic further.
Wikipedia references page with links - Source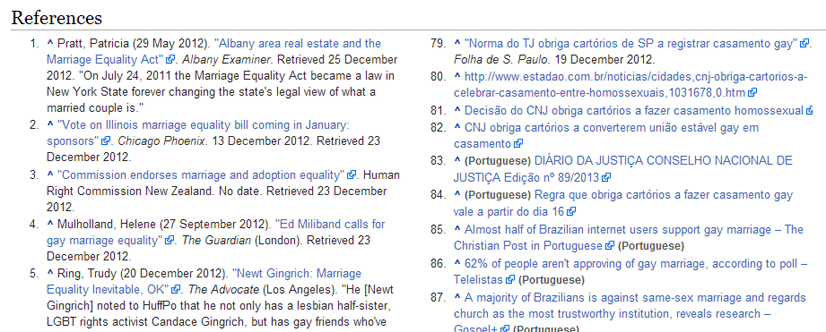 At this point, you have enough methods to nail down one specific topic that you can write about. Just remember that the topic you pick will set the stage for how much research you will have to do. It's always quicker to go back investigate more topics at this point that to commit to a topic that is scarcely written about by the academic community.
Additional Resources
If this guide has not helped you so far then we do apologize for that but still want to help. We have done you the favor of searching through Google for what we consider to be the best and most relevant essay topic results. We also included a link to some of our sample papers in case you want to just browse through papers that have been written. See the list below for links to these results.