A solid research proposal is the foundation of a great research paper
The research proposal is your general game plan and highlights important key points for the full research paper.
A research proposal is where you conceptualize your research paper as a whole. It includes the primary research question you will be exploring, as well as the avenues you will pursue in order to explore that question. It essentially contains your main idea and serves as the core of your project.
Developing your research proposal can be the most difficult part of any research project. Ultius understands this is because the research proposal is the foundation of your entire project, and where you will need to use your creativity in order to formulate a workable plan for moving forward.
The process for writing a great research paper starts with a great proposal
A solid research paper should begin with a strong research proposal. Our writers can help you plan, gather and anaylze sources, and even write the eventual research paper. This involves conducting the relevant research through the use of academic databases and/or other sources.
This chart shows you the main steps of a research project. The research proposal is the beginning and organizes the project as a whole. Continue referring back to your research proposal during the entire process until your research paper is complete.
If you don't get your research proposal completed correctly, it will be more difficult to complete your research paper or project successfully.
We can help you with your research proposal by using the correct citation style, scholarly sources, and more
The writers who work with Ultius have extensive experience writing research papers and research proposals. They understand how to structure a research proposal and what is expected from a successful proposal.
They also have access to a wide range of academic resources in order to proceed with the research project in an effective way.
Where we find sources
Our commonly used databases
EBSCOhost Academic Search Complete
JSTOR
Google Scholar
Amazon Preview
Various open access databases
Google Books
EBSCOhost CINAHL
Citation styles we accommodate
See the formats our writers work on
MLA
APA
Chicago
Turabian
Oxford
Harvard
Anything else you may need
What you get when working with your writer
You can personally message your writer, upload any files, and request a revision if needed.
A secure and trusted team
The system used by Ultius is setup to ensure that the privacy and security of your information are always protected.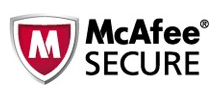 Scanned daily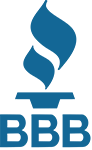 A+ BBB Rating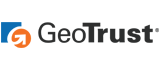 256-Bit SSL Encryption
Our writers are also professional researchers who are able to access not only the academic resources that are available to the general public but also other specialized resources that are not as widely available. In short, they've got your research needs covered.
Work with an expert who understands research and conceptualization
If you want to make sure that your research proposal sets you up for success, consider working with an expert. Ultius works with expert writers who have access to the best research materials and are skilled at conceptualizing research plans. Best of all, if you like the work your writer produces, you will be able to request the same writer for your actual research paper.
The best research materials

Our writers have access to a wide range of academic resources. If you need it, they can probably find it.

Conceptualization of the project

Your writer will have a great deal of skill at working with concepts—meaning, they will be deliver a full model research plan/outline to you without any problems.

Our requested writer feature

You can work with the same writer as you move forward with your research project to ensure experience and continuity.

Citation style experts

Our writers focus on CMS and Turabian styles for research papers, but our writers can use whichever style you need.
Working with a professional writer can save you a great deal of time. You won't have to worry about how a research proposal is supposed to look, since you'll know by looking at your expert's professionally written proposal. Our writers are specifically trained to know the difference between a proposal and the more common essay writing format. This can give you a great head start when you turn to work on your own project.
Some questions you may have about buying a research proposal
These include questions about pay, questions about revisions, and working with the same writer.
You may still have some questions about what it will be like to work with an Ultius writer. Our Knowledge Base is here to answer those questions for you. This guide will address issues such as the process for placing an order, the actual content you can expect to receive, and more.
The Ultius order process is easy, streamlined, and designed with your convenience in mind. Once you have placed your order, you can communicate with your matched writer and provide any relevant materials. And after you receive your order, you have the option of requesting a revision if you aren't fully satisfied.
Example research proposal from an Ultius writer
Reading the sample below can help you get an idea of how a research proposal should look.
A research proposal is a fairly standardized document that has a specific structure and is expected to include specific content sections. No matter what the subject of a given research proposal may be, this structure tends to remain the same. You can see this in the following model research proposals that have been produced by writers who work with Ultius.
Example research proposal from an Ultius writer
The following sample will give you an idea of how a research proposal should look.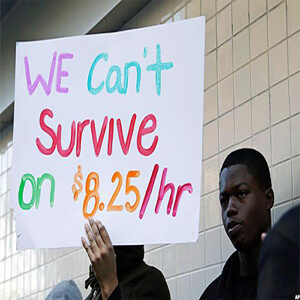 Sample research proposal on the living wage
It is a fact that many Americans are still economically struggling as the nation moves out of the recent recession. The living wage refers to a significant spike in the minimum wage, such that all working Americans would be able to expect an increase in the qualities of their lives.
Continue reading
This is just an example of a previously written research proposal, and there are plenty of other custom writing examples you can see on our blog. If you order your own research proposal, you can expect your product to be similar to these examples in structure and content. Our writers are skilled at conducting research on just about anything under the sun.
1

When writing a research proposal, have a clear objective in mind

A research proposal should explain the reason why a research study is needed, and contain a review of the existing literature on the subject.

Scholars create research proposals to assert that a new study on a particular subject needs to be conducted. The purpose of the research proposal is to validate the need to conduct your research, while outlining when and how the study will happen.

Students at the undergraduate and graduate levels are often required to write research proposals. Established academics also write research proposals as part of their responsibilities and to support progress in their fields.

Prior to writing a proposal, one must review a substantial amount of existing literature written about the chosen subject. This ensures that the research proposal does not reiterate or replicate what other academics have already written.

A literature review is also done to generate ideas and potential approaches for the proposal itself. Research proposals are read by professors so they can evaluate students' writing and research skills.

The proposals are also read by academic committees in order to...

Determine feasibility of the proposal
Determine whether to grant funding
Extend university resources to the scholar to conduct the research
To assess a scholar's potential as an academic

Ask yourself what, why, and how your proposal will answer the questions posed by your research subject.

Knowing what the plan is, why it's important, and how it'll be carried out is essential to writing a great research proposal.

When writing a research proposal, the content needs to be precise and organized in a logical fashion. Prior to writing, the following should be determined:

After you ask yourself these questions, make sure you're satisfied with the answers. If you're not satisfied, the reviewer won't be either.

2

Use the right research approach for your proposal

The research methods you use will affect the outcome of your proposal.

There are two different ways to approach a proposal:

Conducting practical research
Conducting theoretical research

Practical research: This type of research is rooted in direct experience with the subject matter. A proposal using the practical approach will include a hands-on study to uncover data. This is also referred to as primary research and will often be conducted by the writer of the proposal.

Example:

A survey administered to research participants regarding their impressions of various versions of the same product.

Theoretical research: This type of research concentrates on gathering data from already published sources. It does not involve a hands-on approach, but rather uses the data from others' studies to discover and support the answer to the research question.

Example:

A combination of scholarly journal articles that contain the results of studies conducted on consumers' impressions of various versions of the same product.

The methodologies used in research proposals are either qualitative or quantitative.

There are some very important differences between quantitative and qualitative research. The main differences are:

Differences between quantitative and qualitative research

Quantitative and qualitative research methods both play important roles in the research process. Below are a few key features of each method.

| | |
| --- | --- |
| Quantitative | Qualitative |
| Seeks to uncover facts | Seeks to uncover the dynamics of human behaviors and perspectives |
| Assumes the facts can be measured and will remain definite | Assumes that what is real is fluid and complex; perhaps multi-layered |
| Data is gathered via measurements, analyzed according to numerical values, and reported/discussed via statistics | Data is gathered via interviews, surveys and focus groups, analyzed according to consistent themes, and reported/discussed from the perspective of the study's focus |

This doesn't mean that qualitative methods should not be used if they are the best ways to answer the research questions. What it means is that the proposal should contain additional support for why a qualitative method is being used.

For what it's worth: Qualitative methods are not taken at the same face value as their quantitative counterparts.

3

Constructing a convincing proposal requires reviewing the previous research done on the topic

Knowing the already published research on your topic will help you approach your proposal in a fresh, original way.

Prior to writing the proposal, you'll need a properly refined topic that does not duplicate the topic's existing literature. Your proposal's study must be designed to reveal a previously uncovered aspect about the topic.

Review the existing literature as thoroughly as possible to ensure your preconceived proposal idea is unique. Once you've narrowed down your idea, decide whether a qualitative or quantitative approach is best. Consider the following:

Think about how the study in the proposal could turn out.
What data you expect to uncover.
How those results will change or supplement field practice.
Theoretical knowledge of the topic.

When you know how you will be approaching your research proposal, it's time to determine how you will structure it.
Research proposal structure -- how to start
How you structure your research proposal can affect the flow of it, and how readers absorb the information you're presenting.
Most research proposals consist of six different sections, plus a list of sources. Plan on including the following.
What to include in a research proposal
Your research proposal should include the following sections.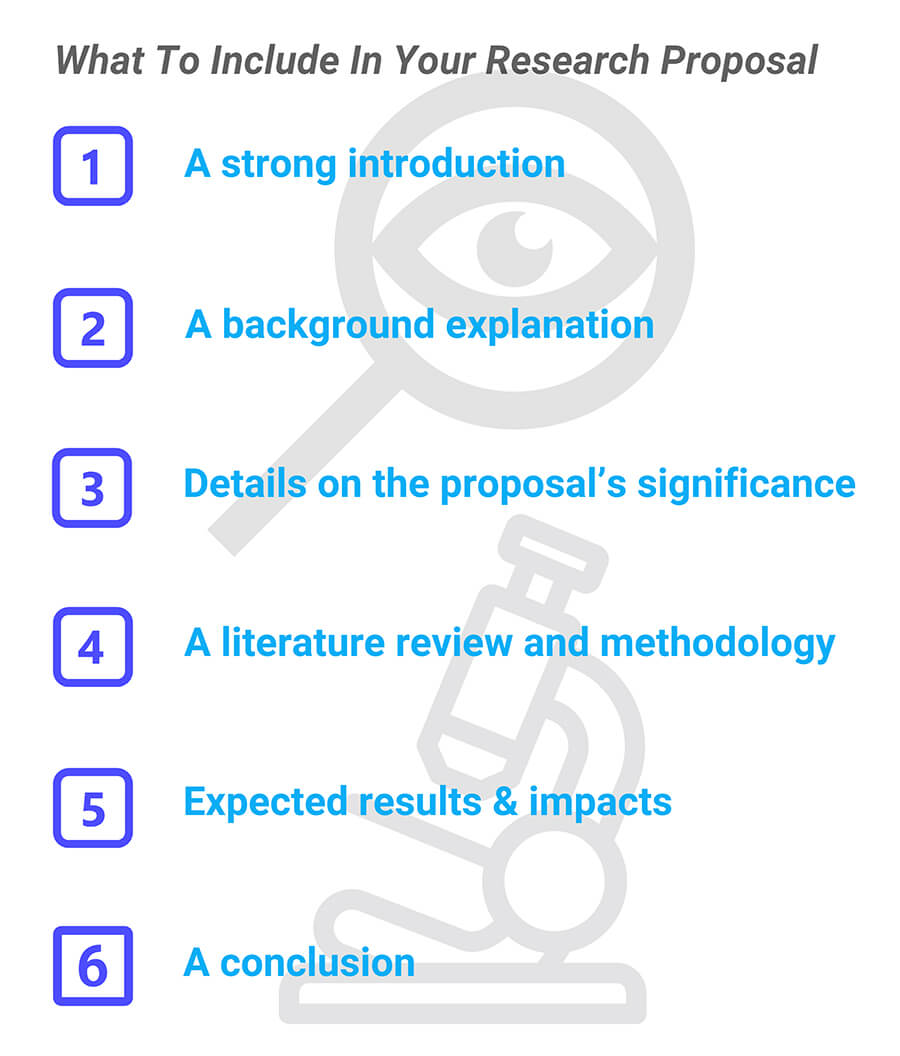 Keep in mind that the sections on expected results and expected impacts should defend how the research proposal will expand the current scholarly research on the topic.
Structuring your paper in an easily readable format will endear you to your reviewers and instructor.
Step 1:

The introduction should let the reader know the question the study will be answering.

Within the introduction, a summary of the background information about the topic should be included. The methodology will need to be stated, along with a rationale for that choice.

Finally, you'll need to explain why the study is important, how it will make an impact, and why those reading the proposal should want to support its implementation.

Remember that you're not just describing what you want to study and why, but that you're also trying to convince a professor or academic committee that the study is worthwhile.
Step 2:

A background elaborates on several points you touched upon in your introduction.
Go into detail regarding the main research question and its function. Is there anything the reader needs to know in order to understand the question and its purpose?
Is there any terminology that needs to be defined and explained? Provide even more details about why you're conducting the study.
Why is it important to conduct the study? This is where you may want to indicate the current literature does not address what you want to accomplish or reveal about the subject. Is your research study going to provide a solution to an existing problem that the current literature does not?
Provide details on how you will conduct your study, including how you will gather and evaluate the data.
Explain any limitations to your study, especially if you are aware of a problem or aspect of a problem that your study will not be focusing on. Provide a rationale for any limitations or exclusions.
Ask yourself if your research proposal is going to provide a solution to an existing problem that the current literature does not.
Step 3:

Detail why your research proposal is significant.

This is where you'll explain why you're doing the proposal to begin with. What do you hope to achieve, or what problem may your proposal solve? This may very well be the most important part of your proposal.

You want to explain why your proposal is different from previous research done on the subject. Being specific or use visual aids to assist with your presentation will go a long way.

Compare, connect, and contrast

Using the compare, connect, and contrast method on your research proposal will help you understand what should, and should not be included in your proposal.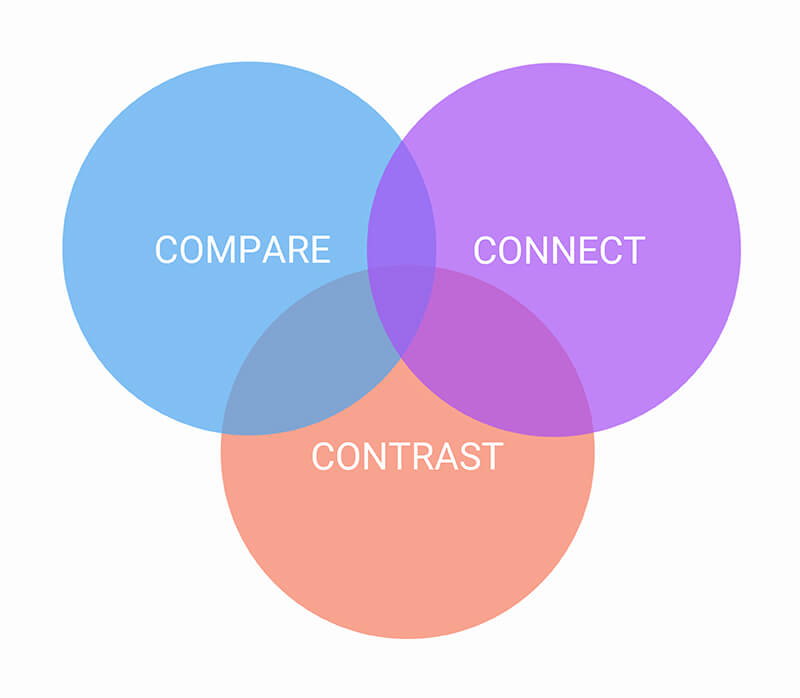 Comparing, contrasting, and connecting your research to other research done on the subject may help your own research stand out.
Step 4:

The literature review should be a comprehensive summary and methodology of research that can be tied to your research question.

With the literature review, you don't want to stick to only summarizing the information.

Make sure you demonstrate that you've been able to analyze and critique the information, and that you've been able to uncover a need for your study. You should remember to cite all information you take from the sources and stick to a fact-based analysis.

Think about how the various authors/researchers have approached their studies, how their results differ, and how their results overlap.

The methodology outlines the details you'll be using to put your research proposal together.

In this section, you'll need to describe how you'll be conducting your study. Your details will need to account for the specific actions that you'll be undertaking, including the ways you'll be reaching conclusions about the data.

Be sure to indicate how your methods, evaluations, and interpretations, will support the main research question. For instance, if your study is meant to reveal what factors account for individual financial success, a quantitative method using a weighted average formula needs to be more than just stated.
How will the factors used in the formula be determined?
What is each factor's significance?
What weight is assigned to each factor and what is the rationale for each weight?
Are there different methods that could have been used and what was the advantage to using the weighted average formula?
What are the disadvantages to using the formula and what data does the formula either exclude, potentially skew or overlook?
Asking yourself these types of questions ahead of time, will save you a lot of time and headaches when you start writing your research paper.
Step 5:

Once you explain your reason for conducting the research, you'll need to highlight what results and impacts you expected.

This section is where you'll indicate what you believe your research will uncover, but in some cases, you'll also need to state this in the form of a hypothesis and a corresponding null hypothesis.

Null hypothesis: What you believe the data will not prove; often the direct opposite of the stated hypothesis.

You'll need to write this section in an argumentative style and tone. Think about the following questions as you're writing:
What improvements could happen as a result of your findings?
Could policies (national, state, local) be impacted?
Will practitioners need to modify their approaches, responsibilities, and tasks?
Who would benefit from your findings?
Will your findings open avenues for future research? Will the findings uncover a new gap in the literature?
You'll be justifying how the expected results will make a significant contribution to the field, either from an academic, practical, or political standpoint.
Step 6:

Your conclusion should drive home why the research proposal is significant and why the proposal needs to be undertaken.

Include a summary of what makes your research proposal stand out and the main points your study will cover. Concise explanations of all of the proposal's sections should be included here, with a restatement of how the proposal's findings will make a contribution.

Don't feel as though you need to restate every point within the proposal; stick to the significant highlights. Try to keep the content to no more than two paragraphs.
More resources
Although this guide provides a detailed overview of the general structure of the research proposal, the content you'll need to include can vary by academic discipline. Sample research proposals according to a variety of academic disciplines are available online through a variety of sites, including resources found on the Ultius site.
Also, consider seeking help from a friend, a trusted peer, or through professional assistance. Remember, there's nothing wrong with seeking help!