An article review from the experts at Ultius can be an excellent guide
Ultius writers produce amazing sample article reviews customized to your instructions
Article reviews are geared toward those already knowledgeable in the field discussed in the article, and Ultius can connect you with skilled writers who specialize in your chosen field or topic. As article reviews are often exercises in exploring the work of an expert in the field, we can connect you with writers with expertise in a broad range of topics.

All-American writers
Ultius only works with college-graduate writers, based in the United States
Topic specialists
Article experts
Writer collaboration
Free revisions
Support with every sample
Our Client Success team is here to make sure you're never on your own
24/7 customer support
Android app available
Live chat available
Extensive site resources
All samples are original
Ultius checks every article review for plagiarism before it's delivered to our clients
Top-notch security and protection
Ultius has state-of-the-art protections covering our website and systems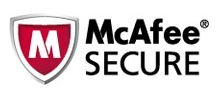 Scanned daily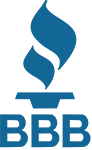 A+ BBB Rating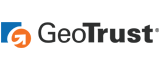 256-Bit SSL Encryption
Article reviews are designed to examine the work and ideas of top minds in the selected field. Therefore, they must be able to effectively communicate not only the ideas of the article, but also an understanding of it as well. The professional writers at Ultius understand each article review must connote not only the purpose of the article, but apply and expand upon the ideas.
Ordering an article review from Ultius is just 3 easy steps away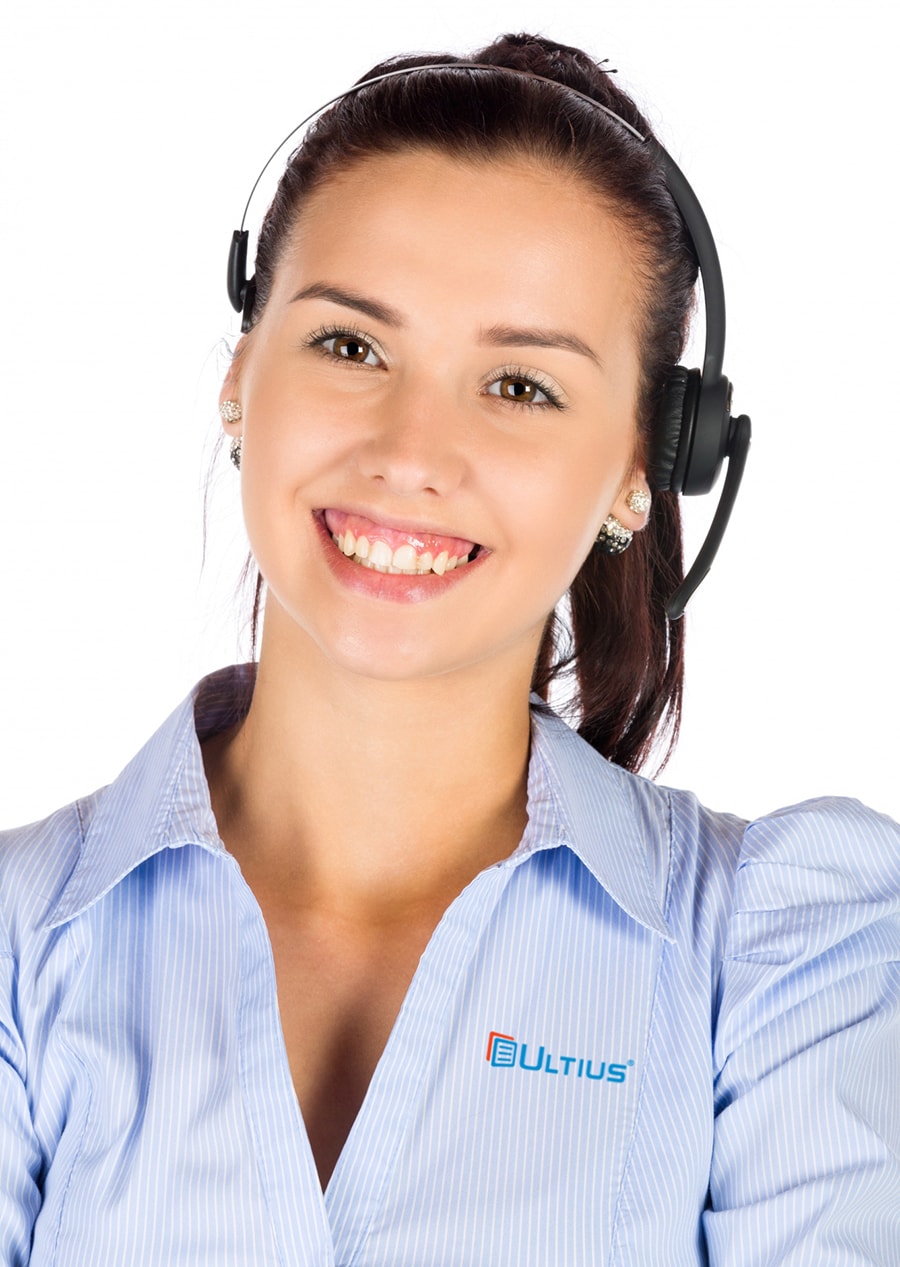 The process of ordering a custom article review online is easy with convenience and simplicity in mind.
Submit an article or provide a topic and the criteria for your article and your writer will select it for you.
Your article review order will be matched with a writer well acquainted with your topic who will analyze the article.
The final draft is delivered by your deadline after being thoroughly checked by our quality assurance team.
You will have the opportunity to direct your writer to ensure your custom article review meets your every need.
Just 3 steps, and your custom written review is delivered to you by your deadline. However, every so often minor changes may be necessary. We offer free revisions (see terms) to ensure that each order meets your needs exactly.
What you get when you buy an article review from Ultius
With Ultius, your article review comes with exceptional benefits no one else can match
Article reviews are some of the most common requests of our writers and the quality of their writing is second to none. We connect you with writers with intimate knowledge of your subject of choice and provide thorough, articulate and introspective article reviews. Your article review will always be handled by a qualified, professional American writer with years of experience in your area of study.
Benefits of buying an article review from Ultius

Purchasing one of our sample article reviews allows you to benefit from the work of an experienced writer to better aid you in crafting your own thought provoking and well-crafted writing as well as a means by which to hone your own analytical skills.

We only work with American writers

Our writers not only understand your needs but bring with them years of writing experience to create your ideal product. We work with writers who are American college graduates and live in the United States.

Professionally editors work on each and every order

Each order from Ultius passes through our professional Quality Assurance team who review your custom written article review for both content and quality.

Custom sample orders meet your expectations, every time

Ultius takes quality seriously. That's why we encourage you to communicate with your writer during the writer process, and also our client success team as well. Every step of the way, Ultius is here for your success.
Ordering a custom article review from Ultius is not only an opportunity for you to benefit from the experience from our professional writers, but a chance to learn better writing practices and hone your own skills as well.
You are able to communicate with your writer at every step in the process of completing your order offering suggestions, asking questions and guiding your writer to ensure that your order is exactly what you would expect from a professionally written product. Once you receive your product, our Client Success team is available 24/7 to address any additional concerns.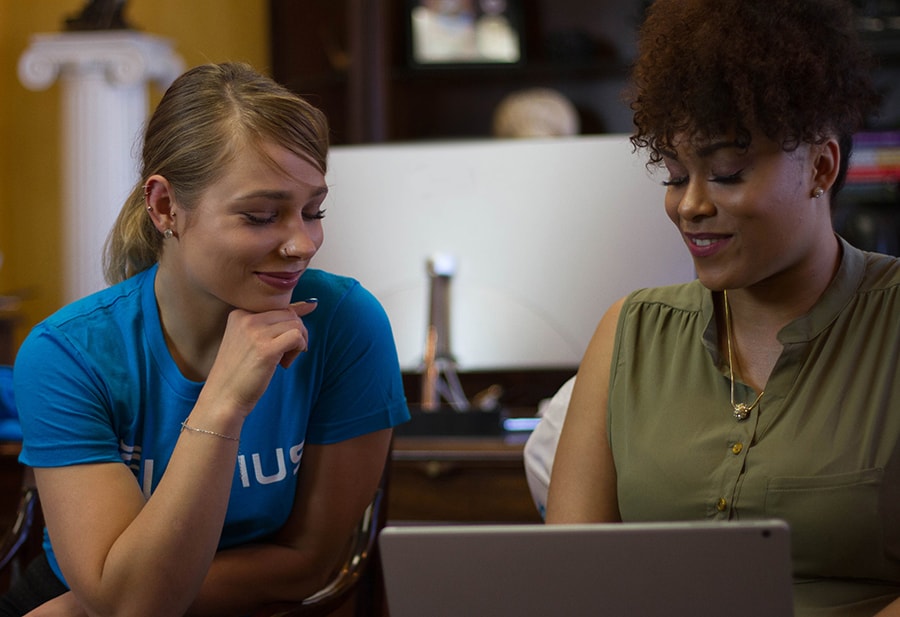 Do you have questions before buying an article review from Ultius?
Well, that's understandable, and we're here to answer them for you
Article reviews are fairly common exercises in a variety of disciplines. Questions may arise from time to time. Here are some of the most common questions we're asked before placing an order for a custom written article review, and what you can expect from the experience.
How do I communicate with my writer during the writing process?

Communication with your writer is key to the success of an effective partnership. With this in mind, we provide messaging where you are able to communicate with your writer, ask questions and answer any concerns your writer may have to ensure your custom order is completed exactly as you specify. Here you can check on the progress of your order, exchange ideas with your writer and provide any pertinent information they will need to complete the order.

How will my writer know what my article review has to say?

When placing your order for an article review, you can leave details about what you need to be included in the draft in the order details section when placing your order. You can also leave personal messages for your writer including necessary documents your writer will need to complete the order to your exact specifications.

What if I'm not satisfied with the work done by the writer?

We do our best to ensure that every custom written order is completed to your exact specifications. Sometimes, however, there can be details you feel need to be better expanded upon or taken in a different direction. Our revision policy lets you request changes to your order if you feel that there was a misunderstanding or that your instructions were not effectively followed.
These are only a few of the more common questions about buying article reviews. More answers can also be found at our FAQ page and we provide 24/7 support from our client success team for any concerns or questions that you might still have about our services.
Previously written article review from the writers at Ultius
Our writers are no strangers to providing excellent article reviews
Ultius works with writers versed in a vast number of academic disciplines. As article reviews span a variety of different subjects, we have no trouble connecting you to a qualified writer who can create a custom written article review in your specified field.
Business, economics, law, finance and medical specialties are only a few of the disciplines from which our qualified writers produce quality article reviews every day.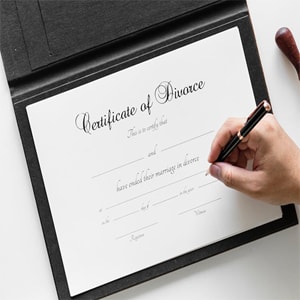 Article Review: Essay on Divorce
Currently, divorce is viewed quite differently than it was in times past. Modern society no longer sees divorce as the result of a failed union, but rather it has become commonplace in society and accepted. The accompanying article review examines some of the current trends and attitudes toward divorce as well as the statistics of its prevalence and some of the effects it has upon younger generations.
Continue reading
This, of course, is only a brief sample of the article reviews and topics upon which Ultius writers can complete. No matter the discipline needed, Ultius can connect you with a writer suited to your specific needs. Visit here for additional samples of work by our world class writers.
Components of an outstanding article review
Article reviews are written in multiple disciplines and cover a large variety of topics, many of which may not be academic
An article review is an objective piece that require a thorough analysis and critique of the article being reviewed.
Article reviews generally dictate that you respond the article with you own view and solutions to any problems presented, or questions asked.
The outline of an article review
An article review outline consists of an introduction, three main points, an address of minor concerns, and a conclusion.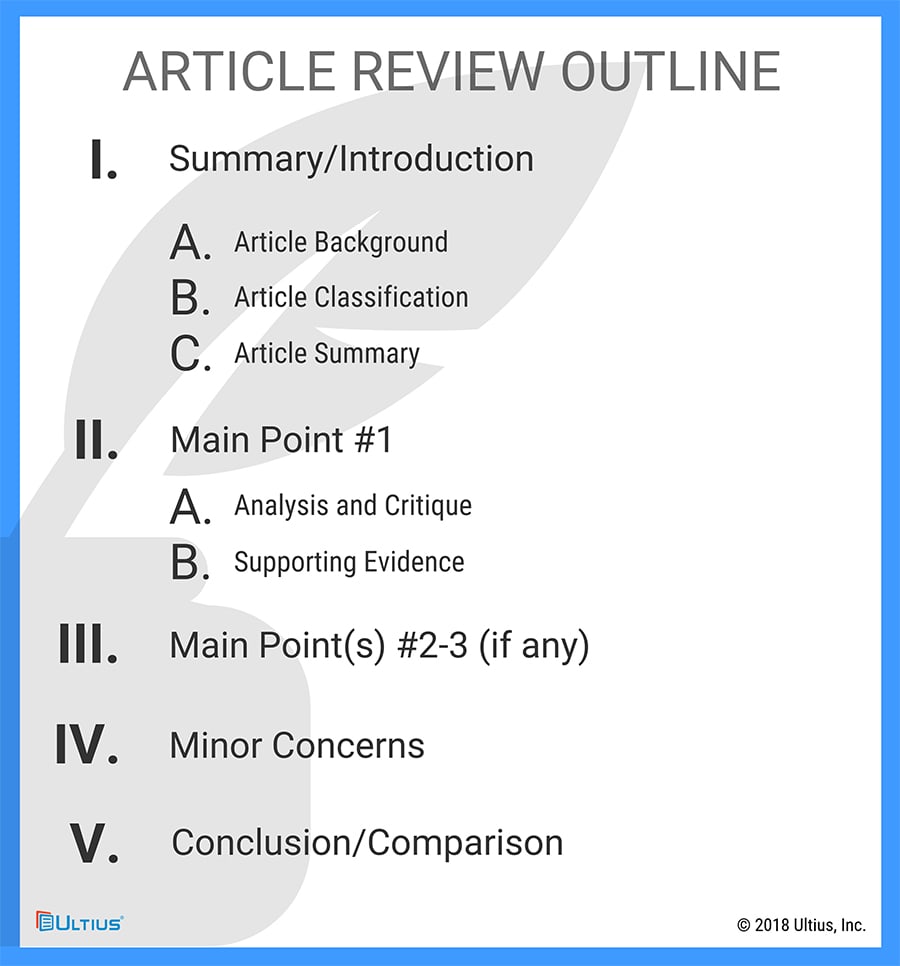 Article reviews require a lot of research, either to backup, or dispute findings in the article itself.
Creating an outline of what you want to argue before you start writing will help your article review stay focused.
1

An article review differs from an article critique and may use a different format

Article reviews can be written in an academic or journalistic style, and format varies greatly depending on instructions given

Article reviews are written by students, as well as established academics for the purpose of evaluating the work of others. Often, news media sites, and reporters may write an article review in response to an article from elsewhere. The process develops critical thinking skills and gives you the opportunity to formulate opinions.

For example, the article can be published in a reputable trade magazine, newspaper, or national magazine such as Time or Newsweek.

The goal is to provide a summary of the article, classify the article, analyze, critique, and compare.

Ask your instructor/professor about format

Your instructor/professor may want your article review written in a certain style. Be sure to ask before you begin writing.

Article reviews differ from traditional essays, and other types of academic papers and may require a different format and citation style other than MLA, or APA.

2

Most article reviews are responding to a specific article

The process of writing an article review is about responding to the article's information and ideas

Generally speaking, readers of article reviews are already somewhat familiar with the article's topic but are interested to learn what others think about that topic. The audience could be looking for another opinion, a new angle, or whether their own opinions agree or disagree with yours.

If the article is commentary or opinion-based, the analysis and critique should be focused on deconstructing the author's opinion while juxtaposing it against your own.

Of course the response perspective is not merely based in opinion - it is based in informed opinion that is backed up by theories, studies, and research. Remember that the opinion carries throughout the entire format of the article review, including the comparison and classification.

3

Pre-staging and research

Notice how the article's ideas and arguments stand out or blend in with the rest of the literature on the topic

As you're identifying the main points in the article, you should also be making plans to seek outside research on those points. The same principle applies to the article's identified weaknesses, unanswered questions, contradictions, and strengths.

Taking the time to find research to back up your claims will also help you identify where the article stands in position to its peers. It will also help you later in your comparing and contrasting the article with your own research on the article's subject or topic.

4

Structure of an article review

The overall structure of an article review contains a summary, a classification, analysis, critique and a comparison

Using your outline and the details mentioned above, structure your article review using the following elements.

Structure of an article review

Article reviews consists of a summary, classification, analysis, critique, and a comparison.

Fleshing out these components beforehand can help you articulate the points you need to in your article review.
Composing the article review
Pay attention to your outline when structuring your article review
Sitting down to write the article review is a dual process of relying on your careful reading of the article, your outline, and your research. It's important refer to your outline to carefully lay out the points of the article you want to address.
Step 1:

Your introduction should include a summary and classification

The summary and classification sections of the article review are usually one hundred percent objective

This equates to little room for the insertion of opinion. Here you write about the specific things in the article that you will be addressing. It's important to use only objective information in your introduction. Subjective analysis, and opinion can be inserted later in your main body, where you will flesh out your arguments.

The difference between objective and subjective arguments.

Objective information is based on observable facts, while subjective information is opinion-based.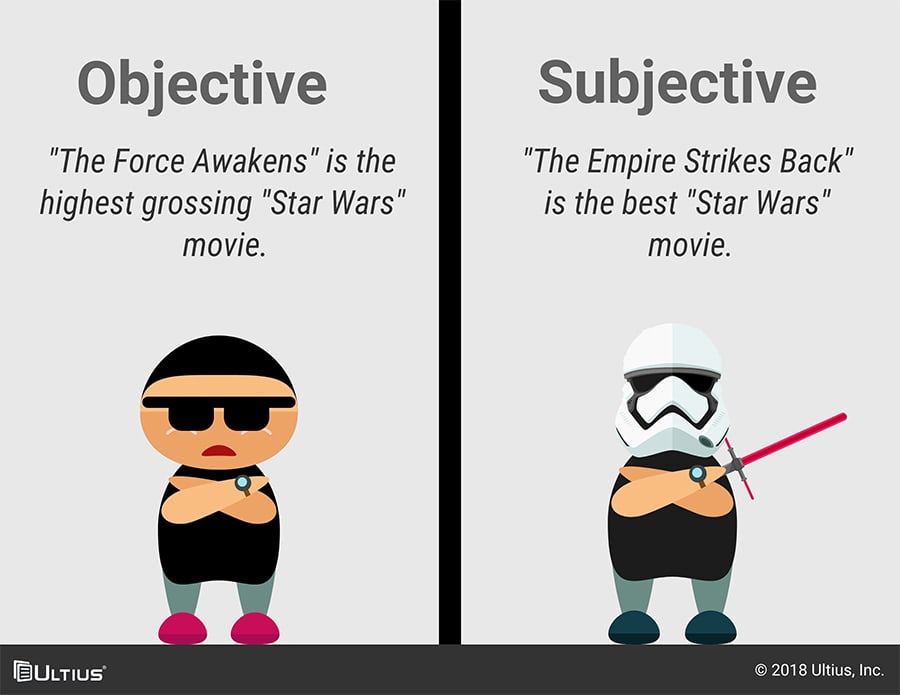 It's important to let your audience know that in the introduction why and how you'll be addressing them. This can be done using the summary, and classification method.
| | |
| --- | --- |
| Summary | Classification |
| Includes key findings, significant facts, conclusions | Includes whether the article contains a qualitative or quantitative study |
| Reiterates what the article's author has already stated | Identifies what type of article - original study, clinical research, editorial/opinion, review |
The summary and classification method is an effective way to make the introduction of an article review interesting to readers.
Step 2:

Include your analysis and critique in the main body of your review

The analysis and critique sections are heavily dependent on justified opinion

Once you get past the introduction, it's time to write the main body of your article review.

This is where you evaluate the article according to its ideas, its hypothesis or its thesis, and its theory. As you write your response(s) to the article, start thinking about what its main points of the article are, and how you'll address them.

Questions to ask in an article review

When reviewing an article: find the strengths and weaknesses of the article, look for contradictions and unanswered questions, and identify the thesis.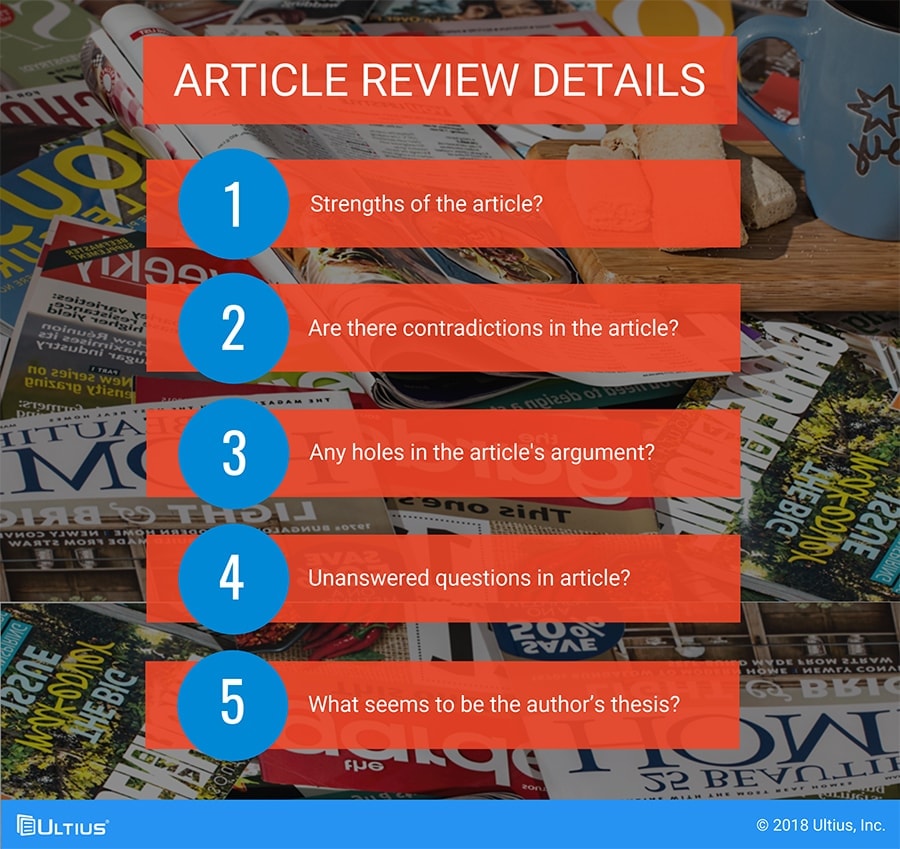 Also, if your article proposes a possible problem or problems, this is where you can suggest any possible solution(s).
Step 3:

Use a comparison in your conclusion

The final section of the article review breaks down how the article's ideas, thesis, and study compare to two or three other articles within the same general topic.

Some article reviews may require a juxtaposition between more than three outside articles. In this section, you may want to tackle the contrasts between thesis statements, methodologies, or you may want to contrast more minor details.

You can do this by comparing and contrasting those articles to other literature or articles on similar subject matter. It's important to do this while not introducing new ideas.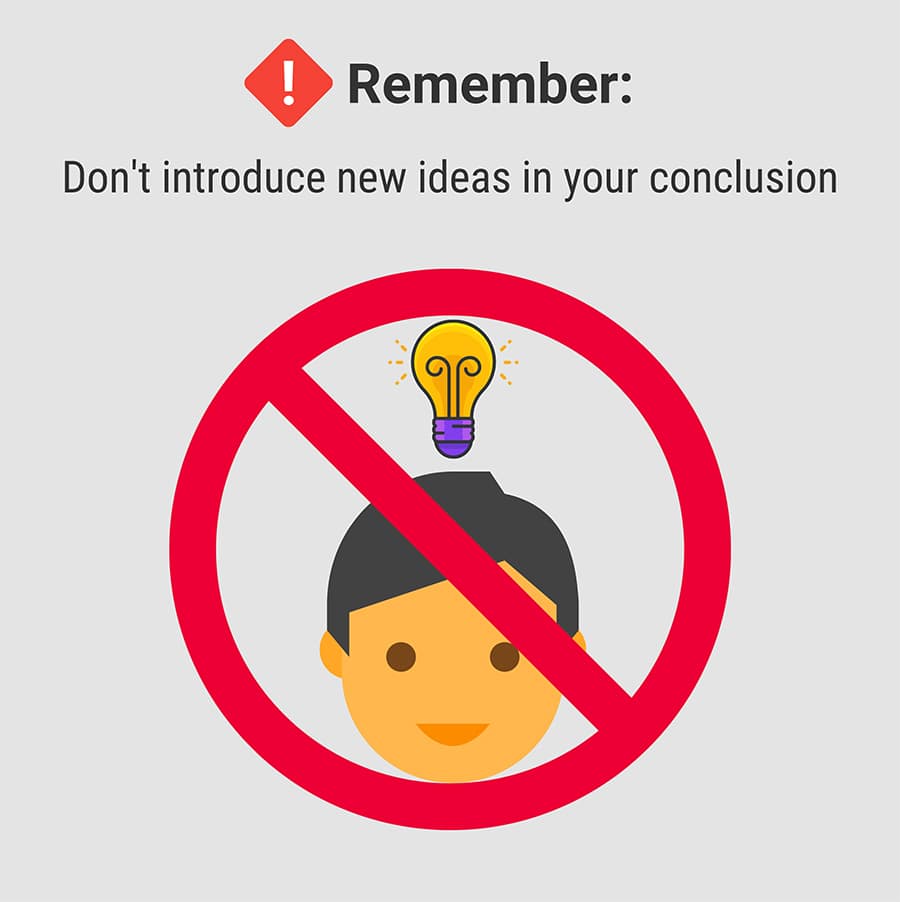 This is where you'll be bringing your article review to a close, so you don't want to leave it with an open ending or without some type of resolution.
Try to answer any questions not answered before in the main body here, while not asking any new questions.
Additional resources
Ultius offers free resources that help improve your writing
Learning how to write an article review is best accomplished through practice and looking at examples. While sites like Ultius that provide examples and writing help on article reviews, you'll also want to check with your university.
Some academic disciplines and instructors have individual requirements that may vary from the instructions in this guide. Your university's library database may have article review samples available. For samples in a variety of academic disciplines, check out the Ultius blog.