Sample Descriptive Essay on the Zika Virus
According to the Centers for Disease Control and Prevention (CDC), the Zika virus disease is spread primarily by infected Aedes aegypti mosquitos. This is the same type of mosquito which transmits Denguefever, and it is indistinguishable from other mosquito species without a microscope (CDC). Zika's common symptoms are rash, a fever, joint pain, and conjunctivitis, which is characterized by red eyes.
The generally mild symptoms last anywhere from several days to a week, and the sickness usually does not require a hospital stay; death is extremely rare, as noted on the CDC website. This sample essay from the pros at Ultius will discuss how Zika is not a new virus, and cases have been reported in the Pacific Islands, Southeast Asia, and the African tropics previously. In May of 2015, the Pan American Health Organization (PAHO) confirmed the first Zika case in Brazil, issuing an alert concerning the virus in order to keep the public and healthcare personnel informed (CDC).
What is the Zika virus?
The CDC estimates that about one in five people infected with Zika will become sick from the disease, although the illness is usually quite mild; they will begin within two to seven days of the mosquito bite in most cases. Zika is believed to be transmitted through the mosquito bite alone; these mosquitos also spread Chikungunya and Dengue fever (CDC). These mosquitos do not just bite at night, and can become infected when biting a person who is infected with the virus, then spreading the disease to more people (CDC).
The disease can also be transmitted to unborn fetuses either during pregnancy or during birth, the organization stated. While there is no indication on the CDC website that Zika can be spread through sexual transmission, the scientific community, the general public, and an American couple who first brought the Zika virus to the United States have questioned this assumption (CDC; Lamotte).
In the first known case of Zika which affected a man from Colorado over eight years ago, the microbiologist Brian Foy passed Zika on to his wife, Joy Chilson Foy (Lamotte). Foy, who was studying the effects of a drug on malaria-bearing moquitos, called the Aedes aegypti mosquito the "rat of the mosquito world, highly adapted to urban tropical environments," and living inside homes where it bites aggressively during the daytime hours (as cited in Lamotte).
According to Lamotte, Zika was originally discovered in the Ugandan forest in the late 1940s, and the mosquitos who transmit the virus were not common in Colorado – they are concentrated in the Florida Keys and the Texas-Mexico border. Foy's Zika progressed into prostate pain and blood in his semen, which were also indications of sexual transmission of the virus (Lamotte). Because of the "immune privilege" the body has in areas such as the testicles, eyes, placenta, and fetuses, these areas are not equipped with the inflammatory immune response – meaning they are more susceptible to the Zika virus and other viruses (Lamotte). The concept that Zika might be the result of pesticides has been scientifically debunked, according to Szabo of USA Today.
Who is affected by Zika?
Anyone can be affected by Zika, but it is more prevalent in areas where the Aedes aeqypti mosquito resides. The CDC has posted a PDF of an article written about a Zika outbreak in French Polynesia which claims that a man had the virus in his semen – suggesting it could be considered a sexually transmitted disease (Musso, Roche, Robin, Nhan, Teissier, and Cao-Lormeau). Many of the people infected may be unaware of the disease's presence and thus these cases may remain unreported, furthering the spread of the virus through populations (CDC).
Any person who lives in or travels to or through an area where Zika virus is present and has not already been infected can obtain the virus from a mosquito carrying it. Similary to the struggle for the Ebola vaccine, there is currently no vaccine for Zika, but wearing long-sleeved shirts and pants, staying in places with air conditioning or window and door screens, and using Environmental Protection Agency (EPA) approved insect repellents and following the instructions closely can all contribute to remaining free of the disease (CDC).
It is important to remember to reapply the repellent as directed; refrain from spraying it under clothing on the skin; and apply sunscreen prior to repellent for it to work well (CDC). It is not recommended that repellent be used on children under two months old; it is recommended that fabric or screen barriers be used instead. Permethrin-treated clothing and items can also be used, as well as mosquito bed nets (CDC).
Pregnant women and their fetuses seem to be at the most risk for contracting the Zika virus due to the possible effects on unborn babies – notably microcephaly in which the child's head is very small, restricting the brain (McNeil, Saint Louis, and St. Fleur).
In which countries is Zika present?
Zika has induced the World Health Organization (WHO) to issue a Public Health Emergency of International Concern (PHEI) concerning microcephaly and other neurological disorders which may be caused by the disease (WHO). The CDC has also elevated its Emergency Operations Center (EOC) activation to the highest level of 1 (CDC). The first case outside of the previously mentioned Zika infected areas was in Brazil. This has most notably raised concern surrounding the 2016 Olympic Games in Rio.
Currently, the CDC has received travel notices of Zika cases in
Cape Verde; the Caribbean (including Barbados, Curaçao, Dominican Republic, Guadeloupe, Haiti, Jamaica, Martinique, Puerto Rico, Saint Martin, and the Virgin Islands);
Central America (including Costa Rica, El Salvador, Guatemala, Honduras, Nicaragua, and Panama); Mexico; the Pacific Islands (including American Samoa, Samoa, and Tonga); and
South America (including Bolivia, Brazil, Colombia, Ecuador, French Guiana, Guyana, Paraguay, Suriname, and Venezuela) (CDC).
Within the United States, several cases of Zika have been confirmed as of February 10th, 2016. Affected areas include,
Arkansas
California
Delaware
District of Columbia
Florida
Georgia
Hawaii
Illinois
Massachusetts
Minnesota
Nebraska
New Jersey
Ohio
Oregon
Pennsylvania
Texas
Virginia (CDC).
The states with the most cases reported have been Texas, which has ten thus far, and Florida, which has thirteen (CDC). All cases have all been contracted through travel except one (CDC). According to the CDC, the number of cases is expected to increase steadily, as more travelers return home from abroad who were travelling prior to the WHO and PAHO announcements; the organization also notes that the low severity of the symptoms may cause up to 80 percent of the cases in the United States to remain unreported.
Where exactly is the Zika virus?
Source: CDC
See the countries and states reporting the virus.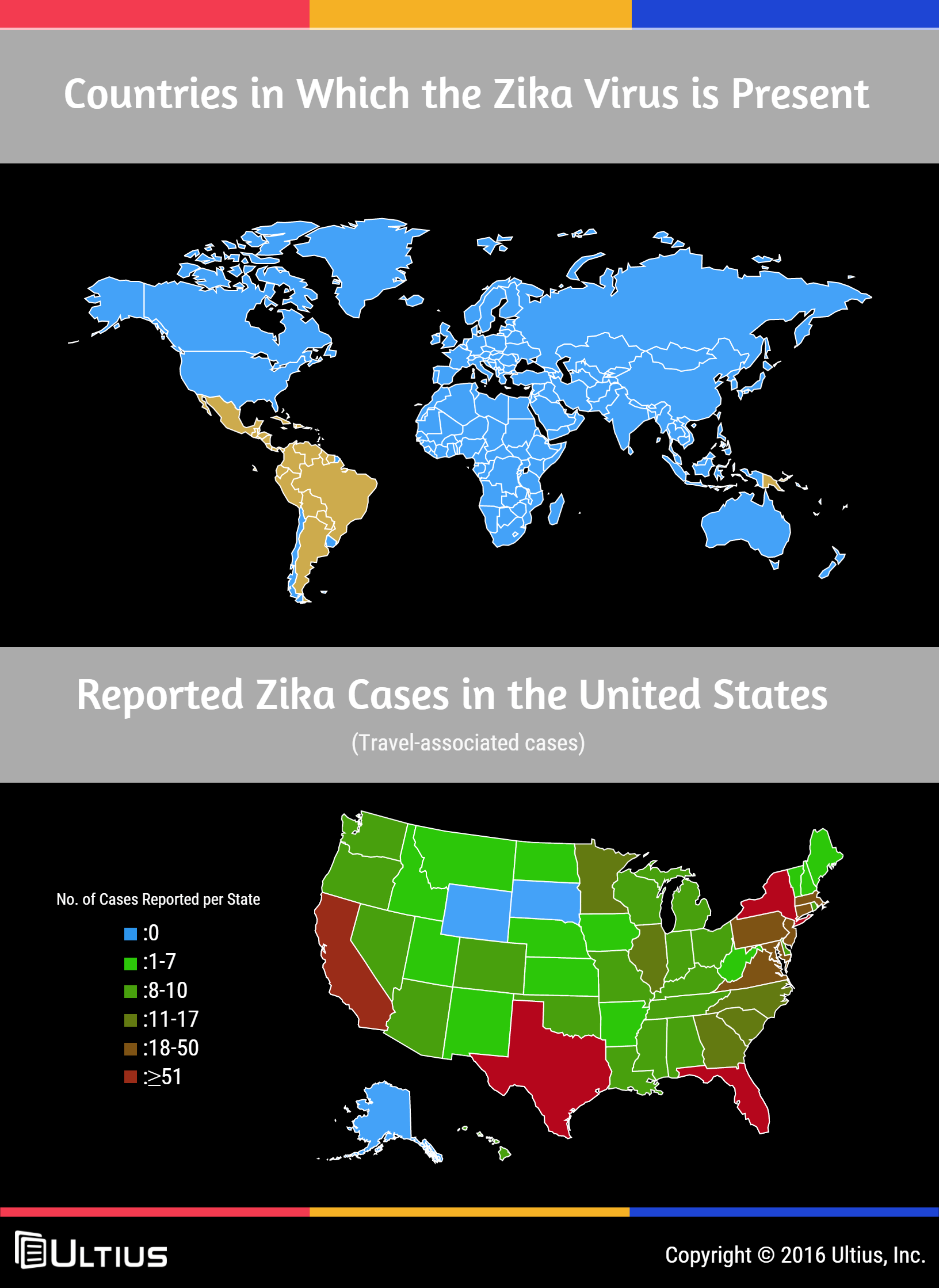 How does Zika affect pregnant women and infants?
The New York Times reported that the unusually small heads create brain damage, and noted that the CDC has asked pregnant women not to travel to two dozen countries, which are mostly located in the Caribbean and Latin America (McNeil, Saint Louis, and St. Fleur). There appears to be a link between the Zika infection and microcephaly, and many of these countries are now testing for the Zika virus in pregnant women in an effort to prevent the damage of the fetuses, or at least find out what specifically is causing it (McNeil, et al.)
For now, the CDC is recommending that women who are trying to get pregnant also avoid travel to affected countries whenever possible, and also that couples attempting to get pregnant in areas where Zika is spreading avoid mosquito bites as described on the website.
It has been confirmed by the CDC that Zika can be passed from the pregnant mother to her fetus during pregnancy, and if a pregnant woman discovers she has traveled to a place where a Zika outbreak was taking place or is currently spreading, she should immediately speak to her healthcare provider even if no symptoms are apparent (CDC).
Substances affecting fetal development are taken seriously and doctors can obtain guidelines for tests for these pregnant women who may have been exposed to the virus; if fever, rash, joint pain, or red eyes occur in the two weeks following a trip to a country where Zika has been reported it is of particular importance that the pregnant woman sees a doctor and participates in testing for the virus (CDC).
In the South American country of Brazil, a significant number of people have contracted and continue to contract the Zika virus, and the effect on the fetuses of pregnant women has become a great concern to health officials and healthcare providers in the region (CDC). There has been an increase in the amount of infants born with congenital microcephaly, which produces a much smaller head size than is expected for the age and sex of the infant (CDC). Due to the small head size, brain damage may be present in these infants, and may affect them for the rest of their lives, or even cut their lives short.
Other health effects from Zika
An investigation into this issue is ongoing, and additional studies are needed, according to the CDC, in order to determine whether there is significant linkage between Zika and the infants' condition. As far as future pregnancies are concerned, there is no reason that women should not get pregnant once the Zika virus has been cleared from their blood, and it should not pose a risk for future pregnancies or infants; Zika generally remains in the blood of the victim for a week, but has been found to stay in the semen for a longer period of time (CDC).
Zika has also been linked to a disease called Guillian-Barré syndrome in adults, in which the body's immunes system attacks its nerves causing weakness and tingling in the extremities as the initial symptoms (Mayo Clinic). The tingling can quickly spread and eventually paralyze the entire body; patients must be hospitalized, and the cause of the disease is unknown (Mayo Clinic). The Mayo Clinic Infectious Diseases Specialist, Dr. Pritish Tosh, noted that "the general public is not at risk of complications from the [Zika] virus" and that 80 percent of those infected are totally asymptomatic – pregnant women are the most at risk (Balzer).
How are we combating Zika?
Some of the information being posted on social media or put out through other forms of media concerning the Zika virus can be misleading and even downright incorrect. There are many global local health organizations that people can turn to in order to gain correct information regarding how to combat and keep from getting the Zika virus, particularly for pregnant women.
According to Radford of The Guardian, the effects of Zika could be mitigated through the nature and applications of bioengineering or irradiated mosquitos to hamper the Zika virus spread in places that have been greatly affected. Approaches to mosquito control such as irradiated mosquitos are being investigated closely as the epidemic continued to rage in countries like Brazil (Radford). Field trials and risk assessments are being held in the Cayman Islands, where the modified mosquitos have helped reduce Aedes aegpypti populations considerably (Radford).
How can I protect myself and my family from Zika?
Following the CDC's recommendations for the prevention of Zika is the best way to keep from getting the disease. Report any suspected symptoms or contact (sexual or otherwise) with a person who has recently travelled to areas where Zika is prominent or known to be a problem (CDC). If Zika is contracted, bring the affected person to the doctor immediately and inform him or her of your Zika suspicions. Make sure the person gets plenty of rest, plenty of fluids, and takes acetaminophen to reduce fever or pain. Aspirin or other non-steroidal inflammatory drugs are not recommended by the CDC at this time.
In order to protect others, avoid mosquito bites or sexual activity to occur (CDC). If the symptoms of the disease occur two weeks or more after travel, the disease may not be Zika (CDC). The CDC stated that it is likely that a person cannot be re-infected if that person has already had Zika once. Hopefully this sample essay from Ultius provided some insight. The best protection from Zika is avoidance of areas where there are or have been recent outbreaks, and the prevention of mosquito bites from Aedes aegypti mosquitos; these precautions are most important for pregnant women.
Works Cited
Balzer, Deborah. "Transmission of Zika Virus and Dangers of Mosquitos." News Network. Mayo Clinic, 2016. Web. 18 Feb. 2016.
Centers for Disease Control and Prevention (CDC). "Zika Virus." Zika Virus Home. Centers for Disease Control and Prevention, 2016. Web. 17 Feb. 2016.

LaMotte, Sandee. "First Known Sexual Transmission of Zika Virus in U.S. was Eight Years Ago." CNN. Cable News Network, 2016. Web. 17 Feb. 2016.
Mayo Clinic. "Guillian-Barre syndrome." Diseases and Conditions. Mayo Foundation for Medical Education and Research. 2016. Web. 18 Feb. 2016. .
McNeil, Donald G., Catherine Saint Louis, and Nicholas St. Fleur. "Short Answers to Hard Questions About Zika Virus." Health. The New York Times Company, 2016. Web. 17 Feb. 2016.
Musso, Didier, Claudine Roche, Emilie Robin, Tuxuan Nhan, Anita Teissier, and Van-Mai Cao-Lormeau. "Potential Sexual Transmission of Zika Virus." Emerging Infectious Diseases, 21(2).
Radford, T. "WHO paves the way for use of genetically modified mosquitos to combat Zika." The Guardian. 2016. Web. 17 Feb. 2016.
Szabo, Liz. "Scientists debunk theory linking pesticide, not Zika, to birth defects." News. The Gannett Company, 2016. Web. 17 February 2016.
World Health Organization. "Zika Virus Fact Sheet." Media centre, 2016. Web. 17 February 2016.