Ultius Blog
Ultius is the trusted provider of content solutions for consumers around the world. Our platform matches customers with highly qualified American writers for custom sample writing, editing, and business writing.
Our Essay Writing Service Utilizes Some of These Top 20 Tech Tools
Good, quality writing is often challenging when you are busy with the demands of school, work, business, and everyday life. Presenting a paper or essay that has glaring grammatical errors or poorly structured sentencing can make your paper look unprofessional and amateurish. That is why a lot of people turn to essay writing services.
The modern writer has an abundance of technical tools to help overcome the obstacles and challenges of crafting the perfect paper. Hiring an essay writing service will help ensure that your paper looks professionally written and is free from grammatical errors. The tools and apps presented here can help you on your path to becoming a great and proficient modern writer.
Here are suggestions on some of the top 20 tech tools available to modern writers.
Free writing apps
Source: GPS
Modern writers have many tools at their disposal. The Google Play store has a plethora of free writing apps (pictured below) that writers and essay writing services may use to their benefit.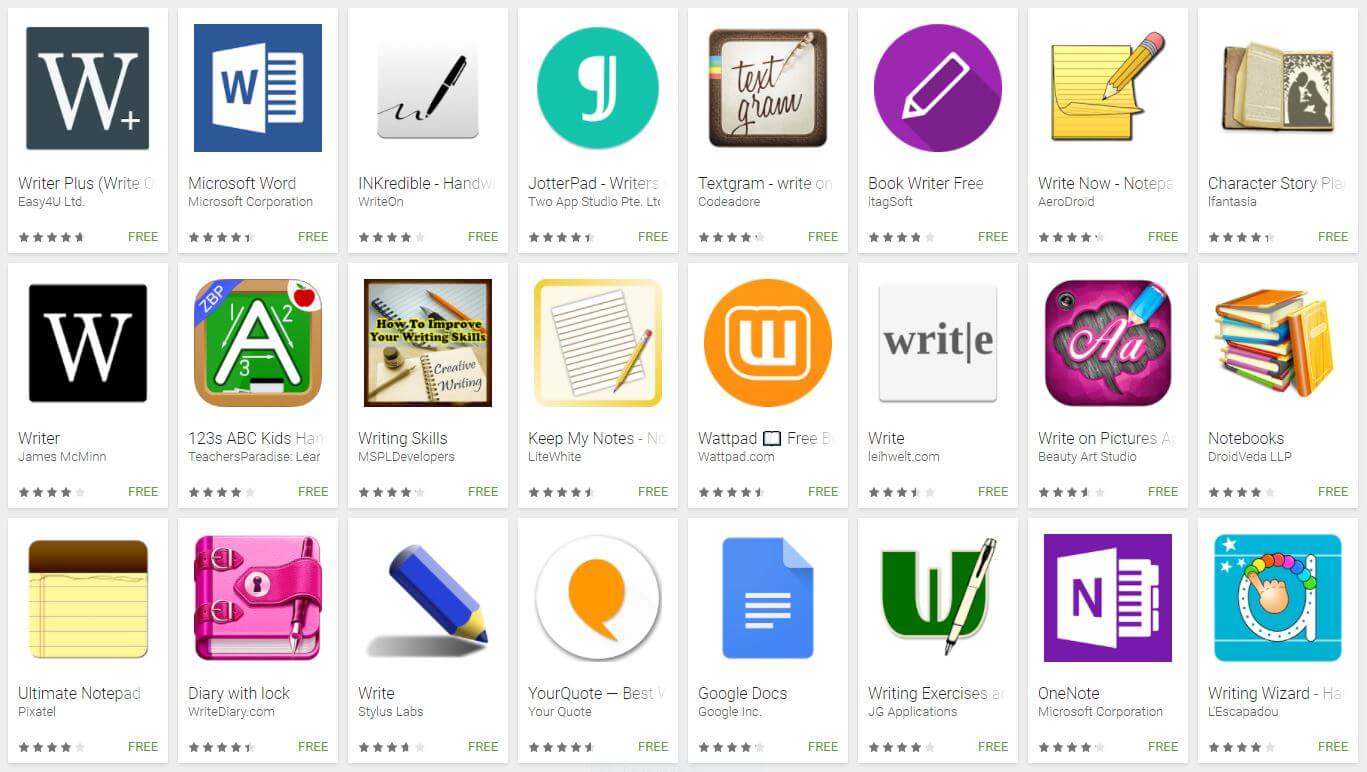 Supportive Technology for Writers (Tools and Apps)
1: Grammarly
Features: The essay writing support software program Grammarly is used to help writers at all levels of proficiency enhance their grammar, spelling accuracy, and vocabulary range. Currently Grammarly can be used on a Microsoft Office add-on, and on the web, but so far it is not available for Apple/Mac.


Advantages: Grammarly accomplishes grammar and spelling accuracy through checking submitted writing against 250 types of grammar mistakes over six differing genres of writing. Enhancing a writer's vocabulary is assisted through the Grammarly context-optimized word suggestions, acting as a living thesaurus for writers who may get bogged down in commonality. Enhanced vocabulary support with Grammarly can not only improve a writer's expression of concepts, but enable them to think with the multidimensionality which supports novel synthesis of ideas.


Benefits: Grammarly offers the distinct benefit of being a tutoring tool for writers to learn from their mistakes as they observe the suggested changes of the program. This is true not only for grammar, but for spelling and vocabulary. Grammarly's highlights spelling errors more consistently than Word's spell check, and points out many misused similar words such as effect/affect, lay/lie, etc. To expand their influence and support Grammarly has created an online community of writers who have contributed to a Q&A section which continues to grow as the community continues to investigate writing questions, techniques, and applications.
This aspect of Grammarly emphasizes that the software is not only about improving a document, but improving the overall writer and essay writing experience. To support this dynamic individual centered learning experience Grammarly has the function of the Personal Writing Handbook, with is a journal tracking scores and analyzing each writer's strengths and weaknesses as they progress. Learn more by visiting their website https://www.grammarly.com.
2: Evernote
Features: Evernote is a mobile notepad application which makes the most of the mobile capacity of phones and tablets encouraging writers not to miss their next inspirational opportunity.


Advantages: Evernote, being one of the most popular notepad applications is a virtual cork board allowing users to snappily record thoughts, pictures, videos, and also one's own voice recording.


Benefits: This application enables writers to use their mobile devices as alarm clocks giving helpful reminders, and a list-master which can free up creatives to focus on the next free flowing idea. Evernote can sync a writer's notes with their other devices, sharing storage space and increasing accessibility. Check out Evernote for yourself.
3: Google Docs
Google Docs
Source: GD
Google Docs, pictured below, is quickly becoming the "go-to" platform for a lot of writers. A free product that gives writers the ability to save documents in a cloud is ideal.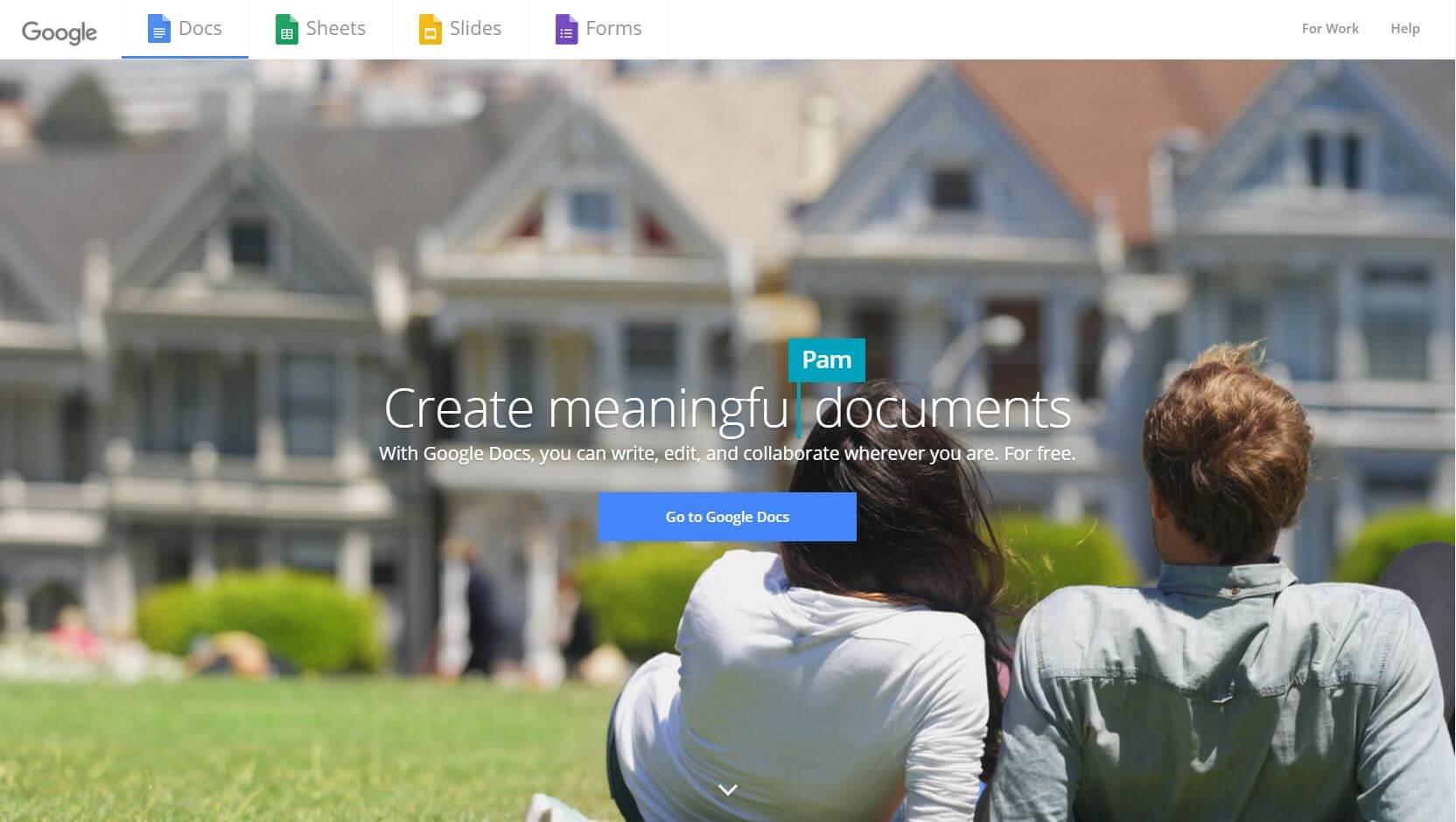 Features: Google Docs is a writing platform which combines the best of the past and the future for the most effective place to digitally compose writing.


Advantages: Prior to the creation of Google Docs, Microsoft Word was the penultimate platform for writing documents. However, Word has many limitations which Google Docs does not, stemming in part, from the divergent ideologies of inclusivity and exclusivity. To start with, Google Docs is free, while for Word, a purchase begins at $100 dollars, and this does not include many of the connectivity benefits of Google Docs.

Being housed on Google's cloud sharing, Docs are able to be shared between many people either as a read only copy, or allow commenting and editing. Google Docs allows for documents to be merged with spreadsheets, graphs, and images conveniently. Continuous saving occurs, and documents prepared in Google Docs can be exported to many different formats including HTML pages for easy transitioning to publishing online.


Benefits: One of the biggest benefits to choosing Google Docs over Word is the research tool of the program. Found in the "Tools" section on the menu (select "Research), this function adds a search bar into the menu which allows for writers to search while they are writing without switching formats. An essay writing service finds this tool very valuable for researching papers.

Being that one of the most complicated aspects to writing long research papers is compiling the references and citations, this function of Google Docs makes it simpler with a Cite button which will add the source in the footnotes.

The research function will pull sources information from Google Dictionary, Google Quotes, Google Images, and Google Scholar to support a wide range of investigative applications for writers. Word does not have anything resembling this feature, which enables Google Docs to gain a broad advantage in the competitive race of tech tools for writers. See if Google Docs is for you!
4: Spell Check Support
There are many different support applications and tools which help writers and essay writing services with spelling and checking their grammar. The table below highlights what some of the most used applications can do.
Spelling and grammar tools for writers
Writers can produce polished and professional content with the spelling and grammar tools below.
Grammarly
As mentioned above, it can catch grammar mistakes, wording mistakes, spelling mistakes, and expand your vocabulary. Highly rated for consistent support at 95%. Priced at $139.95 per year. Widely used most by academics and corporations.
WhiteSmoke1
This program is very highly rated for dependability for checking spelling, grammar, and punctuation. Complete with customer support and boasting an easy to use interface. However, at the cost of $79.95 it is may not be the best financial option as these other applications with minimally lower ratings.
After the Deadline2
Checks documents for common grammar errors and punctuation errors. A separate website, and not as quickly accessible as other methods. Free for personal use.
Online Correction3
Text box receives sample of writing and checks for punctuation, spelling, and grammar errors. Spelling is marked with the color red while grammar and diction is marked with green. External site limitation.
Paper Rater4
Online source for checking for plagiarism errors, various elements of proofreading, and spelling consistency. Rated as the best tool for college students, bloggers, and freelancers to check their work.
Grammarcheck.me5
This tool helps double-check formatting (numbering, indentation, etc.) consistency as well as spelling and grammar errors. A simple and effective interface, this tool ranks high for its ease of use.
Language Tool6
An open source software tool which proofreads documents in over 20 languages for spelling and grammar errors. Helpful for writers who include multiple languages in a document, or who are learning new languages.
GingerSoftware7
Claims to boost productivity through checking contextual spelling, misused word correction, and basic grammar errors. However, investigation into these claims reveal inconsistency in the programming which leaves many errors uncorrected. This program does not check for plagiarism, and may not justify it's $59.00 price tag.
SpellCheckPlus8
This simple proofreading application summarizes grammatical and spelling mistakes into various categories and offers feedback for many types of corrections. In this way, the application more of a tutoring program, and an affordable one at $14.99.
CorrectEnglish Complete9
Very fast computing speed for checking documents for grammar and spelling mistakes. However, the $120 cost of the program makes it less attractive to some.
Microsoft Word10
This program's spell checking and grammar checking has decidedly dipped in quality over the years, and unfortunately, it is no longer a safe bet for writers to trust.
ProWritingAid11
This program is helpful for its unique perspective analyzing overused words, writing style, grammar, spelling errors, and sentence length. This is a very helpful tool used in addition to others.
5: Dragon NaturallySpeaking
Features: Voice to text software Dragon can translate spoken word into readable text. enabling new options and ways a writer and essay writing service can compose. Running for both Windows and MAC/Apple, this industry leading software costs $199.99 for the premium edition.


Advantages: Giving the tired fingers of writers a break, and freeing up the mind to riff some new directions, voice to text applications like Dragon uses speech recognition software to convert one's voice into text at the rate of 160 words per minute.


Benefits: The benefit of this tool is the ability to experiment, riff, and catch inspiration on the fly in ways which are not as easily translated by manually writing.
Dragon NaturallySpeaking
Source: Nuance
The Dragon NaturallySpeaking speech recognition software enables writers to work faster and more productively.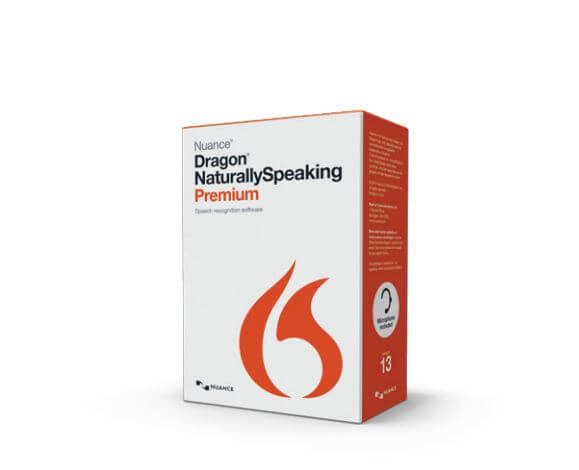 6: Cloud Account Software
Features: Cloud account technology is comprised of data management, storage, integrative software, and the links to social networking which allows for heightened efficiency and saving large amounts of data off of personal networks.


Advantages: Writers working in graduate programs or in the professional arena would benefit from utilizing cloud account technology to maximize their storage and sharing capacity while minimizing time.


Benefits: The benefits of utilizing the cloud is that all your work is stored in the cloud which lightens the load on personal devices, and ensures accessibility anywhere. For writers on the go this is a key benefit as well as those involved in distance learning programs. Check out Dragon, and some of their other products to see if their right for you.
7: Mendeley
Features: Mendeley reference and citation software manages citations over twenty of the most widely used referencing styles (MLA, APA, Harvard, Chicago, etc.). Mendeley functions through the analytical process of "scraping" which uses precision algorithms to evaluate citation style patterns which are coded appropriately and applied in one's documents.


Advantages: While this is a helpful feature for learning the intricacies of citation styles, it is extremely valuable when working with multiple citation styles for different classes.


Benefits: Scraping from metadata academic journals, white papers, reports, eBooks, websites, and government publications, Mendeley is a must have tool for writers jumping in the academic deep end offering the benefit of citation tutoring and organization.
8: Thesaurus.com
Features: Thesaurus.com is a website which is a traditional thesaurus online offering writers and essay writing services many synonyms for their overused used words.


Advantages: Writers inevitably develop their own unique voice with practice, which often relies upon a set of strong words which carry the tone, meaning, and verve which reflects the writer's aims. While this is essential for a writer's development it must not impede the maturation of a writer's complexity and reach. A tool for avoiding favorite word pitfalls is Thesaurus.com, which is an easy way to expand your vocabulary, flexibility, and reach.


Benefits: An often-underestimated tool, the digital thesaurus.com offers many fresh views on concepts which keep a writer from falling into repetition which could become dull.
9: Hemingway App
Features: This free application edits content to point out sentences which are too long or complex for effective web based marketing.


Advantages: A growing and secure market for writers and essay writing services today is content marketing, which is the integrative process of creating high-quality content for websites, social media, organizations, and business which stimulate interest.

As of 2015, according to Smart Insights, content marketing was cited as a sector growing faster than big data, mobile marketing, and marketing automation. For writers who are looking to break into telecommuting freelancing, this is a good place to start, develop your skills, and begin the process of networking essential to the longevity in the market.


Benefits: Researchers supporting this application highlight that writers who seem arrogant, or use too many prestigious or archaic words tend to alienate readers/viewers. Named after Ernest Hemingway, the king of clear, true, and simply powerful writing, this application addresses matters of grammar, spelling, and word misuse in the hopes of rooting out inauthentic haughtiness, benefiting the writer with a clearer and more precise style.
10: Journal Directory Search Engines
BASE
Features: One of the largest search engines for academic journals in open access form, BASE searches from over 2,000 online sources.


Advantages: This provides the advantage of being able to reach the "deep web" which traditional search engines overlook. An essay writing service can use this tool to dig deep for research.


Benefits: BASE has the benefit of sorting and organizing results by document type and with the Dewy Decimal system of classification.
CORE
Features: This open access search engine is currently in its experimental phase, and allows for keyword and semantic searches of over ten million articles available online.


Advantages: Open sourcing searches allows many quality sources to be accessed without having to pay for access, or be associated with any institution.


Benefits: A strong benefit of this tool is that CORE can find similar articles through analyzing the text, which allows for effective precision searching.
Europeana
Features: This search engine is a meta-catalogue of Europe's leading heritage collections from libraries, galleries, museums, and archives. This will allow access to manuscripts, photos, books, journal articles, maps, diaries, recordings, television, film, and even sheet music.


Advantages: For those writers working in history, the social sciences, and the humanities disciplines Europeana can be a strong support network.


Benefits: This tool provides the benefit of open access, allowing resources to be downloaded, shared, and printed. Try it for yourself!
iseek
Features: This free academic research search engine is widely used by teachers and students as it has been designed for that purpose.


Advantages: As such it has a clear interface which brings up only relevant sources to the search inquiry.


Benefits: The allows for writers to indulge in the benefit of quick and accurate results when they are searching the vastness of the web. Visit their website to learn more.
iseek
Source: iseek
Writers can take advantage of iSeek, an academic research search engine with a clean, minimalistic interface.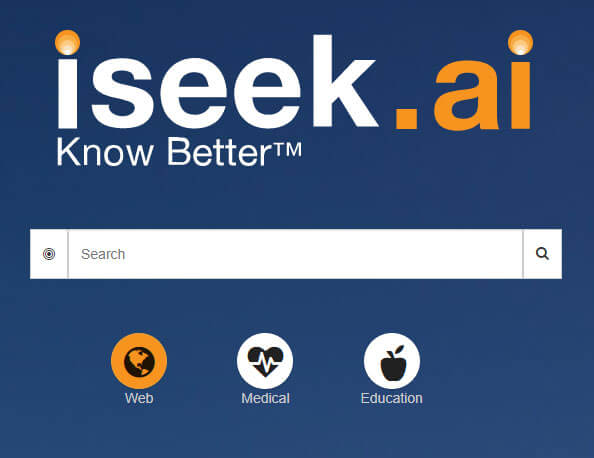 GoogleScholar
Features: This academic resource search function of Google is highly effective for writers as it allows searching categories by year, and has a citation generator which can streamline the research process. GoogleScholar includes searches through dissertations, conference proceedings, and books as well as copious amounts of journals.


Advantages: Integrated well within Google, this tool is accurate and offers a wide variety of source material which can stimulate new routes of research. It helps that the information found here is obtained legally, versus other popular sites, such as Sci-Hub.


Benefits: The benefit of this tool is that is grows as the web does, and while GoogleScholar's breadth is currently estimated at 160 million documents, this is expanding all the time. Give it a try!
Microsoft Academic Search
Features: This search engine allows writers to graze from over 38 million publications on the web.
Advantages: The advantage of this tool is that is helps guide the arc of research as it provides maps, trends, and graphs of research activity.
Benefits: This tool has learned from past mistakes about not staying recent and is expanding its reach all the time to help writers and researchers. See for yourself.
11: Dropbox
Features: Dropbox is a host website for online cloud storage and data sharing.
Advantages: Dropbox has been called the Granddaddy of cloud storage because it has been around for a bit longer than the others on this list, but in hindsight this may be likened to siblings quibbling. Offering 2GB of storage free, Dropbox boosts this allowance to 16GB when your account is linked with social media and referred to friends.
Benefits: A major benefit to Dropbox is it allows materials to be safely stored off one's computer, and allows for seamless sharing of data between friends. Those who share business accounts, as well as essay writing services, may also collaborate and share unlimited storage space. Another added benefit is features for different versioning and file recovery processes. See if they fit your needs.
12: Chrome Extensions for Writers
Google URL Shortener
Features: Extension which shortens the URL address.


Advantages: When writers post blogs or other such material URL are included to maintain clear links between social media accounts.


Benefits: The benefit of this application is that it quickly creates a shortened link which appears more accessible in writing. See for yourself!
Google Dictionary
Features: This Chrome extension from Google helps writers with quick, accurate definitions of words. When this extension is installed simply highlight the word in question and the application will provide a pop-up meaning similar to the dictionary function on a Kindle.
Advantages: For those writers working within the Google platform this tool allows seamless searches of definitions.
Benefits: The benefit of this application is the ability to stay focused and on task on the same page while working. Aside from their amazing search engine, programs like this are what makes Google one of the most valuable companies in the world.
Feedly Subscription Button
Features: As a content aggregator, the Feedly Subscription Button saves web pages which are chosen and keeps a constant link with them for easy access.


Advantages: Writers benefit from keeping abreast of recent news without having to search, and this extension helps writers to do this every day, enabling them to focus on their areas of interest.


Benefits: One benefit of this tool is that it can be for any topic, such as contemporary art blogs, and is able to curate interests for research.
Fact-Checker
Features: Software to check facts against relevant data to establish verification.


Advantages: Most writers benefit from a foundation in factuality, but for content marketers this tool is a must have for the kit. In response in part to the new sensitivity to fake news, many fact-checking platforms are being developed. Google Chrome now offers a fact-checking extension, and scientists from the Indiana University have created a computational method for fact-checking they claim to be on par with a human skill level.


Benefits: The benefit of fact-checking software is that its use may help writers develop their own innate lie sensitivity which may help their own writing tone remain objective and clear while rooting out falsehoods from their content. Get it here!
13: Microsoft Word Templates
Features: Templates allow writers to save a page structure to be reused over and over again, rather than building up these aspects each time a new document is needed.


Advantages: For writers using Microsoft Word over a longer period of time, templates can be created for maximum efficiency. Templates can be created through opening a new document, modifying it as desired, and sharing it as a template file which will then appear under the New tab.

Also, existing files, such as docx-type files, which have already been set to standards may be saved as templates. However, it is unwise to change Word's Normal.docx to a template as the normal functions as a foundational base from which to make future changes.


Benefits: Templates save a great deal of time for writers who make many documents in a similar style, and many templates can be made for writers working in differing citation formats.
Microsoft Word templates
Source: MO
Microsoft Word has stood the test of time. In addition to having templates for everything from resumes to calendars, Microsoft Word enables writers to create and save templates of their own.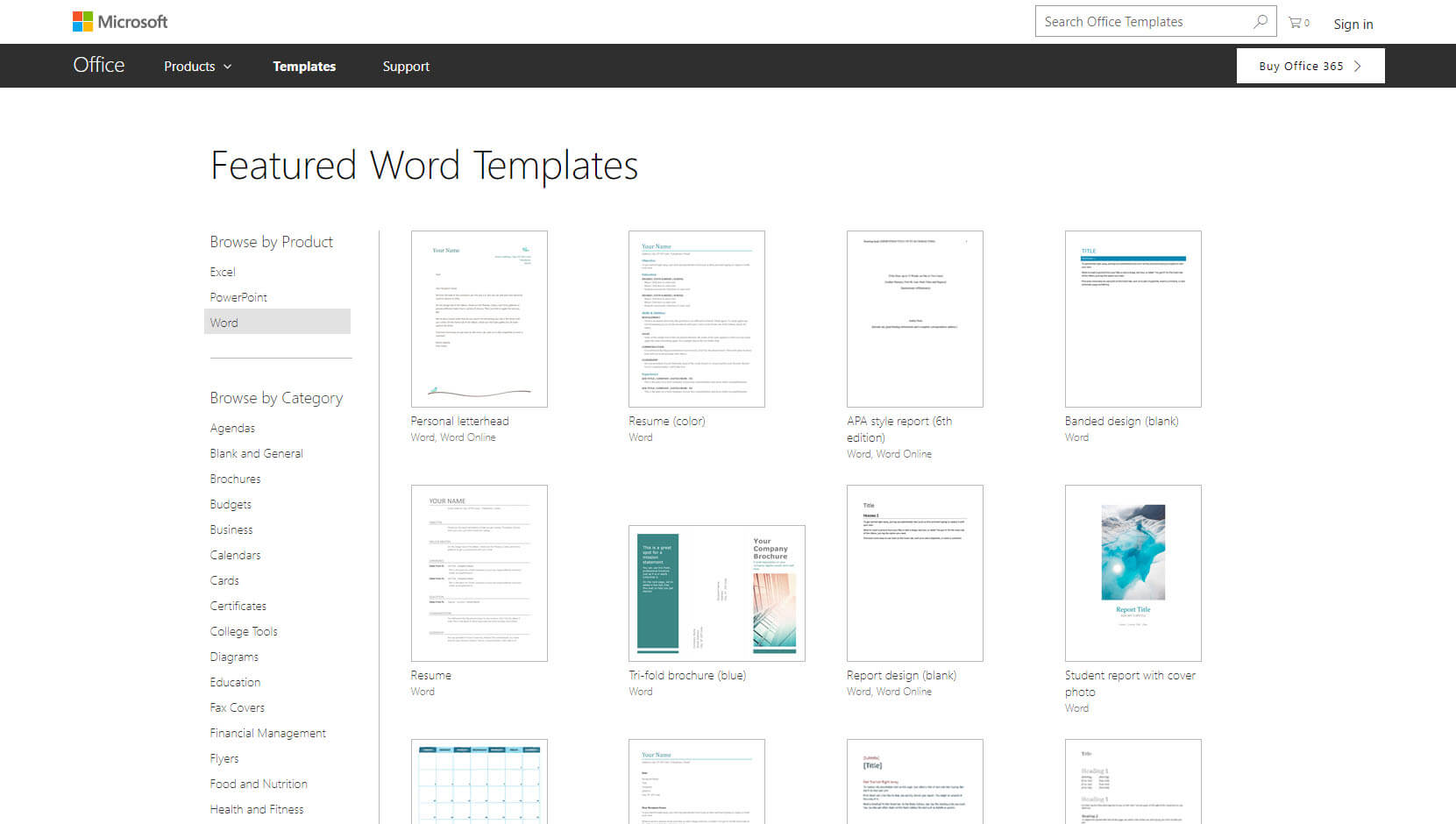 14: ProofHub
Features: Supporting the emerging economy of content marketing and project management, ProofHub is an online collaboration tool which helps professionals connect and make the best of their skills. ProofHub offers many benefits for writers such as notes, an editorial calendar, time sheets, third party integrations, and in-built chat options.


Advantages: Users can organize their writing projects through creating projects. Projects can be organized in personal and professional in order to parcel out focus and aims.


Benefits: For freelance writers, and those writers working in collaborative teams, ProofHub offers the benefit of providing a digital office in which to double check work and to collectively stay on task.
15: FocusWriter
Features: FocusWriter is a distraction free writing platform with a hideaway interface.


Advantages: The multiplicity of tools and options on the Internet can often create an atmosphere of constant distraction or ADD. FocusWriter is an application which helps writers focus on the task at hand through offering a simplified interface with the many of the same benefits as Word.


Benefits: However, the benefit of FocusWriter is that the program comes equipped with alarms, timers, statistics, and goal setting which allows writers to gauge their progress in apart from the digital circus. This is a benefit to writers who struggle to stay focused and on task with their writing, and can be likened to training wheels for the burgeoning willpower of the industrial strength focuser.
16: OneLook Reverse Dictionary
Features: This tool helps find the words and phrases who slip between the cracks of remembering through association referencing. For those writers who may be a bit burned out, overworked, or at a loss, the application OneLook Reverse Dictionary may be just the tool to set them back on track.


Advantages: This application works through the user searching a phrase such as "one who has difficulty sleeping" or "a person who is afraid to leave their home" and the reverse dictionary will suggest a group of words and phrases which may be just the ticket to coasting on the content train.


Benefits: This tool has the added benefit of stimulating new ideas and possible tracks of writing through the non-linear way the reverse dictionary presents ideas. Give it a try for yourself!
17: Paragraphs
Features: This writing support application runs only on the Mac platform currently, and is a minimalist approach to writing which aims to help writers differentiate between the trees and the forest by focusing on one paragraph at a time.


Advantages: A sleek simplistic interface, this application aims to help writers make each paragraph as strong as they can while maintaining interconnectedness with the overall aims of the content.


Benefits: The benefit of this approach that after a short time working with the program writers may be able to compartmentalize supportive concepts within larger matrices with greater ease. You can find it on the Mac App Store.
18: Daily Page
Features: The application Daily Page helps writers stay on the practice pulse through daily writing prompts which the user can submit privately or publicly over the course of the day.


Advantages: Practice makes perfect, and writers benefit from each and every attempt at filling a page with original content. Unlike some other writing prompt applications Daily Page is simple enough to keep writers on task without undue distraction.


Benefits: Without the pressures inherent in other types of organized writing, Daily Page offers a creative platform for the sheer love of the act of writing, and as such this is a great way to blow off writing steam, indulge in rule breaking irreverence, and move into greater sync with your unique writing voice.
19: Write.pls
Features: For those suffering from writer's block the site Write.pls hosts a curated gathering of essays and articles centered around the "hows" and "whys" of writing.


Advantages: Sometimes content marketers are called upon to write content for content's sake without much direction other than "make it good." Aimed at stimulating inspiration, Write.pls hosts a score of tips which can shake loose the invisible chains of block which often stem from self-doubt.


Benefits: As many writers have shown quality content is not as much as having something to say, but having the language in which to say something well. The sources provided from Write.pls are inspirational and also good examples of writing quality which sticks.
20: Kindle
Features: Kindle is an application which keeps thousands of eBooks available for phone, tablet, or computer.


Advantages: Writers rely upon the many literary geniuses who have come to inspire them, and maintain a connection with the evolving literary conversation. While reading physical books is ideal to nourish this brain and feed the heart, when traveling or burdened with other loads, Kindle keeps in stock the stories a writer may need.


Benefits: Kindle comes with a highlighting function, as well as the ability to lookup any word via a dictionary function. This allows readers to bone up on their vocabulary as they read, stimulating the expanding integration of reading and the possibilities of expression.
The Kindle eReader
Source: Pixabay
Busy writers can find inspiration on the go with Amazon's Kindle ereaders.
Honorable Mentions
Notepad. This simple application is for editing and creating notes on go. Coming spring loaded with many different themes Notepad can be customized to fit the personality of the writer. For writers on the move this simple application provides a way to sync one's notes with one's other devices and have them at the ready for implementation into larger projects. It usually comes standard on all versions of Microsoft Windows.
Writer.Tools. WriterTools offers guides, citation style resources, and other information for novice writers who are looking to take their skills to the next level. The guides seem to offer basic resources and instructions on how to produce work. However, the main value from this website is the vast array of free sample essays and research papers that you can find on virtually any topic. All you need to provide is your email address to download the documents, so it's extremely affordable (and worth it). Our essay writing service provides a plethora of free sample essay and research papers as well.
Freenote. This application offers a dynamic mix of manual handwriting and keyword typing for note taking. Freenote has many flexibilities which includes altering scale of words for emphasis, as well as the color or background. The flexibility of Freenote also allows for creating illustrations on the fly to impress concepts which must jump off the page.
Write! This application for tablets functions like a minimalist text editor in that it features word count, full screen mode, automatic saving, as well as on-screen keyboard and the capacity for Bluetooth physical keyboard link up. Write! has many features which allow writers to customize their interface experience. Write! allows for edits to be read in a last-edited-first perspective as well as sharing notes with other notepad apps, to blogs, and to emails. Unlike many of the other notepad applications, Write! is not free.
Mindjet. For those writers who think more abstractly, Mindjet is a notepad application for mobile devices which allows for notes to be taken in mind-mapping. This integrative visual system of clues leading to possibilities opening paths to new connections allows for writers to graph concepts in a nonlinear fashion which could lead to unconventional leaps of understanding.
Mindjet has a sophisticated color palette which allows for the mapping of ideas to have corresponding shades which help writers prioritize and organize their thoughts. This is especially helpful for initial thoughts before beginning a large project.
Braina. This voice to text software program features multi-language capacity, and is affordable at $29.00 a year as well as having a free version and free trial. This software has the advantage of being able to dictate in third party software, and the ability to fill out forms online.
While covering all diction needs, Braina is also equipped with voice command features which allow writers to take notes, set reminders, search the web, and open files with ease. This software begins with a simple interface appearance for maximum efficiency, but is also able to be customized to each writer's taste. The benefit users of Braina claim are increased productivity, time saving, and the fun of interacting through voice.
LilySpeech. This voice to text software boasts a capacity of 200 words per minute, as well as the affordable price of $2.49 a month. While this program does not have all the bells and whistles of other programs, it offers specialty vocabularies, variable frequency, and continuous speech which allows optimum use for diction.
Speechlogger. This simple web based application turns speech into text easily, and keeps its range within simple natural speech through the implementation of auto punctuation. Using automatic saving, timestamps, Speechlogger also has the advantage of transcribing audio files. Powered by Google's ASR APIs, this tool has the benefit of strong web presence, consistency, and affordability.
EasyBib. This citation generating web platform is free for MLA use, but requires a paid account for APA or Chicago style citations. This tool features applications for Android and iOS in order to work on the move. However, reliability is not always 100%, and it is key for writers to know the foundational basics of citation styles in order to call applications to task. One benefit to EasyBib is that it offers tutorials for different MLA citations which help writers gain familiarity with the various styles for website, journals, and books.
EasyBib
Source: EB
For academic writers, a citation generator like EasyBib is time-saving and efficient.

BibMe. This citation generation application is efficient, and free unless you want to save your citation history with them. This site features autofill of citations, and has easy access for searching in different style and formats. Once the bibliography has been searched and created it may be downloaded in Turabian, Chicago, APA, or MLA format. This is a helpful educational tool for writers exposing themselves to many new citation styles at once. Try it here!
CitationMachine. The goal of citation software is to ensure that writers do not inadvertently plagiarize others, as Citation Machine emphasizes that hopefully one day your own published material will need to be properly cited. It is free to use, but requires an account to save bibliographies.
Citavi. This citation application also contains the ability to help students integrate task planning and the organization of growing research with citation accuracy. Citavi is also able to consolidate work between Chrome and Word with ease. This provides a strong incentive for students to use this citation tool to streamline their organization and research.
Google Drive. This writer's tool provides free 15GB of storage in the cloud, and for those who sync their devices with the storage provides a constant form of backup and file saving with easy access. While this platform is integrated into Android devices, it is not as easy to use on other platforms. However, one key benefit to Google Drive is the ability to save high definition photos with the application Google Photos which works with the storage drive.
Mega. Coming in heavy to compete with the established platforms, Mega offers 50GB of free storage to entice new users. Mega has created a mobile application to allow for seamless upload of photos and files which also supports sync with other devices. As an added security benefit Mega claims that all the data shared with them is encrypted on your device before it ever reaches the cloud storage of Mega.
OneDrive. This form of cloud storage is integrated into the Windows platform and requires no addition support applications. OneDrive allows a seamless sync with all the programs running through Windows so that all data is saved as it's created. While 5GB is free the cost goes up to $1.99 a month for 50GB, but so far does not have an unlimited platform.
Visual Thesaurus. While the Visual Thesaurus tool is often used for children learning their vocabulary, for older visual learners this tool is a strong support for mind-mapping practices. As an added feature, the Visual Thesaurus not only illustrates connected antonyms in varying degrees of brightness and connectivity, but also includes links for how the word is used and various grammar structures.
In this way Visual Thesaurus acts as a structured language learning tool whose visual format enhances cognitive connectivity between the hemispheres in the goal of increasing one's vocabulary.
Amazon. Amazon offers unlimited cloud Storage for $59.99, and has various other pricing tiers for other offers. While Amazon provided one of the first cloud storage options, they have recently revamped their look and access to manage the current competition. However, Amazon does not allow filing sharing like DropBox, and has been likened to more of a hard drive in the cloud. Plus, it has a pretty amazing selection of movies and television shows to enjoy in your downtime.
Plus for Trello. This extension is to enhance productivity for those who enjoy measurable progress. For writers with many projects going on the application helps organization with its "scrum" environment where task cards can be moved from boards of Progress to Completed.
This application has the benefit of working with Trello so that time restrictions for each task can be monitored, and graphs are created to show trends in productivity. Marrying task oriented focus and visual learning Plus for Trello is a support for writers who have a lot on their digital plate.
CoSchedule. This headline analyzer addresses the supreme importance of headlines, as 8 of 10 readers do not go beyond the headline to the content. Subtle variations in the headline structure and wording can help it go viral, and such changes in the headline can enable up to a 500% difference in how many readers make it past the headline.
CoSchedule is free, and it analyzes the rates of emotional value, best length, sentiment, and likelihood to go viral in the context of its SEO value. The benefit of this program is that writers will begin to sense the right mix of fact and snap which makes a headline pop.
Buffer. This application helps content writers manage their social media impact with expertise and timing. This tool features the ability to time posts, track how effective the post has been, and analyze content for the most effective medium. Buffer emphasizes that quality content is not all there is to writing, but knowing the best place to share it is important. Streamlining content sharing for social media, this application is a benefit to those writers who have determined to have a strong presence online.
Online essay writing service providers. One tool many customers like to use is a trusted essay writing service for getting something written on a tight deadline. Sometimes it's easier to get a sample written and then base your own work off of it. This allows you to understand the requirements and see what needs to be done before digging into your own writing. Surely, writers who use such services benefit by getting expert help on their specific topic.
Use an essay writing services that works for you
Many pitfalls for writers such as writer's block, being bogged down by spelling or grammatical errors, a limited vocabulary, citation mistakes, repetitive sentence structures, finding resources, an overly-inflated tone, distraction, and being unorganized can be significantly helped through the utilization of the technological tools presented in this blog.
All that remains is to identify your personal needs as a writer and chose the best mix of tools to help you overcome these limitations. The process of overcoming obstacles is the journey towards mastery in the art of writing, a skill which opens many doors of the mind, heart, and the pocketbook. Hiring an essay writing service can help you with a professional paper and take the burden of writing away.
Most of these tools are easy and free to try out, but don't fall into the trap of trying too many tools at one time as it is easy to become distracted from the fluidity of the act of writing itself. Tools such as these are aids but cannot be relied upon over the benefit of sheer perseverance and cultivated willpower. These many tools can help funnel creative willpower into more seamless and exciting shapes through the evolving matrix of technology.
Visit us to learn more about the tech tools we use for our essay writing service.
Works Cited
Bruce, Rachel. "Ten search engines for researchers that go beyond Google." Jisc.ac.uk, 2013. Retrieved from: https://www.jisc.ac.uk/blog/ten-search-engines-for-researchers-that-go-beyond-google-11-jul-2013
Cloudwards. "Amazon Cloud Drive Review." Cloudwards.com, 2017. Retrieved from: https://www.cloudwards.net/review/amazon-cloud-drive/
Daren, Liana. "The 6 BEST Search Engines for Academic Research." Teachercast.net, 2016. Retrieved from: http://www.teachercast.net/2016/03/01/6-best-search-engines-academic-research/
Drake, Nate. "Top 10 best cloud storage services of 2017." Techradar.com, 2017. Retrieved from: http://www.techradar.com/news/top-10-best-cloud-storage-services-of-2017
Gene. "The Best Android Apps for Writers." Androidauthority.com, 2012. Retrieved from: http://www.androidauthority.com/best-android-apps-for-writers-note-taking-56006/
Grammarly. "Your writing, at its best." Grammarly.com, 2017. Retrieved from:https://www.grammarly.com/1
Harkins, Susan. "10 Things: How to use Word templates effectively." Technrepublic.com, 2016. Retrieved from: http://www.techrepublic.com/blog/10-things/10-things-how-to-use-word-templates-effectively/
McCarter, Aaron. "WhiteSmoke Review." Toptenreviews.com, 2016. Retrieved from: http://www.toptenreviews.com/services/education/best-online-grammar-checker/whitesmoke-review/
McCarter, Aaron. "The Best Online Grammar Check Websites of 2017." Toptenreviews.com, 2017. Retrieved from: http://www.toptenreviews.com/services/education/best-online-grammar-checker/
Oz Content. "10 Content Creation Tech Tools that will make you a better writer." Ozcontent.com, 2015. Retrieved from: https://ozcontent.com/blog/10-content-creation-tech-tools-that-will-make-you-a-better-writer/
Pappas, Christopher. "12 Best Free Online Bibliography And Citation Tools." Elearningindustry.com, 2013. Retrieved from: https://elearningindustry.com/12-best-free-online-bibliography-and-citation-tools
ProofHub. "6 super cool tech tools that make life easy for writers." Medium.com, 2016. Retrieved from: https://medium.com/@proofhub/6-super-cool-tech-tools-that-make-life-easy-for-writers-cafb03b0f4b1
Singla, Ankit. "8 Best Online Grammar and Punctuation Checker Tools For Error-Free Writing." Bloggertipstricks.com, 2016. Retrieved from: https://www.bloggertipstricks.com/online-grammar-checker-tools.html
Snofner, Amanda. "6 Automatic Editing Tools That Will Make Your Writing Super Clean." Thewritelife.com, 2016. Retrieved from: https://thewritelife.com/automatic-editing-tools/
Ultius. "Top 5 Reasons to Write Your Papers with Google Docs." Ultius.com, 2016. Retrieved from: https://www.ultius.com/ultius-blog/entry/top-5-reasons-to-write-your-papers-with-google-docs.html
Ultius. "Trending Topic: Must-Have Technology for Graduate and Doctoral Students." Ultius.com, 2016. Retrieved from: https://www.ultius.com/ultius-blog/entry/trending-topic-must-have-technology-for-graduate-and-doctoral-students.html
Warnimont, Joe. "16 Best Chrome Extensions for Writing and Blogging." Writewithwarnimont.com, 2014. Retrieved from: http://www.writewithwarnimont.com/best-chrome-extensions-for-writing-and-blogging