Ultius Blog
Ultius is the trusted provider of content solutions for consumers around the world. Our platform matches customers with highly qualified American writers for custom sample writing, editing, and business writing.
Top 5 Reasons Our Essay Writing Service Uses Google Docs
When you need a paper or document written flawlessly, you want to use an essay writing service and a document creator that makes collaboration easy and has plenty of tools to make your essay perfect.
Google Docs offers many superior benefits over Microsoft Word including specialized reseearch tools, comprehensive spell-check capabilities, easy document sharing, folder hierarchy, and add-ons that can help to elevate the quality of your papers, documents, or essays.
The following essay addresses the many document creators available these days, and more specifically, the top 5 reasons to write your papers and essays with Google Docs.
Some of the most notable document creators on the market are:
Microsoft Word
OpenOffice
Google Docs
Neo Office
Zoho
IBM Lotus Symphony (InvestInTech.com)
You may be asking yourself which one is the best. There is no easy answer to that. What it ultimately boils down to is personal preference. Many writers who are a part of essay writing services prefer software that is specific to their exact needs. Some prefer the portability that online programs and cloud computing offers. Another popular differentiation between consumers' preference of word processors is the brand name. There are die-hard Microsoft users who would never use anything else, but there are many who choose to use whatever is trending at the time. As of late the showdown seems to be between the top two programs currently on the market: Microsoft Word and Google Docs. For the purpose of this discussion we will list the top reasons why using Google Docs is more advantageous to its competitor, Microsoft Word.
A General Comparison of Google Docs and Microsoft Word
PDF Download
See how the two popular programs compare.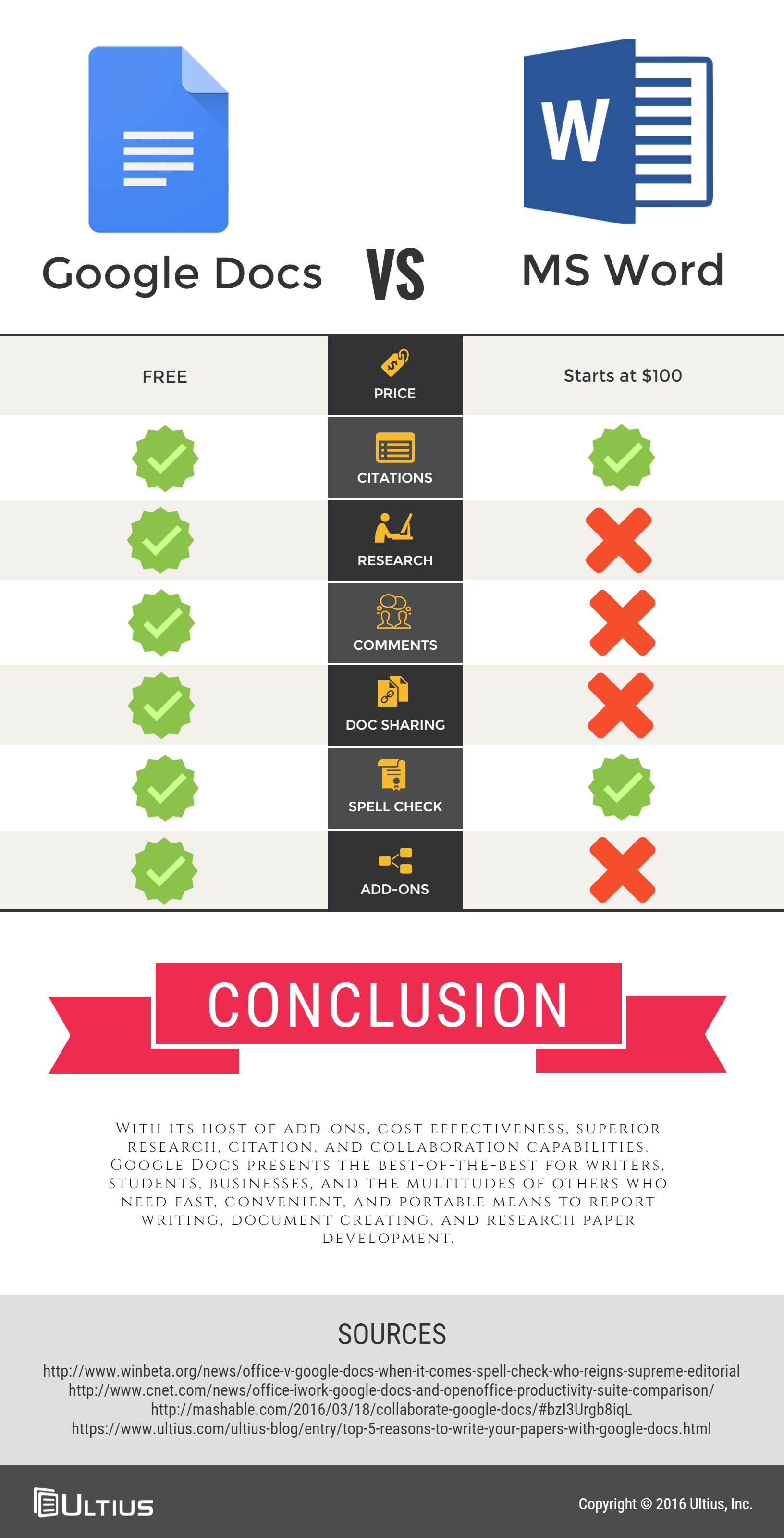 Creating Documents With Microsoft Word
Before we dive into all of the advantages that Google Docs offers, let's take a look at the inner trappings of its adversary, Microsoft Word.
Microsoft Word is a widely used commercial word processor designed by Microsoft. Microsoft Word is a component of the Microsoft Office suite of productivity software, but can also be purchased as a stand-alone product. It was initially launched in 1983 and has since been revised numerous times. Microsoft Word is available on both Windows and Macintosh operating systems. (Techopedia)
Following are a few crucial dates throughout Microsoft Word's development that Techopedia highlights in their article, "What is Microsoft Word?"
1981: Charles Simonyi developed the program.
1983: The first version was released.
1985: Macintosh version is released.
1987: The second major release with the addition of new features that supported rich text format.
1995: Windows 95 and Office 95 are released, which bundled together a host of other office productivity software. (Techopedia)
Microsoft Word Touts the Following Features:
Spell Check
Text-level features such as bold, underline, italic and strike-through
Page-level features such as indentation, paragraphing and justification
External support: Word is compatible with many other programs, the most common being the other members of the Office suite. (Techopedia)
Top 5 Reasons to Write With Google Docs
Since we are defining the two main competing processors, let's take a look at Google Docs. At a 2006 Office conference in California, Google announced the launch of a web-based word processor that allowed users to collaborate on documents (Google). Their solution to the stationary-like word processor that Microsoft was offering was this:
With Google Docs & Spreadsheets, Google is taking a set of important tasks and offering an online solution to completing them individually or with a broader group. With a Google Account, a compatible web browser, and an Internet connection, users will now easily be able to a lot more than a word or character count.
With Google Docs, writers can:
Create documents and spreadsheets, and then manage and access them in a single, secure location
Easily collaborate with others, online and in real time
Export to and import from a wide variety of file formats
Share them with others as view-only
Publish them to a blog or as an HTML page (Google)
Thus we have the revolutionary Google Docs. Now it is time to highlight the top 5 reasons why people should be using Google Docs and not Microsoft Word
#1 The Google Docs Research Tool
The first element that separates Google Docs from Microsoft Word is the Research tool. It is an easily accessible function that is found simply by going to "Tools" on the menu bar and selecting "Research" (O'Neill).
Then, as you write your paper, you can search for whatever you are looking for. It will also display information based on what you are working on. Drag and drop text from the Research toolbar into your paper. A click on the link adds it to your document, and a Cite button will helpfully add the selected page as a source in the footnotes for you. (O'Neill)
This is not a function that Microsoft Word offers. The Research tool pulls from Google's many services including:
Google Scholar
Google Images
Google Quotes
Google Dictionary (EdTech Team)
This invaluable digital gadget also performs a secondary function, which happens to tackle one of the hardest aspects of writing research papers: citations. It's important to remember that, although citation-generators can be helpful, there is no substitution for knowing how to cite your work. While Microsoft Word also has a similar function, the integration of the research tool places Google Docs a step ahead.
Here is a compiled list of what Google Docs offers in these respects versus what Microsoft Word has going on.
Research Capabilities of Google Docs vs. Microsoft Word
Source: Teaching in Higher Ed
See what the two programs offer for researchers.
| | | |
| --- | --- | --- |
| | Google Docs | Microsoft Word |
| Research Tool | ✔ | ✘ |
| Citations | ✔ | ✔ |
| Reference Page | ✘ | ✔ |
| Image Search | ✔ | ✘ |
| All Functions on 1 Screen | ✔ | ✘ |
#2 Collaboration With Google Docs Folders
Let's talk about collaboration. You are at school, in the office, or working from home. You have a very important project, report, or paper that is due very soon. It may be a group project, you may be stumped on some formatting issues, or maybe you would just like a once over before you turn it in. Because Google Docs is an Internet-based program, you can easily pass it around to anyone who needs to see it. The collaborative features available with Google Docs are quite possibly the biggest selling features of the program and set it apart from Microsoft Word by leaps and bounds. Google Docs is perfect for collaboration between the client and the essay writing service.
Some of the features that make Google Docs so appealing in regard to collaboration include:
A. Google Docs Document Sharing:
Google Docs is a great online service that allows you to work on documents, spreadsheets, and presentations for free without worrying about losing your work if your computer crashes. With its sharing feature, Google Docs is also a cool collaborative tool for any written project that involves more than one pair of eyes.
B. View Google Docs Revision History:
When you have a document open on Google Docs, go to File and select "See revision history." This will put your document into a different mode and pull up a sidebar on the right, listing the times that changes were made and who made them.
C. Make Comments and Suggestions in Google Docs:
A unique feature to Google Docs documents is the ability to switch between work modes, specifically from the Editing mode to the Suggesting mode. In the top right of your window, there's a silhouette of a pencil that may say "Editing" to the left of it. If you feather that menu down and select Suggesting, you will now be making suggestions rather than changes. Although the editing feature is a far cry from a professional editing service like what's offered at Ultius, it can definitely help point writers in the right direction.
D. Brainstorming With Google Docs:
Brainstorming is a key element of doing a collaboration — you have to figure out exactly what you are going to do in your project. If you and the people you're working with don't have a chance to brainstorm in person, there's a Google Docs add-on called MindMeister that allows you to easily create mind-maps out of a bulleted list.
E. Google Docs Folder Hierarchy:
When a single doc isn't enough for your project, you can share a whole folder and work within that, giving everyone access to multiple things which helps when you are looking at a paper that is being written by your essay writing service. The internet tech mag, Mashable notes in a recent article: If you add anything in that shared folder, it will automatically allow access to anyone who is a part of that shared folder. (Beck)
Now that we have a clearer understanding of what Google Docs offers in regard to collaborations, a comparison of Google Docs with its strongest competitor, Microsoft Word, would be appropriate. This table represents those differences.
Collaboration Comparison of Google Docs and Microsoft Word
Source: Mashable
See the differences in document collaboration options.
| | | |
| --- | --- | --- |
| | Google Docs | Microsoft Word |
| Document Sharing | ✔ | ✘ |
| Folder Hierarchy | ✔ | ✘ |
| Revision History | ✔ | ✘ |
| Comments and Suggestions | ✔ | ✔ |
| Brainstorming | ✔ | ✔ |
#3 Google Docs Is Free!
Another popular perk of Google Docs when comparing it to Microsoft Word is that Google Docs is free. Though there are other free Internet-based options available, the intent of this discussion is to highlight the reasons why consumers are writing with Google Docs and cost is certainly a detriment to Microsoft's side. A highlight of those costs is as follows:
Document Processors Cost Comparison
Source: CNET.com
Cost Comparison of Document Processing Programs.
| | |
| --- | --- |
| Operating System | Cost |
| Google Docs | Free |
| Microsoft Office | Starts at $100 for subscription service. |
| Apple iWork | Free |
| OpenOffice or LibreOffice | Free |
If we were to discuss the newest version of Microsoft Word, we would be looking at Office 365.
Office 365 starts at $6 per user per month for the Professional and Small Business plan. The Medium Business and Enterprise plans range from $10 to $27 per user per month. No matter how you slice it, those numbers add up to a lot more than free--which is the price for Google Docs. (Bradley)
Another way to best illustrate the advantage of Google Docs incurring no cost to users is to show how expensive Microsoft Word actually is.
The price list for some of the most popular versions of Microsoft Office is as follows:
Office Home and Student: $149
Office Home and Business: $229
Office Professional: $399
Office 365 Personal: $70/per year
Office 365 Home: $100/per year (Foley)
There does not seem to be a dispute that Google Docs being free gives them a huge edge over Microsoft Word.
#4 Google Docs Spell Check Is Superior
Yet another feature that is enticing writers everywhere is Google Docs enhanced spell check feature. When writing a paper, getting your spelling right is essential. Nothing is going to get your paper thrown in the bin more than multiple spelling errors. Again, there is no substitution for personal, peer, or buying professional editing and proofreading services and the best essay writing service to make sure your project is taken seriously. Document processing spell and grammar checkers are good, but they're not perfect. And it is here that,
Google Docs holds the edge over Word. Google Docs employs its search engine "Did You Mean?" technology. And if the word is correctly spelt, but Google Docs doesn't recognize it, you can add it to a Personal Dictionary, which in effect whitelists it for future uses. (O'Neill)
Though Microsoft Word also deploys a spell checker, the one that Google Docs offers is off the hook.
Google Docs Spell Check features include:
Spell check entire document at once
Spell check spread checks just like a regular document
In-text spell check
Grammar check (Better Cloud Monitor)
When Google Docs Spell check function is put up against Microsoft Word's, this is what it looks like:
Grammar and Spell Check Solutions for Google Docs and Microsoft Word
Source: ONMSFT
Check for Spell Check and Grammar Check below.
| | | |
| --- | --- | --- |
| | Google Docs | Microsoft Word |
| Spell Check Accuracy | ✔ | ✘ |
| Grammar Check | ✔ | ✔ |
| Spreadsheet Check | ✔ | ✘ |
| Better Options for Spell Check | ✔ | ✔ |
| Spell Check Entire Document | ✔ | ✔ |
Word has Spell Check too but it doesn't seem to be as effective as Google Docs. For example it cannot tell the difference between "affected' and "effected." Or Coke and Pepsi. Can you tell the difference? (O'Neill)
#5 Google Docs Add-Ons
A final detail that makes Google Docs so much more superior than Microsoft Word is its host of fabulous add-ons.
It's add-ons, which gives Google Docs a serious advantage. Just like a browser, if you don't like the way it's currently set up, find add-ons to make it do what you want it to do. (O'Neill)
Popular Google Docs Add-Ons
The most popular add-ons that Google Docs is currently offering include:
1. EasyBib:
EasyBib is bibliography citation generator. For those already know how to use the referencing program, adding it on to Google Docs is a no-brainer. Incidentally, if you're wondering about using EasyBib or its main competition, EndNote, check out this sample comparative essay from Ultius on the topic.
2. g(Math):
g(Math) is for those who need to create complex math graphs in their documents. You can even use Speech to Math in Chrome to talk directly to g(Math) to create the expressions or use Handwriting recognition for expression entry.
3. Texthelp:
Use Texthelp's Highlighting Tools to highlight parts of your document to collect, group, and learn from later. Simply select and highlight the desired text and click "Collect Highlights" to extract it and place it in a new document (by color or location).
4. Gliffy:
Gliffy is a diagram editor, which lets you create complex diagrams, mind-maps, flowcharts, wireframes, and much more. You can take advantage of an extensive shape library with hundreds of industry-standard shapes and connectors.
Needless to say, Microsoft Word does not compare to the valuable additions that make Google Docs stand out as the up and coming word processor of choice.
Conclusion to the Top 5 Reasons to Write Your Papers with Google Docs
There you go. Similar to the outcome of Google vs. Bing, Google wins another match. These are the top 5 reasons why Google Docs surpasses Microsoft Word. With its host of add-ons, cost-effectiveness, superior research and citation tools, stellar spelling and grammar checker, and collaboration capabilities, Google Docs presents the best of the best for writers, students, businesses, and the multitudes of others who need fast, convenient, and portable means to report writing, document creating, and research paper development. What's even better is now there is a comprehensive guide to all of the benefits of Google Docs. It is here my friend. What do we now? Put away the archaic world of Microsoft Word, sit down in front of your computers and mobile devices, and get to writing!
If you need help with a paper and are looking for an essay writing service, Ultius is here to help!
Works Cited
Beck, Kellen. "How to Collaborate like a Pro with Google Docs." Tech. Mashable, 18 Mar. 2016. Web. 13 Aug. 2016. http://mashable.com/2016/03/18/collaborate-google-docs/#bzI3Urgb8iqL.
Better Cloud Monitor. "4 Ways to Keep Your Writing Error-Free in Google Docs, Gmail, and Beyond." BetterCloud Monitor, 5 Feb. 2016. Web. 13 Aug. 2016. https://www.bettercloud.com/monitor/the-academy/keep-your-writing-error-free-in-google/.
Bradley, Tony. "Office 365 vs. Google Docs Showdown: Feature by Feature." NET WORK Practical IT insight from Tony Bradley. IDG Consumer & SMB, 28 June 2011. Web. 13 Aug. 2016. http://www.pcworld.com/article/231294/office_365_vs_google_docs_smackdown.html.
EdTech Team. "4 Important Google Docs' Features for Student Researchers." Educational Technology and Mobile Learning, 14 Oct. 2014. Web. 13 Aug. 2016. http://www.educatorstechnology.com/2014/10/4-important-google-docs-features-for.html.
Foley, Mary Jo. "How Much Does Microsoft Office 2016 Cost without a Subscription?" ZDNet. CBS Interactive, 22 Sept. 2015. Web. 13 Aug. 2016. http://www.zdnet.com/article/how-much-does-microsoft-office-2016-cost-without-a-subscription/.
Google. "Google Announces Google Docs & Spreadsheets." News Announcements. Google, Inc., 11 Oct. 2006. Web. 12 Aug. 2016. http://googlepress.blogspot.com/2006/10/google-announces-google-docs_11.html.
InvestInTech.com. "10 Free MS Word Alternatives You Can Use Today." Articles. Investintech.com Inc., 2016. Web. 12 Aug. 2016. http://www.investintech.com/articles/tenwordalternatives/.
Mitroff, Sarah. "Office, IWork, Google Docs, and OpenOffice: Which Is Right for You?" News. CNET, 24 July 2014. Web. 13 Aug. 2016. http://www.cnet.com/news/office-iwork-google-docs-and-openoffice-productivity-suite-comparison/.
O'Neill, Mark. "Google Docs vs. Microsoft Word: The Death Match for Research Writing." MakeUseOf, 7 July 2015. Web. 13 Aug. 2016. http://www.makeuseof.com/tag/google-docs-vs-microsoft-word-death-match-research-writing/.
Stachowiak, Bonnie. "Find the Right Reference Manager." Blog. Teaching in Higher Ed, 06 Jan. 2015. Web. 13 Aug. 2016. http://teachinginhighered.com/2015/01/06/find-right-reference-manager/.
Techopedia. "What Is Microsoft Word?" Dictionary. Techopedia, Inc., 2016. Web. 12 Aug. 2016. https://www.techopedia.com/definition/3840/microsoft-word.