Ultius Blog
Ultius is the trusted provider of content solutions for consumers around the world. Our platform matches customers with highly qualified American writers for custom sample writing, editing, and business writing.
Essay on Healthcare Reform: In Defense of Obamacare
Without a doubt, universal healthcare is one of the numerous issues that was discussed intensely in the 2012 elections that will continue to be debated into the future. While President Obama passed his compelling piece of legislation in 2010, the Affordable Care Act, there was an undeniable polarization within the American people which ensued. Regardless, even with all of the potential economic ramifications that may arise from new healthcare policies, it is formidable legislation the United States should continue to uphold and support.
In this sample essay written prior to the 2012 presidential election, one of our professional writers touches on the sociopolitical background of Obamacare, outlining the differences between Republican and Democratic ideologies on the matter.
Universal healthcare and the 2012 elections: What is Washington saying?
The new healthcare policy provides more coverage to a larger percentage of Americans, is more cost-effective for the United States' budget especially during these dire economic conditions, and is a moral cause and sign of community that all Americans should strive for. Furthermore, it is important to note that while democratic presidential candidates such as potential incumbent Obama support a policy for Universal Healthcare, more conservative and Republican candidates such as Mitt Romney opt for the privatization of healthcare, and letting the capitalistic market naturally dictate the healthcare industry.
This essay will comprise of several parts. I will initially discuss what opponents of universal healthcare are concerned about. Subsequently, I will then analyze the reasons we should support a universal healthcare policy, explaining that universal healthcare provides multiple benefits ranging from protecting the poverty-stricken and insured to being a more efficient financial plan for the government. I will finally address the two most important presidential candidates and determine how their ideologies support or challenge this viewpoint. Ultimately, I will conclude that with although there are several controversies regarding universal healthcare, overall it is a sound policy that will improve the United States government in multiple ways.
The Republican argument and the problems of Obamacare
Conservatives argue that universal healthcare will place a larger financial burden upon the federal government. Tennessee, which although has a whopping ninety-three percent of its citizens insured, is going practically bankrupt in doing so, as most needy citizens receive care under the nation's Medicaid programs (Clemmit 7). As a result, many politicians employ Tennessee's predicament to illustrate how universal healthcare is potentially a fiscal disaster.
Related Content: See how Vermont tested out a new way to provide affordable, high-quality healthcare in its 2011 pilot program.
Furthermore, employers also make sacrifices when purchasing care for their employees, resulting in the perpetuating state of high cost, low quality care. The fairly common Health Maintenance Organization package, or "HMO," demonstrates this very principle, for this form of insurance was designed specifically to provide coverage yet keep costs low for companies (Reinhard 5). Additionally, Congress claims that this form of healthcare will expand the role of the government to an unnecessary degree, becoming too involved in the lives of its constituents. Thus, due to these reasons, many politicians in the United States feel apprehensive or oppose a nation-wide healthcare system, and employ these rationales as motives for maintaining current insurance policies.
The real problem with universal healthcare
The problem with universal healthcare, however, lies in the fact that above all concerns, the main goal of insurance companies within the United States is to make a profit. Insurance companies seek to provide satisfactory care without major financing and costs of their clients. On the other hand, clients seek plans that provide the most care without paying a fortune (Reinhard 1). These opposite goals thus result in the polarization between insurance companies and their clients, which has in turn lead to monumental costs for both sick and injured Americans as well as insurance companies. Even more so, these opposite goals result in a drastic percentage of Americans who are left insured. With the 45 million Americans as of 2005 who live in the country uninsured, the United States is the only developed nation that still does not have a universal healthcare policy (Clemmit 1). This statistic demonstrates the sheer quantity of people that need healthcare in America, as well as the urgent need to support these people.
Costs and benefits: What the statistics say
Despite these financial controversies, looking at the numbers seems to suggest otherwise. In regards to the financial statistics, universal healthcare actually proves to cost less. Currently, Americans spend more than $900 billion per year, twice the amount of most developed European nations and 40% more than Canada (Universal Access 2). This statistic shows that although Washington attempts to control costs by leaving health insurance in the hands of the people, in the end private health insurance is simply not efficient in terms of its monetary principles.
Healthcare spending by country (2010)
Source: PBS
In addition to spending well above the OECD average in 2010, the United States spent more on healthcare per person than any other country in the world.
| | |
| --- | --- |
| Country | Per capita expenditure |
| United States | $8,233 |
| Switzerland | $5,270 |
| Canada | $4,445 |
| Germany | $4,338 |
| France | $3,974 |
| Australia | $3,670 |
| United Kingdom | $3,433 |
| Japan | $3,035 |
| Italy | $2,964 |
| Mexico | $916 |
By contrast, the nation and its people would therefore benefit from a universal plan that would ensure care while at the same time eliminating the capitalistic idea of profit that arises when private insurance companies enter the picture. In other words, if profit was taken out of the equation, there would be no conflict between health insurance and the people, and constituents would simply receive the care they needed without going through a bureaucratic mess of red tape and frustration that accompanies private insurance companies.
But how would we pay for it?
Now that we have established one aspect in which universal healthcare is superior, there exists yet another fiscal issue concerning universal healthcare: how will we pay for all this? The most obvious answer is an increase in taxes and the cutting of extraneous federal spending.
Yes, by having universal healthcare the government will have to budget more strategically and plan another expense into its finances. However, politicians fail to realize that this cost can be overridden by a subtle tax increase. Despite the complaints, most Americans agree that they would be willing to pay more taxes in return for more services such as healthcare (Universal Access 12). Moreover, we should also keep in mind that Americans today pay some of the lowest taxes in the world, and that developed nations in Europe may spend up to one third of their annual salary in taxes. Thus, a small tax increase would still pale in comparison to what Europeans and Canadians pay in taxes.
Another argument many opponents of universal healthcare make is that America is simply a nations of individualism; people are concerned with their own problems and not the problems of others within their community. Americans do not want to spend their hard earned dollars on programs from which they will not see direct benefits.
This phenomenon is where universal healthcare can play not only an economic role, but also a role in the social trends of the nation. (Read more about the effects of Obamacare.) If everyone was part of the same healthcare policy, a larger sense of community and "certain civic responsibilities" would emerge (Universal Access 3). Harvard's Law review panel names this idea the "communitarian theory", or, in other words, the concept that constituents will start to understand that disease and health are issues that affect everyone, even you my fellow representatives (Universal Access 3). This effect will in turn make universal healthcare not simply a matter of economics, but also a moralizing issue. The American people will believe that access to healthcare is a right, not a privilege, and in turn they will band together to strive for this cause. Furthermore, this sense of community will bring about a new degree of unity to the nation.
What our presidential candidates say about universal healthcare
One final component we should address in addition to the benefits of a universal healthcare policy is what current candidates are saying about healthcare. Democratic President Obama clearly supports this notion of a universal healthcare program, as evinced by his legislative policies that support this change. However, Republicans propose a rather different perspective of this healthcare plan that does not support Obama's healthcare plan. Instead, Republicans argue that Obama's healthcare plan makes waste of American tax dollars, is actually inefficient compared to the privatization of healthcare. Specifically, Mitt Romney most closely agrees with this ideology.
President Obama and Mitt Romney shake hands in the Oval Office
Source: WC
Incumbent president Barack Obama shakes hands in 2012 with presidential candidate Mitt Romney, founder of the Massachusetts healthcare plan thought to be strikingly similar to the Affordable Care Act.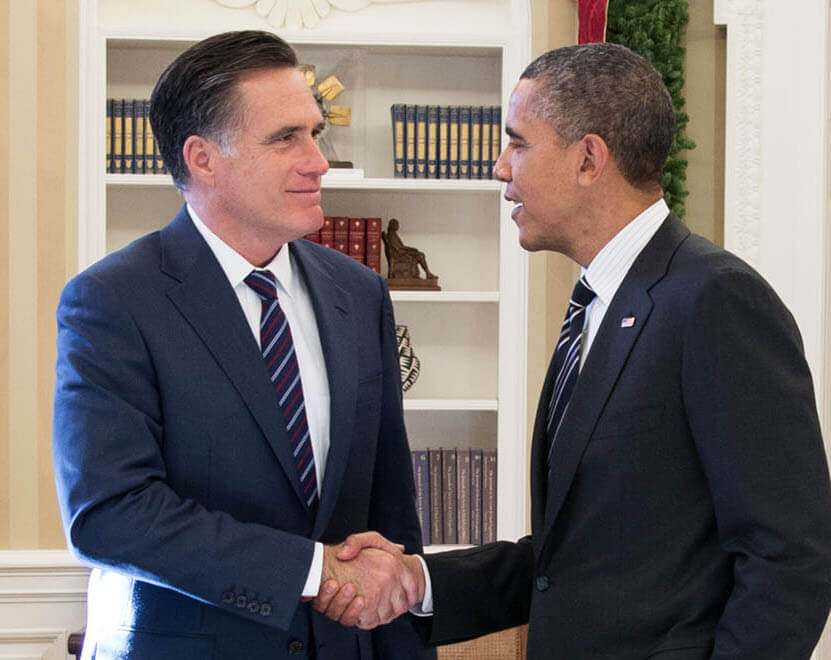 The surprising component to this viewpoint is that Mitt Romney's healthcare plan while serving as the Governor of Massachusetts is strikingly similar to Obama's Affordable Care Act. Both plans, for instance, make it illegal for insurance companies to discriminate based on any pre-existing conditions (Gillepse 32). Both plans also employ governmental funds to subsidize their programs (Gillepse). Thus, while Romney may arguable disapprove of Obama's healthcare policy, much of the Affordable Care Act is predicated in the very policies Romney enacted for his state only a few years ago. Because of this controversy, we can thus expect a heated debate from these two candidates about the idea of a nation-wide healthcare plan. While the Democratic party may support the legislation and the Republican party may disapprove of this policy, after researching both ideologies we can how the debate over universal healthcare is not a rigid or defined dichotomy.
Of course, there is always an element of surprise in any presidential election. Undeniably the issue of universal healthcare is bound to pose debate between President Obama and Mitt Romney. However, it is important to realize the benefits of the Affordable Care Act. Despite conservatives' criticisms, the move for universal healthcare will cover the uninsured, help balance the government's fiscal budget, and even benefit the nation's morale by psychologically developing a sense of community. Finally, when looking at this topic of debate in regards to the 2012 presidential election, we can certainly expect a strong and engaging debate between President Obama and Mitt Romney.
If you liked this sample essay, explore the custom writing services offered by our professional writers.
Works Cited
Clemmitt, Marcia. "Overview of Universal Health Care." The CQ Researcher. 30 March 2007. CQ Press. EBSCO. 6 May 2012.
Gillespie, Nick. "Not a Stake But a Say." Time. 179:6. Pg. 32. EBSCO. 6 May 2012.
Halvorson, George. "Think You Know European Healthcare? Sure There's Universal Coverage, But More Personal Responsibility Than You Realize." Modern Healthcare. February 19 2007: 22-23. LexisNexis Academic. EBSCO. 5 May 2012.
Hundley, Kris. "HMO Thrives Amid Complaints." St. Petersburg Times. 2007: D1. LexisNexis Academic. EBSCO. 5 May 2012.
Reinhard, Uwe E. "Reforming the Health Care System: The Universal Dilemma." American Journal of Law and Medicine. 1993: 46-58. LexisNexis Academic. EBSCO. 5 May 2012.
"Universal Access to Healthcare." Harvard Law Review. 1995: 1-8. LexisNexis Academic. EBSCO. 5 May 2012.
Cite This Post
This blog post is provided free of charge and we encourage you to use it for your research and writing. However, we do require that you cite it properly using the citation provided below (in MLA format).
Ultius, Inc. "Essay on Healthcare Reform: In Defense of Obamacare." Ultius Blog. Ultius | Custom Writing and Editing Services, 15 May 2013. Web. <https://www.ultius.com/ultius-blog/entry/essay-on-healthcare-reform-in-defense-of-obamacare.html>
Thank you for practicing fair use.
This citation is in MLA format, if you need help with MLA format, click here to follow our citation style guide.