Ultius Blog
Ultius is the trusted provider of content solutions for consumers around the world. Our platform matches customers with highly qualified American writers for custom sample writing, editing, and business writing.
6 Myths About College Essay Writing Services Debunked
Essay writing services can be a huge help in crafting many types of essays and research papers. But there are a few central myths that stand in the way of many students' success using writing services. Understanding why these myths are false can help you use essay writing services in the right way.
First, this post will review who essay services are right for and how they can help. Next, we will explore 6 central myths about online writing services, why people believe them, and also why they are false. We will conclude this post by offering some suggestions for choosing the best essay service if you are a student needing assistance with the research or writing process.
Who can college essay writing services help?
Essay writing services are a fantastic tool for undergraduate and graduate students in a variety of situations. These services can help students who: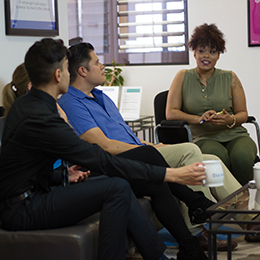 Are in crunch time and need help with tedious aspects of the writing process such as researching, organizing and outlining, or formatting citations correctly.
Are not fluent in English and simply need assistance with writing correct sentence structure and flow as well as spelling and grammar.
Are doctoral and master's level students needing a second set of professional eyes to edit their drafts.
Are overwhelmed with multiple work, school, and social commitments and need assistance composing first drafts using top-level example essays to work from.
Today, many students are choosing to work with top level college essay writing services for reasons like those listed above.
6 myths about college essay writing services
Unfortunately, there are a few prevalent misconceptions about many of the online writing services available today. While it is important to know exactly what to look for in a professional essay service to ensure you choose the best service to fit your needs, it is also important to debunk these myths that often stand in the way of students' success.
After talking with a variety of students and doing some research, we narrowed these myths down to the 6 most common misconceptions. They are as follows:
Myth 1) Essay writing services are not legit

In today's information-age, it is easy to come across a multitude of opinions published online. The problem is, because of the abundance of information at our fingertips, it can also be difficult to know exactly what is trustworthy. Some sources endorse essay services while others discourage using such services.
So, when trying to understand if essay writing services are legitimate, it is important to consider a few important factors:
Do take caution before using free and even some inexpensive essay services. Free essay services often re-sell plagiarized content and may provide poor quality drafts which compromises their legitimacy. However,
Top level essay writing services will offer customized writing and editing services that help students through the process of working on their research projects, much like a tutoring services help students through the learning process. These top quality essay sites, such as Ultius, allow students to communicate directly with their writers, ask questions, provide custom instructions, and collaborate through the writing process.
In this way, these top level services are legitimate and do offer valuable assistance helping students improve their writing and learn more efficiently.
Myth 2) Essay writing service provide poor quality papers
If you hire an extremely inexpensive essay service or you request an essay from a free service, it is likely that you will receive an example paper that is not up to par. However, top level essay services (that offer fair yet competitive prices) will provide drafts that meet the quality requirements of your:
Level of study (graduate v. undergraduate)
Subject matter
Custom instructions
Working with a top level essay service, such as Ultius, is a completely different experience than working with a free paper writing service. One way to think of working with a top level writing service is as investing in your education by using a learning tool rather than simply ordering a generic essay about your topic.
Myth 3) Papers from essay services are not original

Again, this myth likely originated from the fact that many free essay sites do actually re-sell and recycle plagiarized content in order to be able to offer free essays in the first place.
However, this is definitely not the case with high level essay services. Top notch writing services provide 100% original content and actually run each order through plagiarism detection software to ensure the writer did not inadvertently phrase anything too similarly to already-published content.
Myth 4) Using an essay service is cheating
Many students today face extremely high workloads. Academia has become increasingly demanding, and it is important to understand the difference between unethical academic conduct and fair use of learning assistance services, such as working with high quality essay writing services.
Working with an essay service to obtain feedback and valuable guidance with the researching, outlining, and editing process is not unethical. Rather, it is an educational investment. Ordering example essays from a writing service can: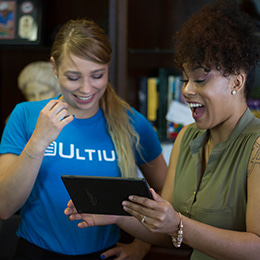 1. Provide students with a specific guide for what an essay assignment written on their topic should look like. Sometimes instructions can be complex and unclear.
Just as learning is facilitated by watching someone do something rather than just being told, students are often able to learn to write ideal essays by reviewing examples rather than only reading instructions, particularly when there are unique or challenging instructions that go beyond standard writing.
2. Help students visualize and understand proper formatting and citation styles according to an assignment's instructions. Once again, seeing an example can be extremely helpful in the learning process.
Working from a solid example, students can save lots of time by customizing and writing a final essay in their own words based on the format and structure of the exemplary guide.
Myth 5) Essay services over-charge
At first glance, it can seem strange that some essay writing service are free while others require a substantial investment, depending on the page length and deadline of your writing or editing order. A great way to understand this difference is to relate it to any other product or service. Essay writing services are a professional service like those in other industries like transportation services or educational institutions (universities).
For instance, if you do not mind riding on a crowded public bus that takes a while to get to your destination, you can ride for free or pay a small fare. But, if you would like a custom service that is comfortable and gets you there faster, like Lyft or a limo, it will cost considerably more. Similarly, tuition for top-quality universities will cost substantially more than community colleges.
In the same way, working with high quality essay services is an investment and, as a result, will offer a completely different experience than working with a free or inexpensive service.
Comparing the Ultius marketplace with bidding-system writing services
Many writing services use a bidding system to connect clients with writers. Ultius doesn't do that for many reasons that improve the experience for everyone involved. Consider this comparison to see why the Ultius way is superior.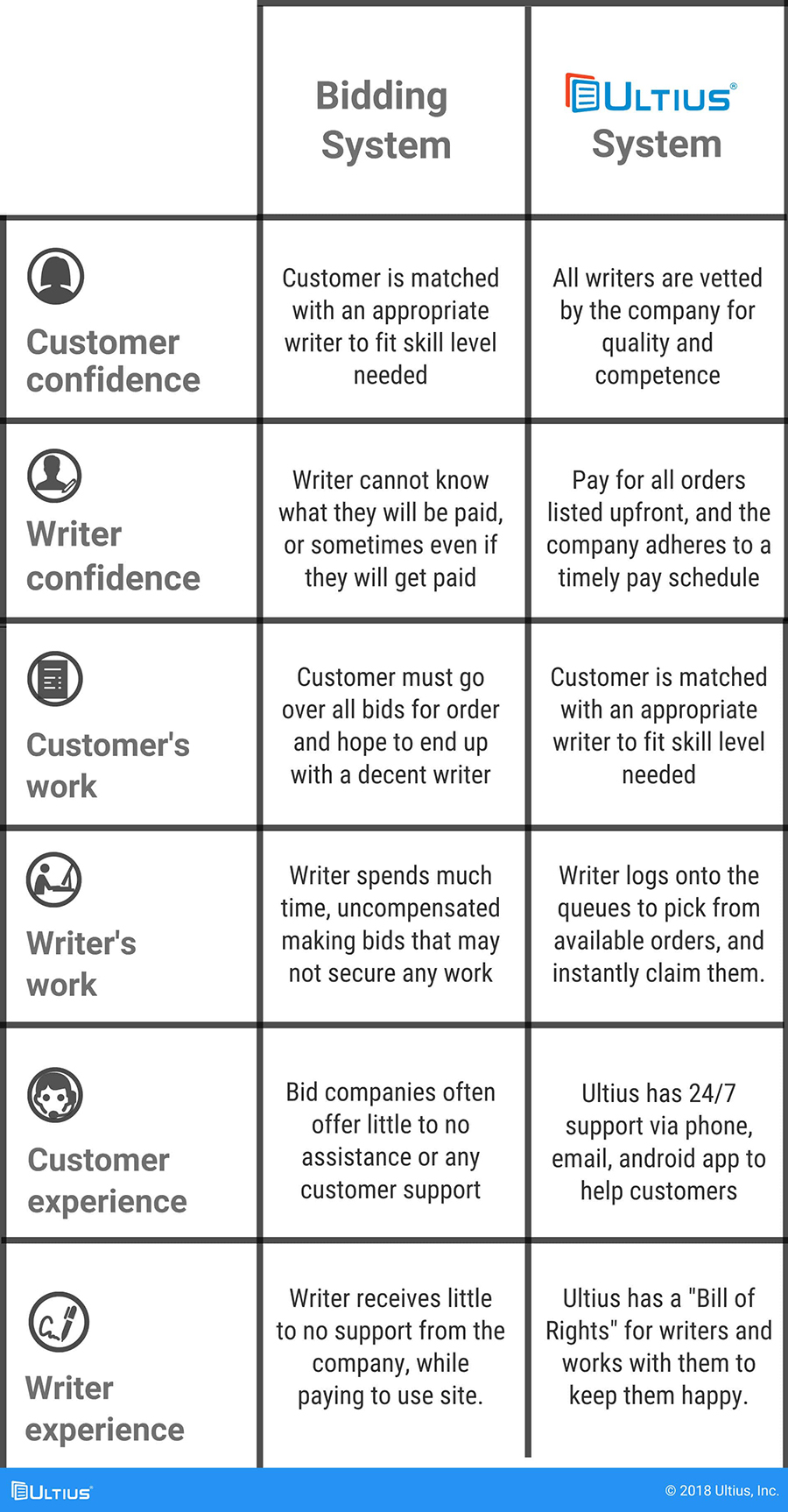 Myth 6) Graduate students shouldn't use essay writing service
Working with a writing service is completely acceptable if you are a graduate student. There is a misconception that graduate students should be advanced enough to not require writing assistance. But, today's universities are increasingly serving international students. This means that language gaps have become a greater challenge. A graduate student may be highly skilled and knowledgeable, but may simply need assistance with high-level writing in a language other than their native one.
Also, many graduate students juggle excessively busy schedules. Gaining assistance with the writing process can help these students complete their graduate career successfully and efficiently.
Choosing the best essay writing service
Now that we've reviewed and debunked 6 of the most common myths about writing services, here are 3 tips for choosing a top quality essay writing service.
1) Look for reviews and samples of work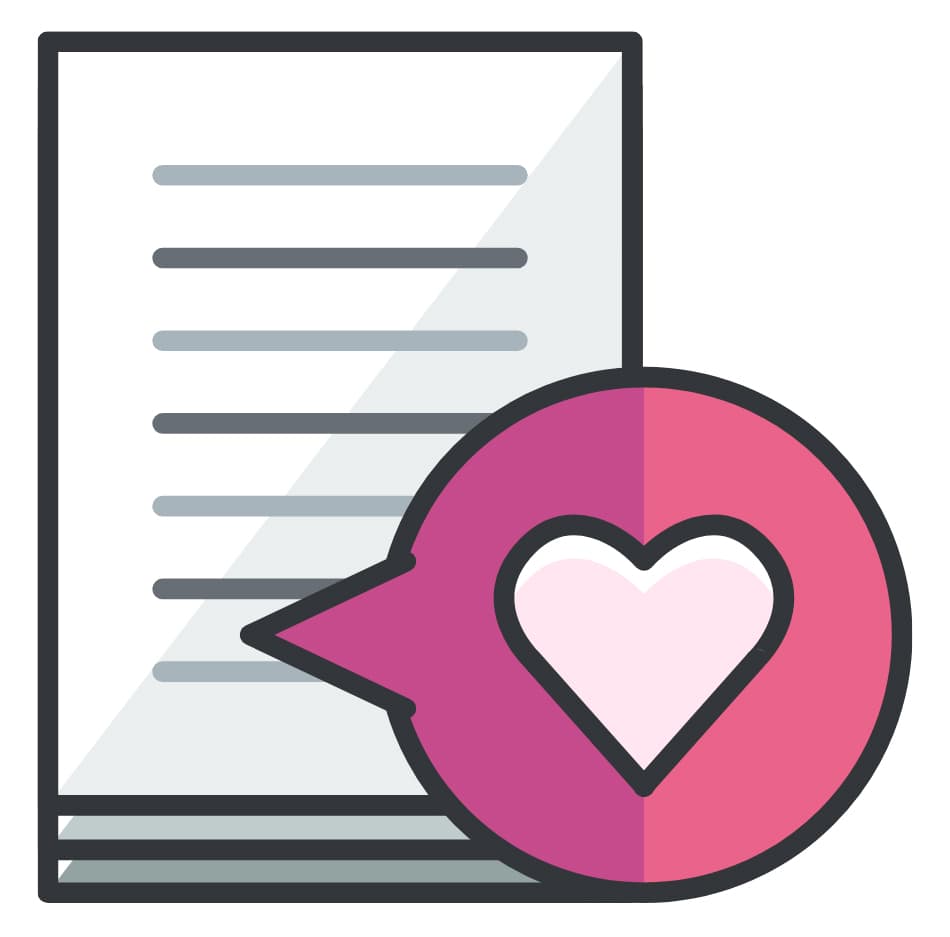 A simple Google search with the words "reviews essay writing service college" and the name of the essay service you are considering hiring will pull up a plethora of items to choose from.
When reading reviews, be sure to read what clients have to say on third-party sites such as the BBB, SiteJabber and Yelp, as well as on the company's website. Do not look for perfect 5-star reviews all around, (which are more likely to be fabricated). Instead, look for honest reviews between 4 and 5 stars.
Also, review sample essays published on the writing service's website. If you can not find any, call the customer service department and ask to see samples.
2) Contact the customer service department
Speaking of customer service, a great way to qualify any writing service is to call the service department and ask to learn about what makes their service preferred. Top notch writing services will have agents available by phone and email 24/7 to answer questions. Agents at a top site will also be able to give specific answers to your questions.
3) Review the policy
If you are looking for assistance and want to invest in your education wisely, make sure that the writing service you choose offers revisions and has a track record of delivering orders on time. If you are unclear of the site's ordering policy, call the service department and get clear before placing an order. This will save a lot of time and make the process smoother in the long run.
And remember, despite the many internet-myths, a top-quality essay writing service can be an enormous asset to any student's education, if used as a learning tool.