Ivy League Legacy Admissions and the Culture of Nepotism
What is the Ivy League?
The Ivy League is comprised of eight private colleges and universities in the northeast region of the United States. Though it was originally founded as an athletic conference, it has since come to refer to the schools in a wider context outside of sports. The group's name has come to suggest a certain elitism in academics, admissions selectivity, and social status.
Schools in the Ivy League
Brown University
Columbia University
Cornell University
Dartmouth College
Harvard University
University of Pennsylvania
Princeton University
Yale University
Note: All of the above listed schools were founded during the colonial period with the exception of Cornell, founded in 1865.
Although there are many affordable colleges on the East Coast that offer excellent educations, the schools in the Ivy League have a reputation of academic excellence. All of the schools in the division hold a place on the top fifteen universities in the U.S. News and World Report for 2017. In fact, Princeton, a member of the Ivy League has held the top spot on that annual report for almost two decades.
Enrollment for undergraduate programs at Ivy League schools fall somewhere between enrollment for the typical American liberal arts college and enrollment for a public state university in the United States.
Harvard Yard (Harvard University)
Source: HU
The courtyard at Harvard (The Harvard Yard) is one of the most famous aspects of the university. The sprawling courtyard is a favorite spot for students to study outdoors when the weather permits. The Harvard Yard is also home to Yardfest, a large concert held annually on the grounds.

The number of students in all programs varies from around six thousand at Dartmouth and twenty thousand at larger schools like Columbia and Penn. These schools also tend to have larger financial endowments than most universities; Harvard has the largest of any other academic institution worldwide at over thirty-six billion.
What makes Ivy League schools different from traditional colleges?
There are a number of factors that set the Ivy League apart from traditional colleges in the United States. First and foremost, the Ivy League comes with a certain reputation for academic excellence, as mentioned above. There are many prestigious and respected universities in the United States but none of them have a reputation like that of the Ivy League.
Recruiters and headhunters often favor Ivy League alumni because their education is seen as superior to schools that do not carry the same clout. Listing an Ivy League school on your resume is guaranteed to stand out and suggest a certain expertise.
Another factor that separates Ivy League schools from traditional colleges is their acceptance rates. According to the U.S. News and World Report on higher education, Harvard's acceptance rate lies at under six percent while the highest was Cornell at just above sixteen percent. Comparatively, prestigious non-Ivy League schools generally have acceptance rates of around thirty percent. These eight schools often get a significantly higher number of applicants than comparable non-Ivy League schools.
Ivy League acceptance rates (All applicants)
Ivy League schools accept far fewer applicants than traditional schools. The highest acceptance rate among all eight Ivy League colleges is only 13.9% (Cornell University).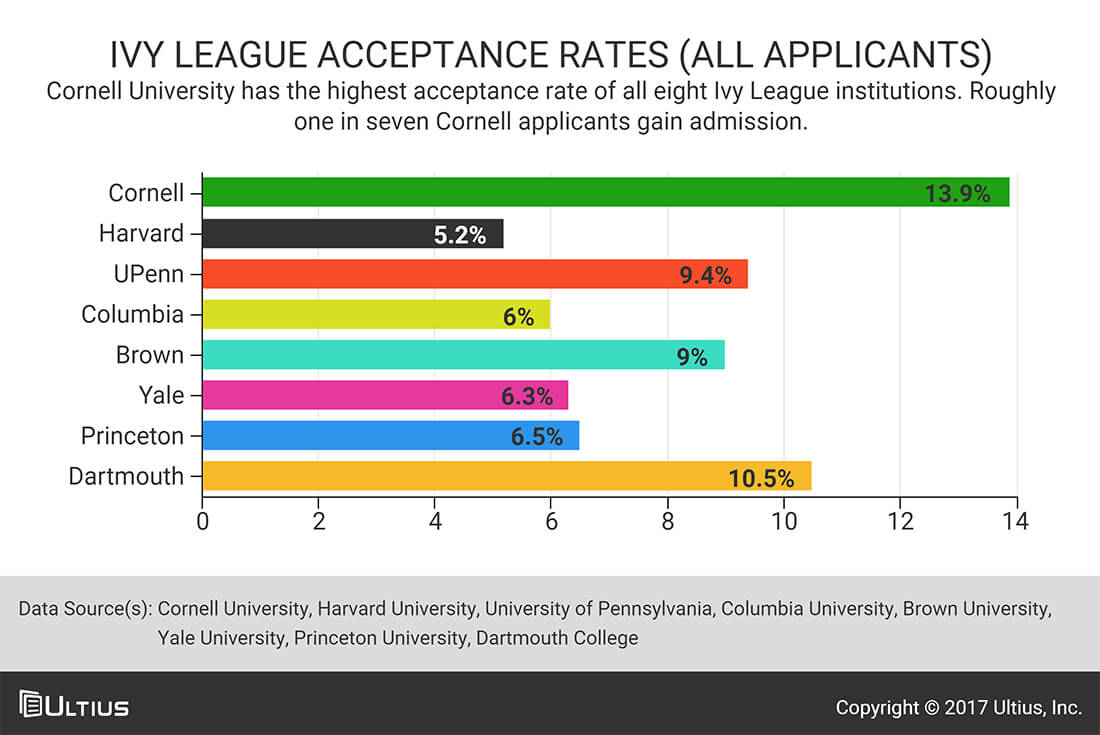 Financial aid for Ivy League students
Ivy League universities have the reputation for being expensive. It makes sense, given that they also have a reputation for elitism: a higher quality education comes at a higher price. In addition, they adopted a need-blind admissions policy, in which students are considered for admission without any consideration for their ability to pay tuition.
This policy comes with the understanding that the schools will help students find a way to pay for their education through loans, scholarships, grants, and work-study programs. As of 2013, almost half of all students attending Ivy League schools were receiving some kind of financial aid.
Tuition costs at Ivy League schools
Brown University
At Brown, the average estimated cost of tuition is just barely over fifty-five thousand dollars, according to their website. Approximately forty-six percent of students attending Brown received financial aid in 2013 and the average award package was slightly more than forty thousand dollars.
Columbia University
According to Columbia University, half of their students receive financial aid. The average estimated cost of tuition her year is over fifty-nine thousand dollars while the average financial aid award package is just below forty thousand.
Cornell University
Cornell reports almost the same percentage of students receiving aid and the same average award package as Columbia but tuition costs are at right about fifty-three thousand dollars per year of tuition.
Dartmouth College
Dartmouth College is the second most expensive school in the Ivy League at almost fifty-eight thousand dollars. Just over forty-five percent of Dartmouth's students receive some form of financial aid with the average financial aid award being forty-two and a half thousand dollars per year.
Baker-Berry Sanborn Library (Dartmouth College)
With more than 2 million volumes in its collection, the Baker-Berry Library at Dartmouth College is one of the largest academic libraries of its kind.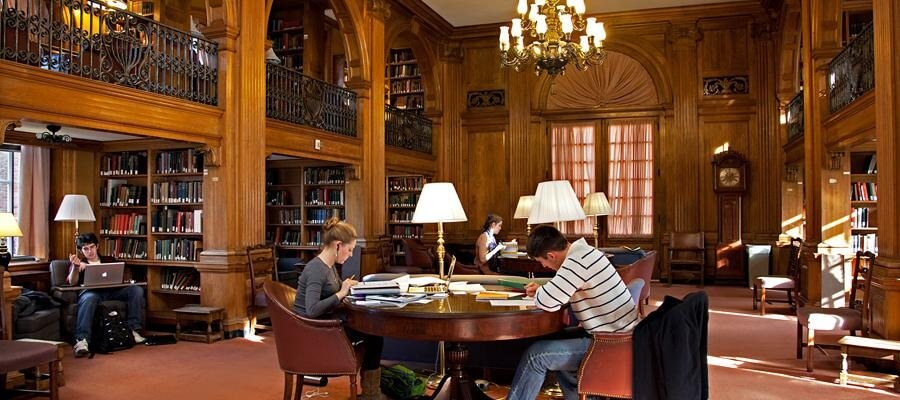 Dartmouth takes the rising cost of higher education seriously, and also allows its students to use grants from Connecticut, Maine, Massachusetts, New Hampshire, Pennsylvania, Rhode Island, and Vermont. In 2008, the school instituted a policy in which families who make less than seventy-five thousand dollars per year owe nothing for tuition.
Harvard University
Harvard's average financial aid package covers a higher percentage of tuition than any of the other Ivy League Universities; the average cost of tuition is approximately fifty-one thousand dollars while the average award package is for forty-four thousand. Sixty percent of students at Harvard are currently receiving financial aid, according to the university.
Their financial aid policy states that families that makes less than sixty thousand dollars per year are not expected to contribute anything towards tuition while families that make between sixty and one hundred and twenty thousand dollars annually pay up to ten percent. When this policy was changed, Harvard saw a twenty percent increase in matriculation of low-income students.
Princeton University
Princeton costs the average student approximately fifty-three thousand dollars per year. Sixty percent of students attending Princeton receive financial assistance and the average aid award package is almost forty thousand dollars. In 2001, the University began a no-loan policy, committing to meet students' financial aid needs exclusively through grants, scholarships, and work-study programs so that students can graduate free of debt.
The university was the first to institute the no-loan policies and according to their admissions records, the number of low-income students attending Princeton doubled between 1999 and 2006.
University of Pennsylvania
The University of Pennsylvania is the most expensive of the Ivy League schools, averaging at almost fifty-nine thousand dollars per year. The university is committed to meeting one hundred percent of the financial need for all of their admitted students. To attend the University of Pennsylvania, the average financial aid award is over forty-one thousand dollars.
Yale University
Yale is similar in financial aid policies to Harvard. Fifty five percent of Yale students receive financial aid in some form. The average cost of tuition at Yale is over fifty-five thousand dollars while the average financial aid award package is just above forty-one thousand dollars.
Yale's financial aid policy states that families that makes less than sixty thousand dollars per year are not expected to make any monetary contribution towards tuition costs. Families that make between sixty and one hundred and twenty thousand dollars pay up to ten percent towards tuition.
Ivy League students and grants
The cost of higher education
Source: PDP
Higher education is costly without financial aid. Though Ivy League schools offer financial assistance on a case-by-case basis, they do not offer merit-based scholarships.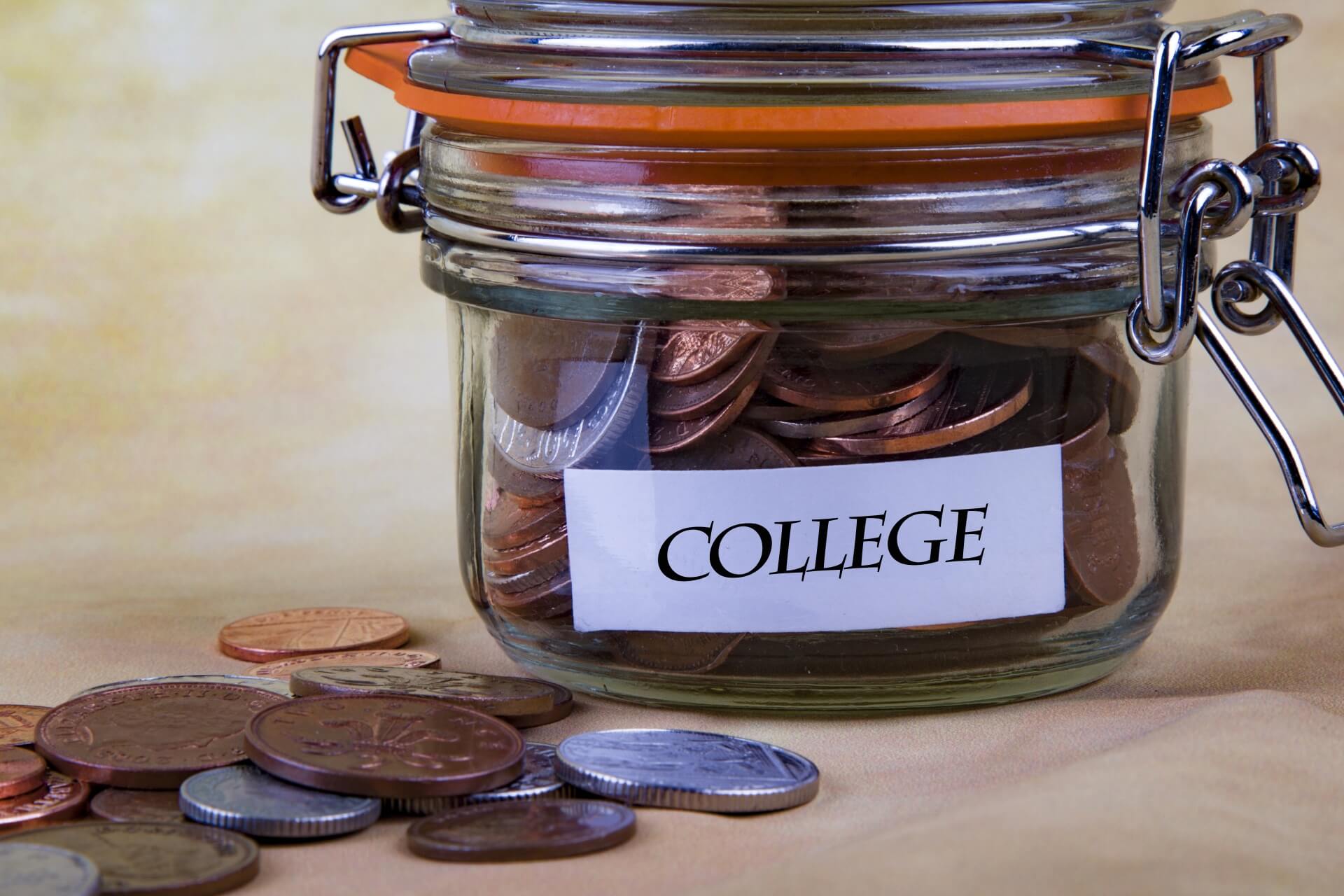 Several schools in the Ivy League get notoriety and credit for providing free education to underprivileged or low-income students. It is seen as a great act of charity, as the schools are typically more expensive than traditional colleges and considered to be elite. However, because of the low numbers of students who actually receive these grants, the praise may be a little bit misplaced.
Lynn O'Shaughnessy, author of The College Solution: A Guide for Everyone Looking for the Right School and the Right Price dispels a lot of myths on financial aid. The nationally acclaimed college expert, said,
"The wealthiest colleges and universities - those that can best afford the financial aid necessary to enroll a large number of low-income students - in fact enroll the smallest percentage of such students."
Pell Grants are generally awarded to families who make less than forty thousand dollars per year. The Education Trust, as cited in The College Solution, found that of the students admitted to Harvard and Princeton every year is only slightly over eight percent. Comparatively, almost forty percent of students attending the University of California Los Angeles are receiving Pell Grants. Though the number is increasing, a disproportionate amount of students receive grants in Ivy League schools.
Scholarships for Ivy League students
Something that sets the Ivy League's financial aid policies apart from that of traditional colleges is that their financial aid is entirely based on students' needs. Ivy League schools do not offer merit or talent-based awards and are not able to offer athletic scholarships.
Students are able to receive outside scholarships based on merit or talent, though, from outside groups and institutions, including state or federal organizations and programs or scholarships offered through private agencies. Financial aid actually offered by the school lies in work-study programs and grants.
Ivy League legacies and nepotism
Legacy admission is a preference that is given to applicants to an institution based on their relationships with family members who are alumni of that particular institution. This practice is unique to universities in the United States and is too controversial to be a regular practice in other places throughout the world.
According to Kahlenberg, author of Affirmative Action for the Rich, almost all liberal arts schools and seventy five percent of research universities grant admissions preferences to school legacies. The preference varies from school to school, with someone giving preference to all family members of alumni and others extending the favoritism to only their children. Admissions records suggest that being a legacy raises an applicant's chances of admission by almost twenty percent.
Ivy League acceptance rates (Legacy vs. non-legacy)
Legacy applicants enjoy higher acceptance rates than non-legacy applicants. For example, the admission rate for Princeton legacy applicants in 2009 exceeded the admission rate for non-legacy applicants by 32 percentage points.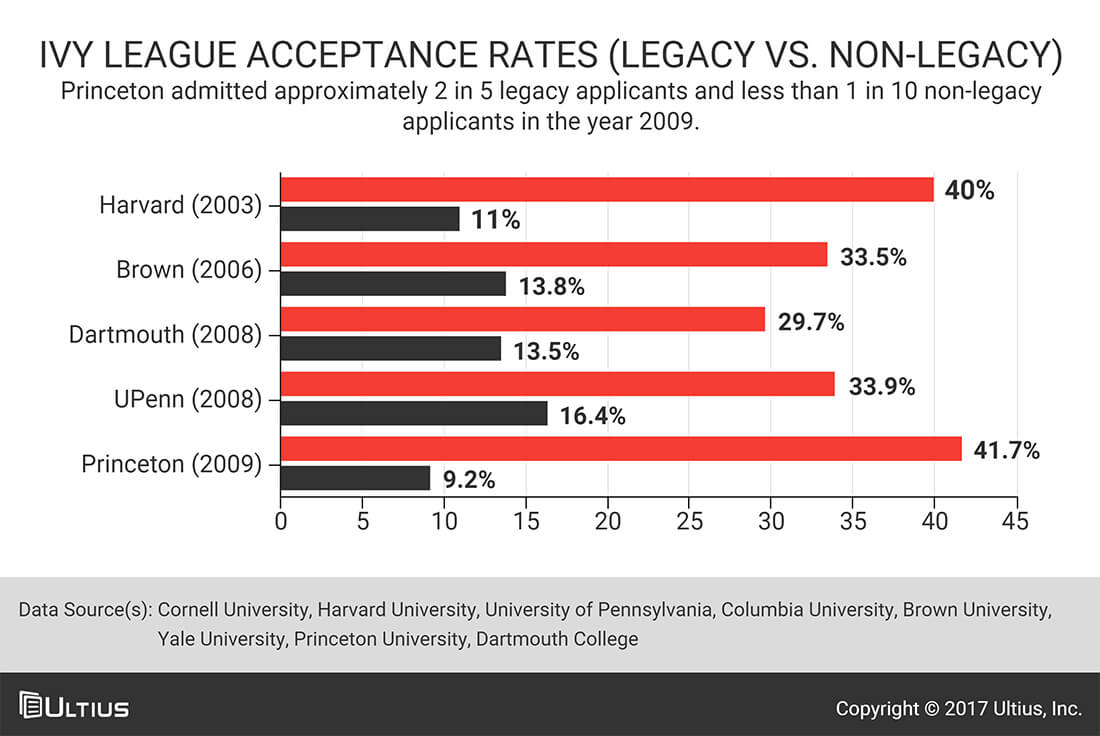 A culture of nepotism
The practice of nepotism in Ivy League admissions began in the early twentieth century. During this time, prestigious schools were raising their standards of admission. This change allowed for immigrants and people with less socioeconomic status to take a large number of seats in each year's undergraduate programs.
Because of this, a number of Ivy League schools began giving preference to legacies in order to increase the number of white, wealthy, Protestant students. Legacies were held to a different standard than non-legacy applicants.
A legacy applicant's admission typically depending more on personality characteristics and home influence. This is where the practice of requiring letters of recommendation for college admissions began. The application process, once amended to favor legacy students, caused a decrease in the admittance of several non-wealthy WASP groups, including immigrants, the working-class, Catholics, and Jews.
Harvard's official school newspaper, The Harvard Crimson, conducted a survey that found that legacy students are admitted at a rate of about 30%, while for non-legacy applicants, that rate remained just under 6%.
Currently, the Ivy League reports admitting between one tenth and one third of all applicants. The percentage of legacy applicants that are admitted every year is much higher.
Penn's admission statistics show that more than forty one percent of legacies who applied during early decision admissions to the University of Pennsylvania were admitted compared to just over twenty nine percent of non-legacy applicants. The regular admissions cycle saw the same kind of favoritism when almost thirty-four percent of legacies were admitted while just over sixteen percent of non-legacies were granted admission.
In 2006, Brown University admitted less than fourteen percent of total applicants and more than one third of all the legacy applicants. Three years earlier, Harvard had an eleven percent acceptance rate but admitted forty percent of all legacy applicants. In 2009, the difference in legacies admitted compared to non-legacies at Princeton was staggering, with an acceptance rate of non-legacies of about nine percent while almost forty two percent of legacies were admitted.
Famous Ivy League legacy families
Harvard and the Kennedys
The Kennedy family has established and long and decorated history at Harvard University. The first Kennedy to attend the school was Joe Kennedy in 1908. He graduated from the Boston Latin School and finished Harvard with the class of 1912. His son, Joe Jr., studied for one year in London before transferring to Harvard in 1934 and graduating four years later.
Would-be president John F. Kennedy was next in the family line to attend Harvard and enrolled as a freshman in 1936 and graduated cum laude with the class of 1940. In 1936, the school opened the Graduate School of Public Administration, which was renamed the Kennedy School of Government and the Institute of Politics thirty years later in honor of slain president John F. Kennedy. Today, the Kennedy School of Government boasts fifteen research institutes and over thirty degree programs worldwide.
The University of Pennsylvania and the Trumps
President Donald Trump, and the first family of the United States has enjoyed legacy status at Penn State's Wharton School of Finance. Wharton is one of the most rigorous and esteemed business schools in the world. Donald Trump spent two years at Penn in the late 1960s after transferring from Fordham in New York as a junior. Though he did not make much of a mark in terms of athletic accomplishments or campus involvement, his association with the Ivy League university continued when his children attended as well.
Donald Trump and son Donald Trump Jr.
Source: Politico
Forty-fifth president of the United States Donald Trump attended the Wharton School of Finance at the University of Pennsylvania. Three of his children (Donald Trump Jr., Ivanka Trump, and Tiffany Trump) also attended the famous university.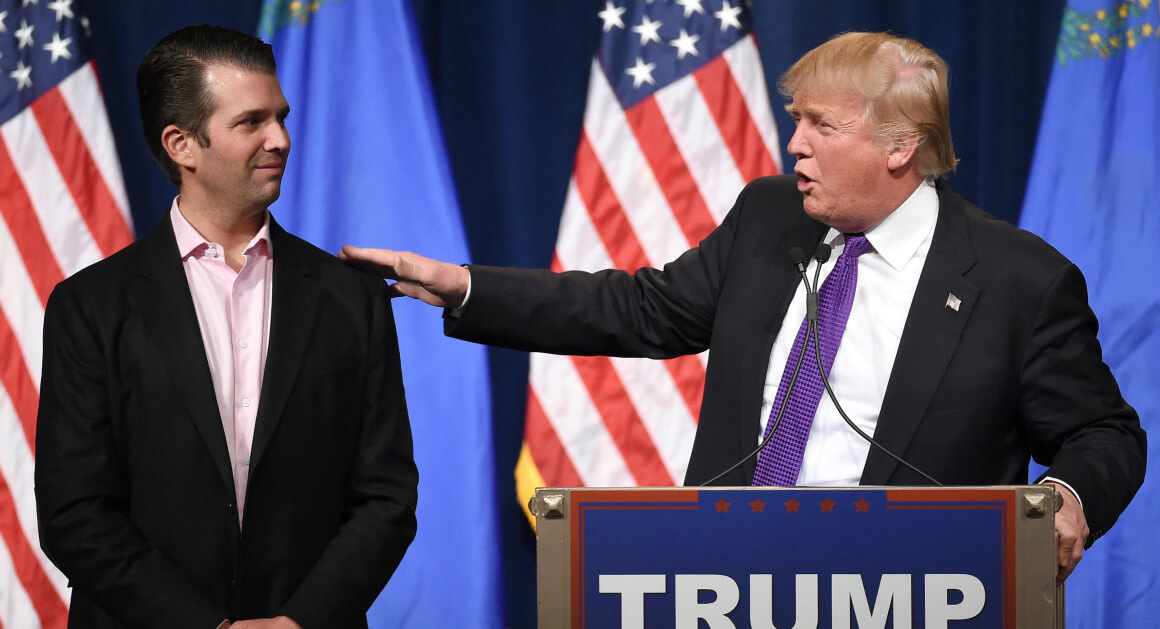 Trump's son Donald Jr. graduated from Wharton in 2000. Two years later, the now-president's daughter Ivanka transferred to Wharton after studying at Georgetown for two years, graduating in 2004. Last year, Donald's youngest daughter Tiffany graduated from the University of Pennsylvania with a double major in urban studies and sociology.
Yale and the Bushes
The Bush legacy at Yale is one of the oldest and strongest; since 1844, there have been thirty-five members of the Bush family tree to attend Yale University. In terms of our most recent Bush president's closest family, his father's generation began attending Yale in the 1940s. In 1944, George H.W. Bush's brother Prescott S. Bush Jr. entered at the university as a freshman, though he did not stay past his junior year.
George H. W. Bush himself enrolled at Yale in 1948. His brothers Jonathan James Bush and William Henry Trotter Bush entered Yale as freshmen in 1953 and 1960, respectively. Our forty third president, George W. Bush, enrolled in the Ivy League university in 1968. He was followed by his cousins Prescott Bush III (son of Prescott Bush Jr.), John P. Ellis (son of Nancy Bush Ellis), and William P. Bush (son of William H.T. Bush) between 1970 and 1986. George W. Bush's daughter Barbara began her time at Yale in 2004.
Benefits of being a legacy
An increased chance of being accepted to the school to which you are applying is only one benefit of being a legacy in the Ivy League. The advantages afforded to legacy students continues long after their admissions to the University. Many colleges have a number of coaching mechanisms for legacies to utilize during the admissions process, including helping them tailor their applications for the admissions board and providing tips on how to gain an edge over other potential applicants, and even provide tips on writing admission essays.
Special considerations for legacies
There are some schools in the Ivy League that have special admissions counselors who strictly serve applicants that are legacies. Legacies have the opportunity to apply for scholarships or discounts that are reserved for children of alumni, in addition to frequently being given in-state tuition fees, even if they live out of state. Some schools provide special councils with alumni and even sometimes pair up these potential students with current students who are also legacies.
Increase in admission chances for legacies
Source: SSRN
While all legacy applicants have an increased chance of admission to an Ivy League school, the chance of admission is highest for first-generation legacies.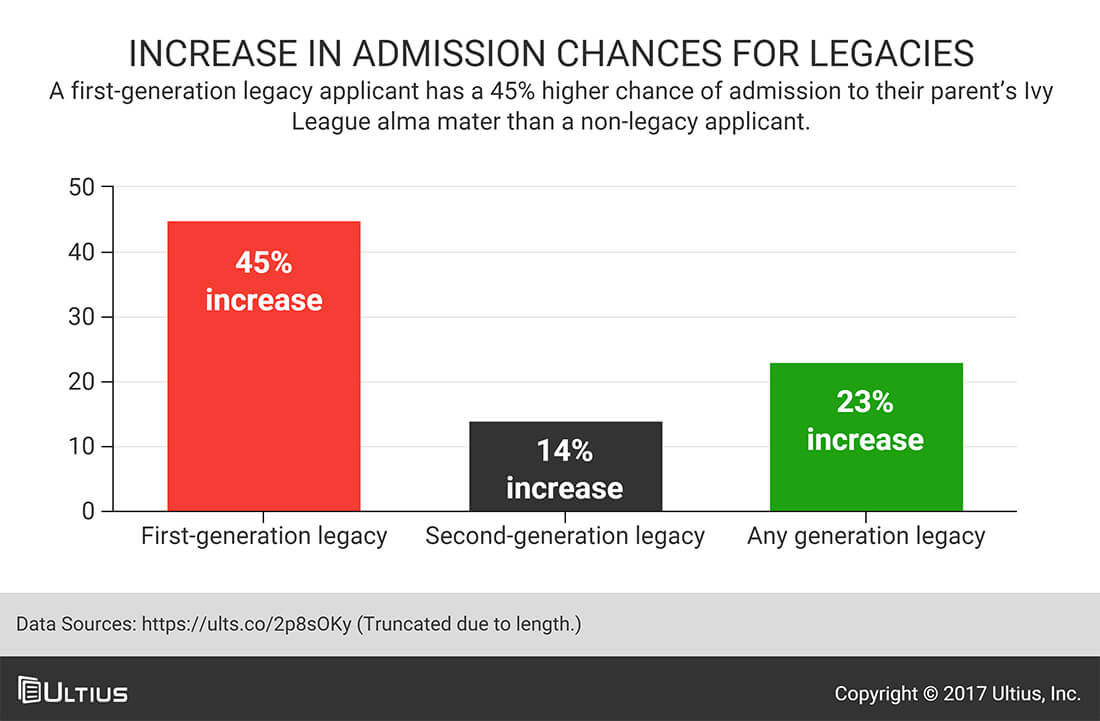 Even if a legacy hopeful's application is rejected, Ivy League schools will often provide special counseling sessions with advisors and alumni to help students either find placement at another school or retune their applications for the next round of admissions. Often times, those students are advised to apply to lower-ranked universities and attend for a year or two to prove their academic ability before reapplying as transfer students.
College rankings only include the test scores and grades of incoming freshman, meaning universities are able to accept lower-achieving legacies as transfer students and it would not have a negative effect on the school's ranking standard.
Jobs for legacy graduates
Benefits afforded to legacy students do not end after college graduation- many well-connected legacies continue to enjoy special perks long after college is over, perks that affect the course of their lives forever. These students often find themselves with incredible, high-paying jobs when their college careers are over. For example, Supreme Court Justice Ruth Bader Ginsburg attended Harvard Law School in 1956 and transferred to Columbia, where she graduated with a bachelor's in law in 1959, according to the book The Nine: Inside the Secret World of the Supreme Court.
Her husband, a world-renowned law expert in taxation, also attended Harvard Law School in the 1950s. Their daughter, Jane Ginsburg, was able to follow in their footsteps and received her Juris Doctor degree from Harvard Law. Currently, she holds the title of Professor of Literary and Artistic Property Law at Columbia and is the director of the school's Kernochan Center for Law, Media, and the Arts.
George H. W. Bush and son George W. Bush
Source: MSNBC
Over 35 members of the Bush family studied at Yale University. The Bush family made history when George W. Bush served as the second United States president born to a former president (George H. W. Bush).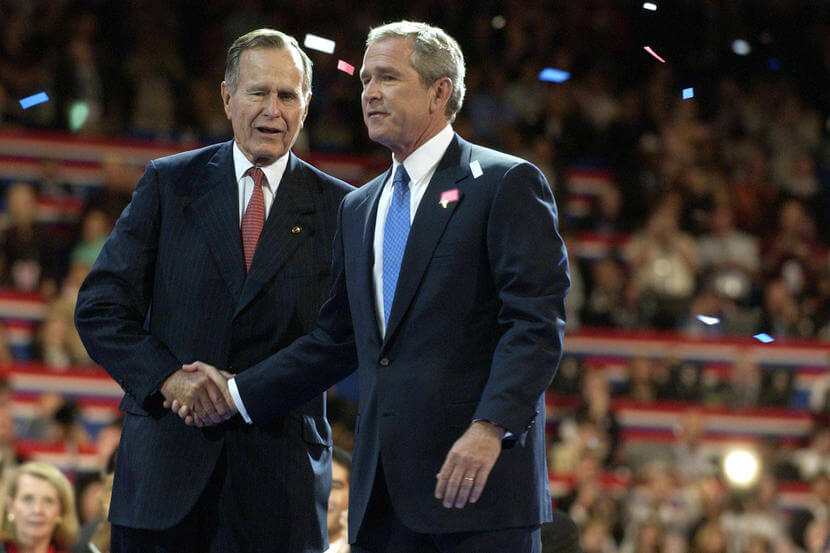 Another example of legacy students landing substantially better jobs than non-legacy students is the Forbes family. Malcolm Stevenson Forbes graduated from Princeton in 1941. Malcolm is the son of B.C. Forbes, founder of Forbes magazine. Malcolm served as the publisher of Forbes magazine and is known for his promotion of capitalism and lavish living. Malcolm's son, Malcolm Stevenson Forbes Jr., graduated from Princeton University in 1970.
Since then, he has been a Republican candidate for the presidential nomination twice, as well as being the current editor-in-chief and publisher of Forbes magazine. Malcolm Jr.'s daughter Moira entered Princeton as a freshman in 1997 and upon her graduation in 2001, she was given a position overseeing marketing initiatives for Forbes' European edition before being made Associate Publisher of Forbes Life two years later. Since then, she has held several executive positions with the magazine.
Are you stressing out as grad student? Here are 20 ways to manage stress while getting your graduate degree.
Is this kind of nepotism wrong?
The debate over whether or not nepotism is ethically immoral is both old and heated. It seems though that the general attitude towards nepotism in college admissions is a negative one. There are several alarming facts about this kind of favoritism that indicate that it is an unfair and ethically wrong practice.
First and foremost, there is the issue of why a person should get preferential treatment simply for being related to someone who previously attended the institution. The applicant themselves is only related to an alumnus by chance; through no hard work, perseverance, or dedication of their own. This does not affect their character as a person or their academic ability, so to have it be a factor in admissions does not make sense, ethically.
The "Z-List" at Harvard
Harvard applicants whose parents are well-connected alumni and donors have the opportunity to take advantage of the "Z-list". According to author and top college admissions insider Pria Chatterjee, when a student's test scores and application are not originally deemed satisfactory, they can be put on the Z-list, which guarantees their admission after a year. During this gap year, applicants are allowed to do whatever they want but are expected to spend that time building up their applications and enhancing their readiness to enter the adult world.
One of the major red flags about the morality of legacy favoritism is Harvard's Z-list. The ethically questionable loophole list enables the university to appear as though they are not admitting poor applicants while still pleasing important benefactors and donors- alumni family members of the Z-list applicants.
Because these students have certain stipulations they must adhere to if they wish to be admitted after a year, this is basically an acknowledgement that these Z-list students are not qualified to attend Harvard, but they are admitted anyway with the understanding that they will make themselves more admissible before they are actually allowed to attend.
Admission for sale to the highest bidder
To many, this paints a picture of admissions for sale; a picture that, unfortunately, is not so far-fetched. Alumni donations accounted for almost a third of all donations to institutions of higher education in 2008, according to Yale University's magazine. As governmental funding of colleges across the country decreases, universities feel pressured to please important donors and alumni, many of whom have children who apply to the same schools.
Are you a struggling college student? Learn all about financial aid for college.
If universities please big donors by admitting their children into the Ivy League, the schools can ensure that they will continue to receive funding from said donors. According to the National Bureau of Economic Research, donations by alumni actually have been known to fall if their child's application is rejected during the admissions process, giving schools plenty of fiscal incentive to admit legacy applicants.
Legacy preference also affect the demographics of Ivy League schools. The preference given to legacy applicants at Ivy League Universities often results in lower acceptance rates for minorities because the vast majority of legacy families are white. A study of students at Duke University in 2008 that found that the university's legacies were most likely to be white Protestants from America that graduated from private high schools, in addition to being significantly richer than their non-legacy peers with a familial income of a quarter of a million dollars or more.
Legacy preferences in Ivy League schools are directly affecting the racial and class demographics of the universities' students, and this can greatly hinder minority students' opportunity for economic mobility.
Student diversity at Dartmouth
Source: DC
A preference for legacies at Ivy League schools may contribute to the lack of racial diversity. The student body at Dartmouth College is fairly diverse compared to many other colleges.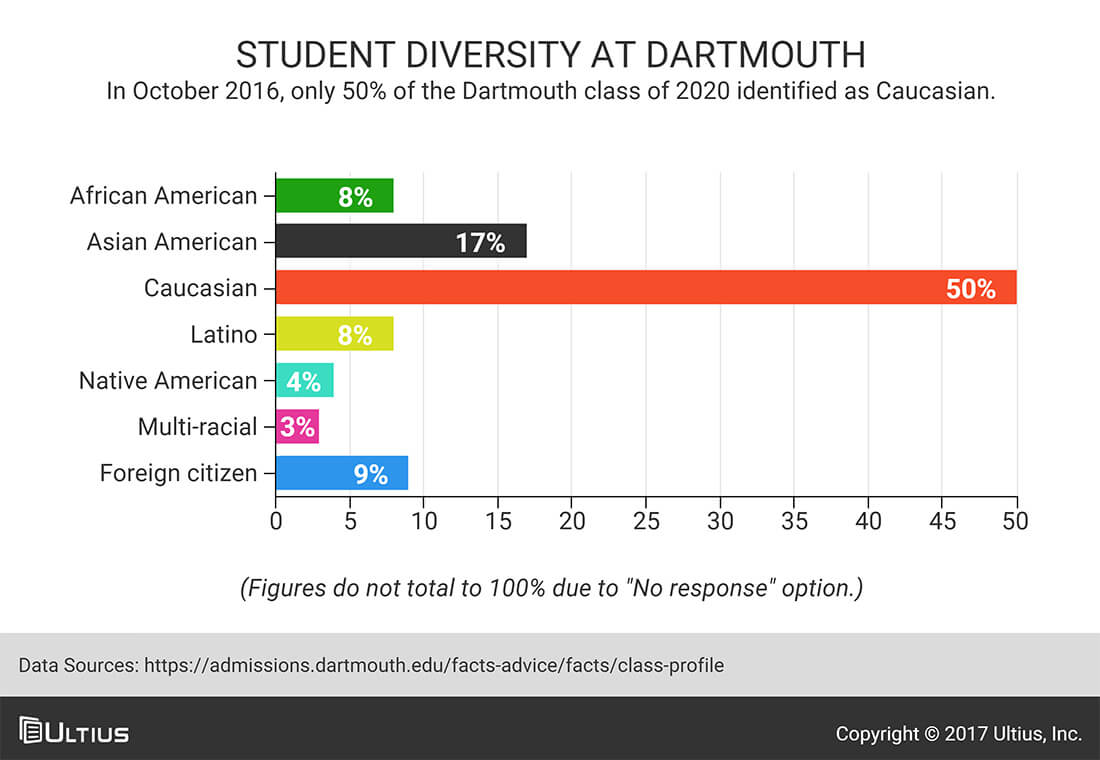 Adverse academic effects of nepotism
The practice of nepotism in Ivy League admissions can also affect the academic integrity of the universities. Accepting applicants because of their familial ties or donations rather than their academic prowess lowers the average standard scores and performance of the university as a whole.
Ivy League schools are noted for their academic excellence, but admitting students based on fiscal benefits rather than their school performance lowers the bar in an unsavory way. It also sends a message that a student's abilities are not as important as the money their family could potentially donate. Such practices do not just compromise the Ivy League's academic integrity, but its moral integrity as well.
There is even question about how legal legacy favoritism is. The United States Constitution contains a clause that may be violated in cases of Ivy League legacy nepotism. The clause is the Nobility Clause, found in Article 1 in Section 9. In short, the clause prohibits the government from accepting gifts or bribes from nobility.
According to the Washington University Law Review, the Nobility Clause is not simply limited to those who hold distinctive titles like Lords or Earls, but,
"had a substantive content that included a prohibition on all hereditary privileges with respect to state institutions".
The report asserts that this inclusion of hereditary privilege into the Nobility Clause was echoed during the Constitution's ratification and during the post-ratification period. For example, it was ruled that the Jim Crow grandfather clauses, wherein one's ability to vote was based entirely on their ancestry, were unconstitutional because it violated the Nobility Clause. Many feel that this is exactly what is happening when a federally funded university admits legacies because of the donations provided by the applicant's family.
A question of ethics
Ivy League schools have a prestigious reputation for academic excellence. They are much harder to get in and generally have much stricter admissions standards than traditional colleges and universities. Ivy League universities also have a clear preference for legacy applicants, whether they choose to admit this fact or not.
A higher percentage of legacy applicants are admitted to these renowned universities than non-legacy applicants, despite legacy students traditionally achieving lower test scores than their non-legacy counterparts.
There are several prominent families that are well-known Ivy League legacies, several of which are presidential. Examples include the Trump family at the University of Pennsylvania, the Kennedys and Harvard, and the Bush family. Well-connected legacies are often related to famous alumni who donate generously to their alma mater.
Being a legacy can afford one many opportunities they would not otherwise have access to. Universities often offer a number of extra benefits for legacy students and applicants, including special attention to and editing of their applications and being admitted despite lower test scores and academic performance. After graduating, these students often continue to receive perks because of their legacy status.
For example, Moira Forbes was given a director position as soon as she graduated Princeton despite having no previous related experience. While graduating from an Ivy League university does provide one with a certain amount of clout, like a high starting salary when they enter the workforce, legacies tend to see other fringe benefits not afforded to non-legacy students.
This kind of nepotism is widely viewed as wrong and unfair. The applicant themselves does not have to accomplish anything in order to be a legacy, they simply won the birth lottery. Plus, because the majority of legacies students comes from wealthy donor families, admitting those students despite unsatisfactory academic performance makes it clear that admission is for sale.
Favoring legacy students can affect the demographics of the school's student body and often results in a decrease in minority students. Legacy favoritism also decreases the school's academic integrity because legacy students often score lower in standardized testing than non-legacy students.
All of this aside, there is question over whether or not a government-funded institution giving preference to students based on their family ties is even legal. Despite these reasons why legacy preference is unethical and bad for the education community as a whole, the centuries-long practice is heavily ingrained in the Ivy League's history and is unlikely to be completely abolished.
Works Cited
Brown University. Brown University, n.d. Web. Mar.-Apr. 2017.
<http://www.brown.edu>.
"Brown University." Home | Financial Aid. Brown University, n.d. Web. 13 Apr. 2017.
Chatterjee, Pria. Getting into a Top College: An Insider's Guide to Admission into the Top 100 Universities & Colleges in America. New York: Regan Arts, 2015. Print.
Columbia University in the City of New York. Columbia University, n.d. Web. Mar.-Apr. 2017.
<http://www.columbia.edu>.
"Columbia Financial Aid & Educational Financing." Columbia Financial Aid and Educational Financing. Columbia University, n.d. Web. Mar.-Apr. 2017.
<https://cc-seas.financialaid.columbia.edu/>.
Cornell University. Cornell University. N.p., n.d. Web. Mar.-Apr. 2017.
<http://www.cornell.edu>.
"Cornell University Financial Aid." Financial Aid. Cornell University, n.d. Web. Mar.-Apr. 2017.
<http://finaid.cornell.edu/>.
"Cost & Aid | Princeton University Admission." Princeton University. The Trustees of Princeton University, n.d. Web. Mar.-Apr. 2017.
<https://admission.princeton.edu/cost-aid/apply-financial-aid>.
Dartmouth College. N.p., 18 Apr. 1970. Web. Mar.-Apr. 2017.
<http://www.dartmouth.edu>.
"Financial Aid." Financial Aid | Harvard College. Harvard College, n.d. Web. Mar.-Apr. 2017.
<https://college.harvard.edu/financial-aid>.
"Financial Aid Home." Financial Aid. Dartmouth University, n.d. Web. 13 Apr. 2017.
<http://admissions.dartmouth.edu/financial-aid/>.
"Financial Aid." Yale College Undergraduate Admissions. Yale College, n.d. Web. Mar.-Apr. 2017.
<http://finaid.yale.edu/>.
Harvard University. Harvard University, n.d. Web. Mar.-Apr. 2017.
<http://www.harvard.edu>.
Hurwitz, Michael, Jonathan Smith, and Jessica Howell. "Screening Mechanisms and Student Responses in the College Market." Economics of Education Review 2015 ser. 44 (2016): n. pag. Web. Mar.-Apr. 2017.
Larson, Carlson F.W. "Titles of Nobility, Hereditary Privilege, and the Unconstitutionality of Legacy Preferences in Public School Admissions." Washington University Law Review 84.6 (2006): n. pag. Web. Mar.-Apr. 2017.
Martin, Nathan, and Kenneth Spenner. "A Social Portrait of Legacies at an Elite University." Diss. Duke U, 2008. Duke University, 1 Aug. 2008. Web. Mar.-Apr. 2017
<http://citeseerx.ist.psu.edu/viewdoc/download?doi=10.1.1.468.1175&rep=rep1&type=pdf>.
Meer, Jonathan, and Harvey S. Rosen. "Altruism and the Child-Cycle of Alumni Giving." NBER. National Bureau of Economic Review, June 2007. Web. Mar.-Apr. 2017.
"National Universities Rankings." U.S. News and World Report. U.S. News and World Report L.P., 2016. Web. Mar.-Apr. 2017.
O'Shaughnessy, Lynn. The College Solution: A Guide for Everyone Looking for the Right School at the Right Price. Upper Saddle River, NJ: Financial Times/Prentice Hall, 2012. Print.
Princeton University. The Trustees of Princeton University, n.d. Web. Mar.-Apr. 2017.
<http://www.princeton.edu>.
"Timeline- The Kennedys: An American Experience." PBS. PBS, n.d. Web. Mar.-Apr. 2017.
<http://www.pbs.org/wgbh/americanexperience/features/kennedys/>.
Toobin, Jeffrey. The Nine inside the Secret World of the Supreme Court. New York: Anchor, 2008. Print.
"University of Pennsylvania." Home. N.p., 01 Apr. 1970. Web. Mar,-Apr. 2017.
<http://www.upenn.edu>.
"University of Pennsylvania Financial Aid." Apply for Financial Aid. University of Pennsylvania, n.d. Web. Mar.-Apr. 2017.
<http://www.admissions.upenn.edu/costs-financial-aid/financial-aid-at-penn>.
Worland, Justin. "Legacy Admit Rate at 30 Percent." The Harvard Crimson. 11, May. 2011. Web.
<http://www.thecrimson.com/article/2011/5/11/admissions-fitzsimmons-legacy-legacies/>.
Yale University. Yale University, n.d. Web. Mar.-Apr. 2017.
<http://www.yale.edu>.