How to Write a Resume with No Job Experience
The word "resume" is almost always automatically associated with "job experience." But, what if you're applying for your first job? What do you put on your resume if you haven't had any job experience?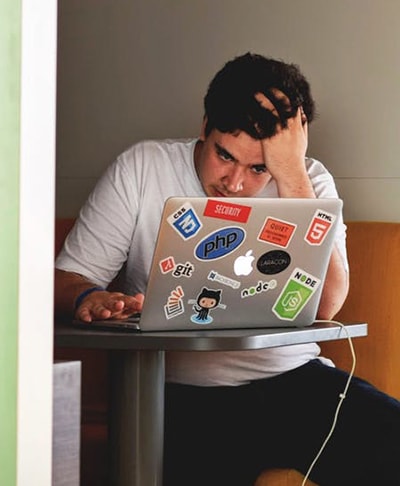 Crafting a resume, especially if it's your first, can be a bit intimidating. But, there's no need to worry! There are plenty of things you can use to make your resume shine. Even if you have no formal job experience, you can create a resume that stands out from the crowd.
This blog is intended to show you exactly how you can accomplish writing a great resume, even if you're applying to your first formal job.
Here's what we're going to cover:
What a resume is and its purpose
Why resumes are important
What makes a great resume
Steps to produce a resume with little to no job experience
Pro tips for your own writing
By the time you are done reading, you will have a strong grasp of your unique opportunities for crafting a resume that will get you hired.
What is a resume and what is its purpose?
It's common to think of a resume as a listing of work experience, but a great resume is actually far more than that. First, we have to understand a resume's purpose. To employers (or anyone evaluating a resume), a resume is simply a tool used to assess what value an applicant provides and why an applicant would be a good fit for the position. Resumes are almost always required to secure employment within a company.
The real purpose of a resume
A resume not only lets you list your experience, but it also highlights why you are the best fit for the job you're applying for. In lieu of not having work experience, you still have the burden of proving why you are capable of doing the job and why you're the best fit.
Therefore, a great resume doesn't just list a person's job positions; it explains one's experience in terms of the specific value that person has to offer. Showing your value and skills by listing employment experience is only one way to do this. Though it's one of the most common ways, there are many others, as we'll cover below. But first, let's review why resumes are important, and why you may need to write them.
Why are resumes important, and who has to write them?
Most commonly, resumes are used by employers to screen job applicants during the hiring process. So, if you're applying for a job after college, your resume will be viewed by the company's hiring committee. Whether or not you're called into an interview may be based upon the impression that your resume gives of you.
The importance of first impressions
Shown below are a man and woman meeting for the first time in a business setting. Such situations are common and important for business success. Often times, if the first impression goes wrong, the relationship stay that way.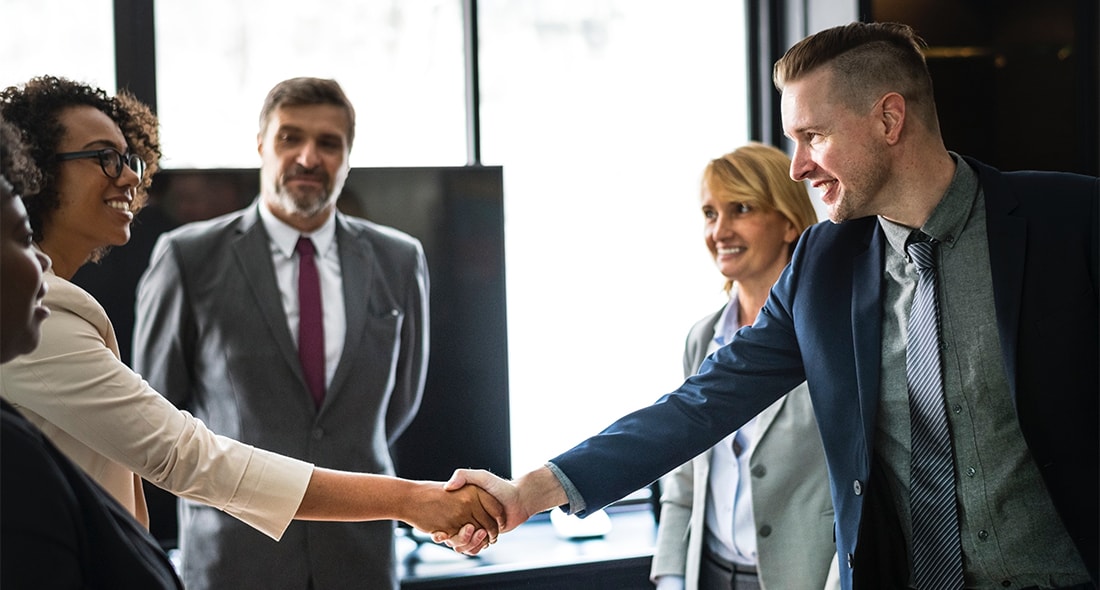 In today's competitive environment of technological advancement, software systems are being used more frequently to screen applicants' resumes based on keywords. For this reason, as we'll see in the "pro tips" section, it's important to use keywords that are relevant to the position you're applying for.
Related reading: Top 10 summer job for college students.
However, resumes aren't only used for job applications. If you're applying for an internship or to a university program (especially to a graduate program), you'll likely be expected to highlight your experience and strengths by submitting a resume (maybe even a C.V. or cover letter).
Myth: resumes are only required for jobs
This myth is false. Resumes (and documents similar to resumes) are required for many things in life related to academic and professional pursuits.
You may also need to submit a resume if you're applying for a grant, seeking acceptance into a special community organization, or applying for various scholarships. Basically, any situation that requires you to demonstrate your skills, capabilities, qualities and attributes, in writing, may require you to submit a resume.
Writing resumes for life
Mastering the skill of becoming an excellent resume writer is important for a couple reasons. First, it's crucial because you'll likely have to re-write, or at least update, your resume multiple times during your academic and professional careers (especially if you work lots of summer jobs). This will be necessary as you expand your experience and your goals change. Second, it's critical to learn to write a clear, professional, one-of-a-kind resume so that you can count on your resume to speak for you, helping you stand out and achieve your goals.
This is especially true of younger generations (we're looking at you millennials) who tend to engage in 'job-hopping' more frequently than other cohorts.
Job hopping (millennials versus older generations)
Source: Gallup
Millennials are less inclined than previous generations to stay with the same employer year after year. A study by Gallup shows that 21% of Millennials changed jobs in 2016.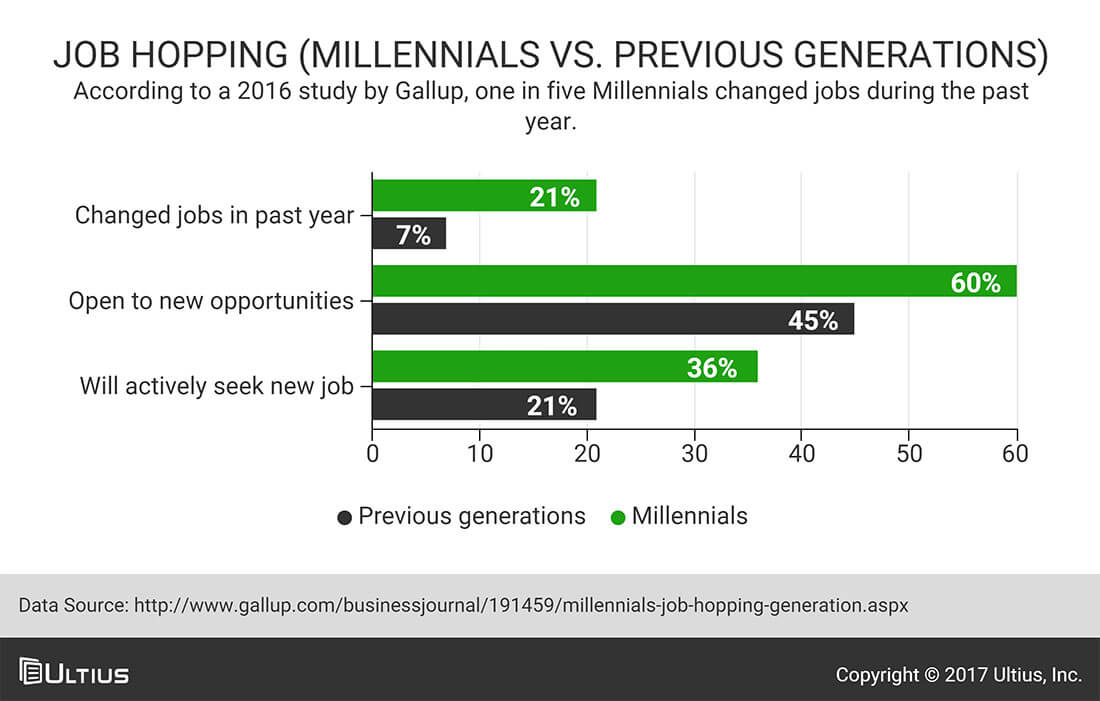 Data shows that millennials tend to switch jobs more frequently, which requires brushing on the resume more frequently.
Finally, in remotely located jobs (where you don't see your client or employer) your resume is not just your first impression, it's your only impression. So, if you're reading this with the hope of getting a remote job, know that writing a good resume is an essential skill for learning how to work as a freelance writer.
What makes a great resume
Quantity is not always a measure of greatness. In other words, if you're just starting out and don't have any job experience yet, you'll probably be happy to hear that a longer resume, with more employment positions listed, is not necessarily always better. Instead, think of quality and relevance as being the two most important characteristics of a resume.
Your resume will help the hiring manager make a decision on three important candidate questions that must be addressed before you get a job offer:
1. Are you capable of doing the job (relevant experience communicated well
2. Will your employer be able to stand you
3. Will you be able to stand your employer
Every job hunt and hiring process ultimately comes down to these three factors, and to get your foot in the door you have to show that you are capable of doing the job with your experience (work or otherwise).
From this perspective, you can probably start to see how job experience isn't necessarily always the most important aspect of a resume. For instance, it's not uncommon for some employers to look up candidates on social media sites. This means that more and more aspects of our lives are becoming relevant to our professional profiles. It also means more than "job experience" matters in the application process.
Relevance is one of the most important characteristics of your resume
The point of your resume is for you to show your employer you are capable of doing the job with not just work experience.

Rather, who you are as an individual, your personality, attributes, skills, the groups you're involved in, your interests, goals and achievements, all matter in most application processes.
Need help? Check out resume editing services from Ultius.
So, what does this mean in terms of writing a great resume? It means that a great resume should paint a complete picture of the value you provide as an individual, including your goals, your experience, and your personal skills. Listing job positions is only one, of many, ways to do this.
A great resume that accomplishes this will generally include all the aspects of the checklist guide below.
Elements of a great resume with no job experience
Great resumes are clear, professional, stick to the point, and highlight your unique value as an individual.
| | |
| --- | --- |
| 1 | Show, don't tell: Think of how you can demonstrate your skills instead of just listing facts. This will make your value more tangible and clear to your reader. Consider what your experience means to the reader. For example, instead of simply listing, "helped track inventory" under a job description, write something like, "maintained organized inventory, ensured orders were never missed and work was done efficiently." The latter description explains how well you kept track of inventory, and why it was helpful. Great resumes show, rather than tell, why and how each item listed is relevant. |
| 2 | Keep it diverse but applicable: When bullet-listing your skills and experience, think of everything you can. Start with as diverse a list as possible. You can always reduce it later by cutting out what's not most relevant to your audience. Great resumes are diverse within the subject they're relevant to. Try to show your adaptability and diversity, so long as it's relevant in some way to what you're applying for. |
| 3 | Remember, you're different! What experiences and skills have you had that are uncommon, but increase the insight you have to offer others, and the value that you can bring to a team? List them! Perhaps you're a great listener, you've traveled to 20 different countries at a young age, or you speak a rare language. A great resume highlights your unique self. This is your time to shine! |
| 4 | Stay clear and organized: Choosing a unified theme keeps your resume clean and easy to read. Microsoft word has many pre-made templates to choose from, or you can create your own. Either way, a great resume leaves uniform space between sections and bullets, and notates things in a unified way. Dates should also be listed, according to different experiences, and items of each section should be mentioned in order of relevance and chronology. |
| 5 | Be professional: A great resume uses polished, professional language. Remember, speaking professionally doesn't always mean using complex or fancy words. Keep your language simple and easy to read (your reviewers likely have many resumes to read, so the easier you make their job, the more your resume will stand out). Use language that is formal but to-the-point, and above all, respectful. |
How to write a resume with zero formal job experience
If you're applying to your first job, you're probably wondering how you're going to fill up a one-page resume with attention-grabbing skills and experience. Thankfully, it's actually easier than it seems and there are only a few differences compared to learning how to write a traditional resume (with job experience). After reviewing the steps below, you may be surprised by how quickly you're able to fill up your page. You may even need to go back and cut information out to keep it to a single page!
What to include in a resume if you have no job experience
Make sure to include other forms of achievement in your jobless resume: academic work, volunteering, extracurriculars, organizational involvement, informal jobs, and perhaps skills.
| | |
| --- | --- |
| Academic Achievements | Do you have an impressive GPA? Have you graduated with honors or been part of an accelerated learning program? Be sure to list it under your "education" section. |
| Extracurricular Activities | If you've taken part in sports or other hobbies that demonstrate your interests, be sure to include these in your "experience" section. |
| Volunteering | Charitable contributions and involvements are must-lists on a resume, and keys to exemplifying your passions and values. Be sure to include them in your experience. |
| Organizations | If you're affiliated with any specific organizations, such as a writers' group or an artists' collaborative, listing those can be great ways to demonstrate your goals and ambitions. |
| School and Community Groups | Similarly, if you're a member of any school or community groups like band, your class leadership, or a local church group, don't forget to make note. This tells your resume readers that you're experienced when it comes to being a team player. |
| Informal Jobs | You may not think you've had any job experience, but if you've ever helped a neighbor paint the house, or assisted your parents with bookkeeping and organizing, you have! Those things count and show your work ethic! |
| Characteristics | Think of what strengths or personal attributes friends and family have complimented you on, and list them. Perhaps you're a great listener, or you're good at problem solving. |
| Skills | Don't leave out those quirky but valuable skills you have—like fixing things, being a speed-reader, an incredible speaker, or a speedwriter. What is speedwriting? A quick technique to produce quality work in no time. |
| Travels | Listing your travels is a great way to highlight your life experience. It shows you've gained exposure to alternate perspectives and a global culture. |
Sample resumes with someone who has little to no job experience
As with any type of writing, viewing visual samples can make embarking on the writing process much easier and less intimidating (if you're choosing not to buy a resume online from a professional).
Check out the sample resume below, of "Jane Smith," (pseudonym), who has no formal work experience.
Practical resume writing tips
Polishing your resume-writing skills is a process, and it takes practice. Here are some best practice tips to get you started.
First things first: List your most relevant experience and skills first. Second, list things in chronological order. That way, if your reader is skimming through your resume and doesn't have time to read it in detail, (which is often the case), they'll still see the aspects that are most important.
Keep your audience in focus: A common mistake resume writers make is simply listing experience with an "I" focus, rather than keeping your reader's perspective in mind. Your resume isn't only about you, as a candidate; it's also about your reader, and what skills and qualities they're looking for. In other words, your resume is kind of like a sales pitch—for yourself. Think of it as an exercise in communicating how you can benefit the people of the organization you're applying for. What's most important to them?
Key Words: Notice what key words (such as "efficiency," "versatile," or "focused"), a job posting uses. Use some of those key words in your resume. That way, if employers are using software to screen resumes, yours will have a better chance of making it through to your employer's desk.
Proof your work! Do you have a trusted mentor you could ask to give you their opinion of your resume? Passing your resume through a second set of eyes helps catch any last errors and alter any phrases that could be better stated.
Stick with first person: Just don't do this (write in second or third person), it's not professional for an entry-level position (or most other positions, unless it's an executive resume where it's understood that the professional didn't write it).
Using first vs. third person
First person uses phrases like "I" and "me" while third person uses "he", "she", or names the person.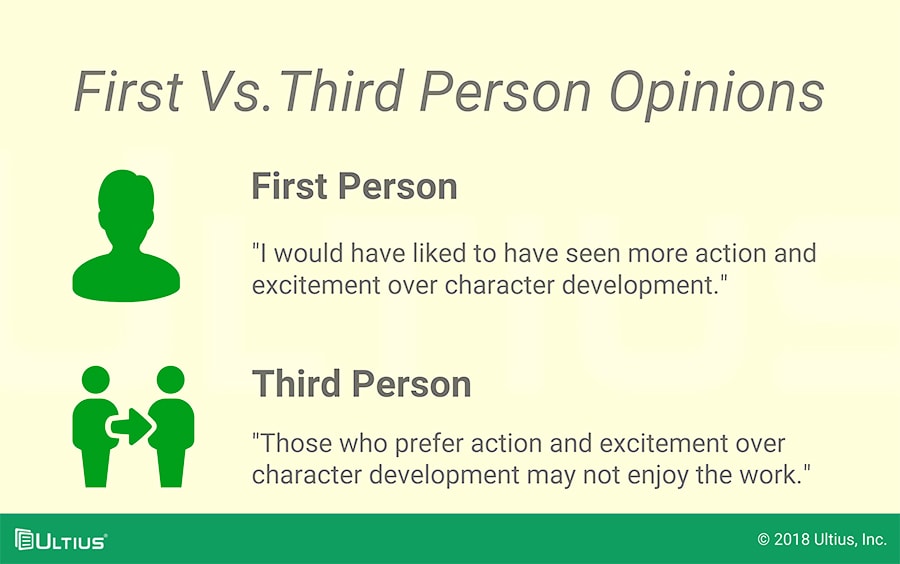 Do not use third person in a resume with little to no job experience.
Ask for help when you need it. Finally, it's important to know when to ask for help. Writing isn't everyone's strong suite, and that shouldn't keep you from reaching your career goals and achieving your dreams. Whether you need help editing an existing document or full resume writing services, Ultius is here to help.