Top Online Essay Writing Service
Connect with a World Class Writer
Looking for the best essay writing service? Ultius is the top online essay writing service for content solutions for consumers around the globe. Our trusted online essay writing service works with top-notch writers, who can write on any topic, on any timeline to get you the quality you need.
Finding the best essay writing service
Out of hundreds of online essay writing services, Ultius is proud to be top-tier rated by students and clients (check out our reviews). Our stellar client support, top quality writing and ability to meet urgency deadlines makes us one of the best essay writing service options available.
Our world class writers work to meet your deadlines, match your writing style, and provide custom, 100% original, proofread writing on any subject. As the best essay writing service available, Ultius is known as the global leader in consumer writing services.
Here are just a few of the services Ultius offers

Essay writing is part of every student's career. But sometimes it can be difficult to know where to start when you are pressed by deadlines and work commitments. Knowing exactly where and how to find the right research information can seem overwhelming in today's information-rich age, not to mention carving out the time to create an outline and gather your thoughts. Finding the best essay writing service to match your needs can lift the burden.
That is why Ultius is here to help with the time consuming parts of the process, so you can focus on learning and what is most important. Our best essay writing service helps you relieve the stress so you can glide through your college career.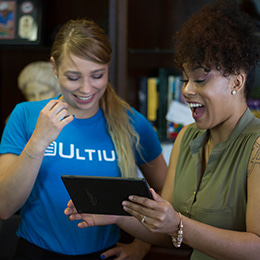 Here are a few of the essays we offer:
Standard undergraduate essays on any topic, in any citation style
Master and doctoral research essays
Essay outlines
Annotated bibliographies
Essay research
Essay proofreading and editing
What makes Ultius the best
At Ultius, we believe convenience is just as important as quality when it comes to providing our clients with the best essay writing service available. Using our easy, step-by-step ordering process, clients can be matched with the best-available, A+ American writer. These are just a few of the benefits of working with Ultius:
Receive your order in hours. As the best essay writing service online, we provide urgency orders for our clients needing an example essay in a matter of hours. If you are not sure if we can meet your deadline, call our client success department 24/7 and we will help pair you with an urgency writer skilled in your subject.
The world's best writers. Although we work with over 2,000 writers, we only hire the top 6% of those who apply. Our writers go through a rigorous selection and hiring process, because we understand it takes exceptional skill to deliver top quality, efficiently. Our clients also enjoy being able to message their writers directly.
All-star reviews. Check out our customer reviews to learn more about what students have to say. Ultius customers reviews are part of what makes us the best essay writing service option.
Our clients are our priority. Ultius strives to provide every client with the best possible experience and product. As the best essay writing service, our client success teams are available 24/7 to address questions and concerns. We work to stay flexible and match our clients' needs, whether it is an urgent deadline or a rare subject and citation style.
Know your writer. Ordering online can be stressful if you are not sure who will be working on your essay. Our requested writer feature makes it easy for clients to save writers as their favorites and request them for future orders. This helps clients rest at ease, knowing their order is in the hands of a writer they trust.
Free revisions. Even if you work with the best essay writing service, you may still find areas of your essay you would like revised or edited. Especially in the case of longer doctoral level essays, revisions are often a natural part of the development process. Ultius makes it easy to request a free revision once you receive your final draft.
Searching for the best essay writing service

If you found this page, you are likely looking for a top-quality writing service. You are probably also wanting to know how you can be sure to choose the best. Here are some helpful guidelines in making sure you choose the right writing service to fit your needs.
How to find the best essay writing service
There are literally hundreds of online writing services. Unfortunately, many online writing services fall far below quality bars. Too many customers fall into the trap of receiving poor-quality content from free sites, essays full of errors, and even recycled, re-sold content. So, it is no surprise that knowing how to choose the best essay writing service and avoid getting scammed can be tough.
In order to help you complete a successful search, we have done a little research. Based on numerous customers' feedback and reviews, we compiled some of the most important factors to look for. To find the best essay writing service, look for these keys.
Five-star reviews. Reading customer reviews is one of the best places to start when evaluating the credibility of an online writing service. But read past reviews posted on a writing service website. Look at reviews on third party sites like Quora and even read employee reviews in places like Glassdoor to help you get a feel for the company's values and culture.
Delivered on time. Crunching a deadline? Be sure the writing service you choose can deliver your order on time, to a quality standard. Contact the customer service department if you are not sure if your order will be guaranteed by your requested deadline.
Excellent, 24/7 customer service. The best services, such as Ultius, understand that service is a top priority in helping clients succeed. A top essay writing service will have service team members available to chat 24/7 via phone, text or chat.
World class writers. Look for examples of sample writing produced by the writing service. The best writing service will provide a wide range of information on their writers, services, and writing samples to their customers before they buy essay samples. If the writing service isn't able to provide a sample essay from top-quality, all-star writers, steer clear.
Free revisions (but not free essays)! Free essay sites can be tempting. But when it comes to investing in your education and future success, free is not worth settling for-- especially since many free essay sites resell plagiarized content. To find a top-quality site, make sure you have the option to request free revisions, but not free essays!
Communicate directly with your writer. Placing a large (or small) essay order can be bit nerve wracking if you are not able to communicate directly with your writer about specific instructions and requirements. But, with convenient messaging platforms like Ultius provides, the process can be a breeze and help you feel confident that you and your writer are on the same page.
100% original content. Plagiarism is a huge issue in academia, so the last thing you want is to purchase a plagiarized example essay. Unfortunately, many poor-quality writing service sites either re-sell content or don't check each draft for plagiarism. Ultius runs each draft through plagiarism-check software to be sure our writers have not unintentionally written similar content.
How to avoid getting scammed
We compared the top online writing services based on brand name, verified security, SiteJabber rating, revision policy, press mentions, Glassdoor rating, American writers, and social media presence. Our findings suggest that when a potential customer wants to avoid writing scams online and find a highly credible site that works with professional American writers, they should go with Ultius.
Cumulative comparative table of top online writing services
Based on the comparison of eight points, it is clear that Ultius is the most credible of the top online services.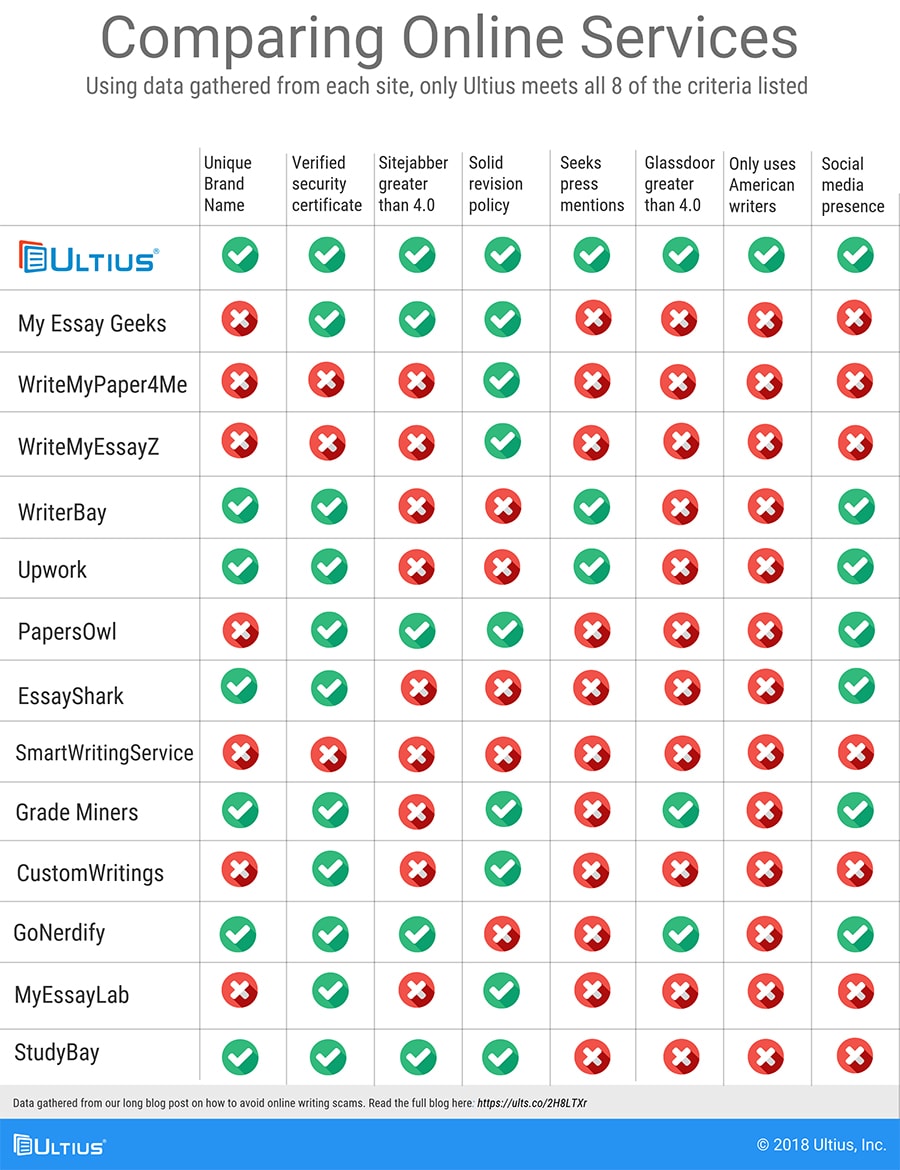 In addition to the factors we reviewed above, these objective keys can help you be 100% sure you are avoiding scams. Ask these questions as a way to measure the quality of a writing service.
How are writers hired? Some online writing services hire non-native English speakers and high-school level writers. If you are looking for the best essay writing service, be sure the company hires professional, top quality writers. Call the customer service department and ask how the hiring process works. For example, at Ultius, our hiring process is so rigorous that we only hire 6% of applicants. Ultius writers are professional, world class scholars skilled in a variety of subjects.
Can you see writing samples? If a writing service can't provide you with examples of the quality of their writing, continue your search. The best essay writing services, like Ultius, are happy to provide writing samples relevant to your needs.
Can I communicate with a writer knowledgeable in my subject? It is important to make sure the writing service you choose is able to create a custom essay in the style and subject that meets your needs. Find out whether or not the writing service offers the exact type of essay you want to order, and whether or not you can communicate with your writer through the process.
Is customer support available 24/7? Nothing is worse than having a last-minute question as your deadline approaches and not being able to contact customer service. Top-quality services like Ultius offer round-the-clock client support, whether you prefer to call, text or chat.
Despite hundreds of options, we believe our clients deserve the best when it comes to quality. It is our goal as a top essay writing service to support students in achieving excellence and reaching their goals.
Learn more about why Ultius is considered the best essay writing service online.