The Knowledge Economy
In the course of human history, there have only been a few major transitions that tremendously impacted the world's economic outlook. The most recent transition has been to the new knowledge economy. According to a Google Instant Result, it is defined as "an economy in which growth is dependent on the quantity, quality, and accessibility of the information available, rather than on the means of production." Essentially, it means that the old rules of capitalism are being rewritten for a modern context where specific, relevant types of knowledge are the key to growth and prosperity. Despite its inherent truth, we believe that this definition has fallen short in terms of outlining the implications.
At Ultius, we believe that the new knowledge economy not only marks a transition in terms of capitalism, but it also signifies a tremendous opportunity for individuals to create their own jobs. We're not talking about the end-to-end grind of freelance work. Instead, by partnering with companies like Ultius, freelance writers can fully exploit their unique skill sets and capabilities to earn a substantial income on their own terms and schedule. If knowledge is the most important asset of today's economy, then Ultius wants to be the biggest buyer.
From information to knowledge
Following the introduction of an information based economy, a service economy began to arise. However, the ubiquity of internet technology and communications devices has changed that. Information is not enough. Consider the major buzz words of today's internet technology sphere: big data, cloud, super-computing, Watson. All of these words have one thing in common for the average person: information overload. For that reason, people don't just want search results, they want increased relevance. Relevance is becoming a much more important asset in today's economy. The only way to combat information overload and find relevance is to utilize products and services that specifically cater towards quality, accessibility and quantity, simultaneously. This is the difference between information and knowledge. Consider this: why did most search engine products die while Google prospered? They offered knowledge instead of simply information. The end user benefited from this tremendously and it impacted their quality of life, goals, ambitions and aspirations.
Transition to the Knowledge Economy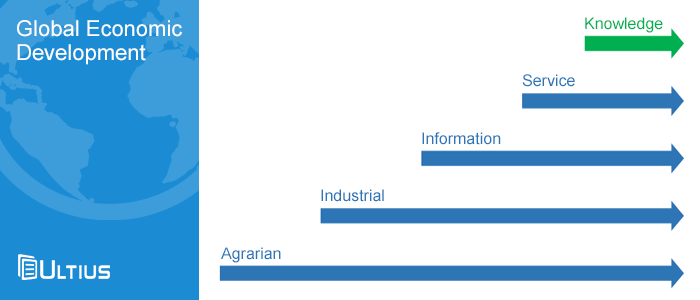 The need for knowledge
Customers, users and people are not looking for just information anymore, they are looking for knowledge. Unfortunately, only a small handful of companies in their respective industries are willing to offer knowledge as an end-product. Consider the example of searching for "how to boil an egg on Google." Ten years ago, people fundamentally wanted instructions on how to boil an egg properly. However, most cooking experts know that boiling an egg properly requires specific temperature and exposure requirements. Despite over nineteen million Google search results on how to boil an egg, only a few results offer the best way to boil one. One has to consider important factors such as the yolk's texture and results during various boiling point exposure times. With all of the complexities, the consumer doesn't want generic instructions, but the specific knowledge required to produce the best boiled egg. This kind of knowledge can either be acquired through experience or copying. It's not generic and it's certainly not just information.
Similarly, consumers are looking for knowledge with various other fields such as custom writing and editing. This is where Ultius comes in. We offer customers a clear path to attaining expert help in their field of study for writing and editing. While this kind of knowledge is more complex than boiling an egg, it is still feasibly attainable and scalable. Similarly, there are individuals in the world that know how to deliver this kind of knowledge. This is the core reason that Ultius only hires the best writers in the industry. We deliver knowledge, not just information.
The role of writers
Writers are not just the producers of generic information, they are the vendors of knowledge and should be assessed accordingly based on their results and real-world impact. Because of this, writers have a unique opportunity to offer their knowledge and expertise to the world at large. However, delivering a service on a global scale requires things like infrastructure, economies of scale and capital. Ultius removes this barrier of entry by providing writers with a platform to exploit their knowledge in exchange for profit without having to worry about the resources and means needed to deliver it on a global scale. At Ultius, our goal is to remove friction between talented writers and customers who have a need for knowledge and expertise.
Join the knowledge economy by choosing Ultius as your platform of choice for freelance writing.